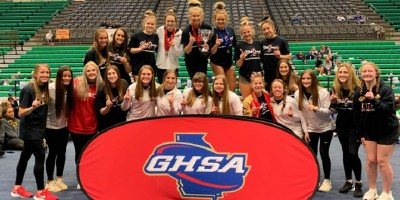 The 2021 GHSA Gymnastics State Championships concluded Saturday at Buford Arena with North Oconee winning its second-straight Class A-5A team title and the Newnan Cougars capturing the Class 6A-7A state crown to achieve the program's first team title since 2008. Newnan's 114.680 score bested host Buford's 111.715 and Cambridge earned third-place with a 111.130 finish. North Oconee's top finish of 113.746 topped runner-up Pace Academy's 105.730.
Newnan's Rubylyn Goad earned the All-Around title for Class 6A-7A and placed second in the bars, fourth in the floor, second in the beam and fourth in the vault. Denmark's Emma Davies, who placed third in the All-Around behind Buford's Marisa Ashton earned top finishes on the floor and the vault.
North Oconee's team title was achieved by the Titans' depth of top finishers. North Oconee had two gymnasts (Madison McMullen, Brantley Lucas) earn top four finishes in the All-Around behind Pike County's Madelyn Crow and Pace Academy's Gabby Mautner and had placed in the top four nine times in the four different events. Crow's All-Around title was supplemented with her perfect 10.000 floor routine and top finish in the bars.
CLASS 6A-7A
TEAM RESULTS
1. Newnan 114.680
2. Buford 111.715
3. Cambridge 111.130
4. Carrollton 109.495
All-Around
1. Rubylyn Goad (Newnan) 39.082
2. Marisa Ashton (Buford) 38.633
3. Emma Davies (Denmark) 38.550
4. Molly Froman (Etowah) 38.499
Bars
1. Molly Froman (Etowah) 9.900
2. Rubylyn Goad (Newnan) 9.766
3. Hayden Taylor (Tift County) 9.566
4. Jewel Clark (Buford) 9.550
Floor
1. Emma Davies (Denmark) 9.990
2. Kalani Witherspoon (Carrollton) 9.783
3. Molly Froman (Etowah) 9.766
4. Rynylyn Goad (Newnan) 9.716
Beam
1. Mikalya Burton (Newnan) 9.950
2. Rubylyn Goad (Newnan) 9.800
3. Abby Henry (Carrollton) 9.666
4. Anna Draper (Cambridge) 9.633
Vault
1. Emma Davies (Denmark) 9.900
2. Jada Reese (Newnan) 9.866
3. Marisa Ashton (Buford) 9.850
4. Rublyn Goad (Newnam) 9.800
CLASS A-5A
TEAM RESULTS
1. North Oconee 113.746
2. Pace Academy 105.730
3. Oconee County 104.479
4. Westminster 102.930
All-Around
1. Madelyn Crow (Pike County) 38.716
2. Gabby Mautner (Pace Academy) 38.366
3. Madison McMullen (North Oconee) 38.182
4. Brantley Lucas (North Oconee) 37.215
Bars
1. Madelynn Crow (Pike County) 9.683
2. Madison McMullen (North Oconee) 9.650
3. Gabby Mautner (Pace Academy) 9.550
4. Gabby Nguyen (North Oconee) 9.133
Floor
1. Madelynn Crow (Pike County) 10.000
2. Maylen Pulliam (North Oconee) 9.950
3. Gabby Mautner (Pace Academy) 9.483
4. Madison McMullen (North Oconee) 9.383
Beam
1. Gabby Mautner (Pace Academy) 9.684
2. Maylen Pulliam (North Oconee) 9.583
3. Madison McMullen (North Oconee) 9.483
4. Emma Pachuta (Oconee County) 9.466