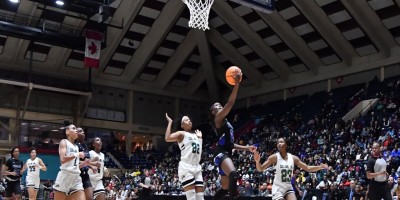 The 2021-22 GHSA basketball season will culminate in Macon this weekend for four days of historic state championship matchups and the amount of programs searching for first-ever state titles has never been higher. Out of the 32 boys and girls teams competing for state crowns in the state's eight separate classifications, 17 finalists have the opportunity to become state champions for the first time. There are also only two defending boys champions (Eagle's Landing, Cross Creek) and two defending girls champions (Woodward Academy, Hebron Christian) that survived this year's brackets and set up a possible title defense.
In the state's top classification, the Norcross boys and girls will look to sweep titles for the first time since 2013. The boys will take on a Berkmar team that is aiming for its first state title since 2001 and the Lady Blue Devils will face a Harrison team riding a 21-game win-streak that is one victory away from its first-ever state title. Class 6A has been equally outstanding to follow this season and 2019 girls state champion Lovejoy and Region 4 Player of the Year Bryanna Preston will take on a Sequoyah squad that sits one win away from its first state title since 1996. The Buford boys have an opportunity to win their third state title since 2017, but will have to face Grovetown in the Class 6A finals—who has picked up 17-straight wins, including an 82-76 win over two-time defending state champion Wheeler in the quarterfinals.
ALL OR NOTHING
Class 5A is the only classification that will have a defending state champion in both games. The reigning champion Eagle's Landing boys will put their 14-game win-streak on the line against a Tri-Cities team that has won 11-straight and is fresh off a thrilling 71-68 overtime victory against Calhoun in the semifinals. On the girls side, defending state champion Woodward Academy and 2020 state champion Forest Park will battle for the title.
Spencer and Westover will faceoff in the boys Class 4A finals and Spencer enters tipoff with a 22-0 record within the classification this season. The Greenwave have an opportunity to win their first-ever state title, while Westover aims to snap a championship drought that dates back to 2001. On the girls side, Luella and Marist will faceoff. Neither program has lost within Class 4A this season and both programs are a win away from first-ever state titles.
Defending Class 3A boys state champion Cross Creek will take on a Windsor Forest team looking for its first state title and more history will unfold in the girls' finals where the Lumpkin County girls sit a win away from their first-ever title and the Greater Atlanta Christian girls have a chance to take home the program's 10th all-time state championship.
FAMILIAR FOES…
Class 2A's finals offer a pair of intriguing region rematches. On the boys side, Westside and Butler will meet for the fourth time this season and the Rabun County and Elbert County girls will also meet for the fourth time. Westside's last state title came in 1995 and Butler has not hoisted a championship since 1966. Elbert County and Rabun County will both be seeking their first-ever state crowns.
The Class A Private finals will feature Greenforest Christian and King's Ridge on the boys side. Greenforest will attempt to win its fourth all-time state title and first since 2017, while King's Ridge will try to close out its first-ever state championship. On the girls' side, defending state champion Hebron Christian will be challenged by Mt. Paran Christian—who has won 12-straight contests and is hungry for its first-ever state championship.
Class A Public is the only classification field that has no previous state champions in it. Hancock Central and Lake Oconee Academy will faceoff in the first matchup of this year's finals and Warren County will take on Drew in another star-powered showdown. Drew Charter (30-1) took out No. 1 ranked Social Circle (70-66) in the semifinals and carries a 28-game win-streak into tipoff. Warren County has won 16-straight games and is led by senior Lorenzo Johnson