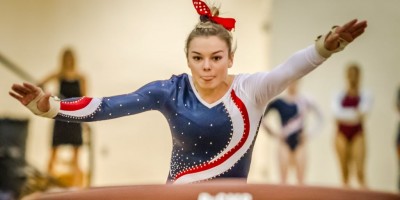 The 2022 GHSA gymnastics championships will be held at Buford Arena for the second-straight year and will crown the state's next round of champions following a terrific season of meets. In 2019, the sport introduced a separate Class 6A-7A and Class A-5A division for the first time and crowned two separate team champions. The West Forsyth Wolverines captured the Class 6A-7A title—which gave the program its third-straight team championship and North Oconee won the Class A-5A state crown. This past year, Newnan took the Class 6A-7A state title with a 114.680 score and North Oconee defended its title with a 113.746 championship performance in Class A-5A.
Newnan's run to the title was fueled by All-Around state champion Rubyln Goad. The Cougars have plenty of returning talent this year—including reigning beam state champion Mikalya Burton—and are currently ranked No. 2 in the latest statewide poll that came out April 12. Buford finished state runner-up this past year and is currently at the top of the poll with a 112.817 team score to Newnan's 111.650. Carrollton is in a close third with 111.600 and is coming off a fourth-place finish last year. Carrollton had two seniors that missed last season with ACL injuries, but maintained their elite status with a group of underclassmen that will be back this season. This includes Abby Henry, who earned a third place finish in Beam last year with a 9.666 and Kalani Witherspoon—who scored a 9.783 on the Floor last year for a second-place finish. Buford's Marisa Ashton is back for her senior season and finishing second in the all-around last year. Ashton scored a 9.850 in the vault for an individual third-place finish.
There are more metro Atlanta powerhouses that have been making noise over the last few seasons—including Forsyth Central and West Forsyth—which won three-straight state titles in 2017-19 before Newnan clinched the crown this past year
In Class A-5A, two-time defending state champion North Oconee is leading the latest rankings with a 107.983 team score and newcomer East Forsyth high school is second at 105.467. East Forsyth (105.467) will look to make history this weekend in its first-ever state championship appearance and is followed in the poll by Bremen (104.583), Villa Rica (103.733) and Westminster (103.567). North Oconee has maintained its success following the graduation of George Washington University signee Madison McMullen—who placed third in All-Around (38.182) last year, second in the Bars (9.650), fourth in the floor (9.383) and third in the Beam (9.483).
Pike County's Madelyn Crow dominated at last year's championships with her All-Around title and three individual titles—including a perfect 10.00 mark in the floor. The individual events will be stacked with elite gymnasts again this season and the battle for the team championship will be highly competitive with Pike County, Ola and Oconee all carrying team scores greater than 100.000 heading into the prelims and state championship.