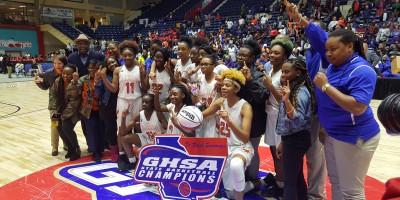 Johnson found redemption for its first girls title after falling in the finals last year.
Johnson got over the hump after falling to Beach last season in the championship game and won its first-ever girls state basketball championship after overpowering Greater Atlanta Christian, 62-50, at the Centreplex in Macon on Thursday. It wasn't easy and it sure wasn't pretty down the stretch, but the final tally does not give justice to how close this game really was.
"It doesn't sting anymore," Johnson coach Brandon Lindsey laughed after the game as he stood in the center of the court, soaking in the moment. Lindsey was referring to the sting of falling to local rival, Beach, in the championship last year. "I just want to thank God. This was a journey and those girls worked so hard together. It's just a beautiful thing to see our hard work get rewarded. It's beautiful to see these young women mature and then the process just ends with a championship like that, that's how it is supposed to go."
Sy'Marieona "Bubbles" Williams and Tianna Williams each had two three-pointers in the Johnson run early in the game. GAC answered, however, and put together an 8-0 run entering the second quarter that pulled the Lady Spartans back into the fray. But the run was not sustainable and smothering defense from Johnson's 6-foot-4 center, Giana Copeland, proved to be too much to overcome for GAC.
"What it is, we watched film on them and we realized that the teams they've been playing against, they haven't gone against size like (Giana)," Lindsey said. "They like to drive the basketball and Giana is our defensive stopper. … That's what she likes to do. So we knew that would play into our hands and make them one-dimensional by having to stay out on the perimeter and shoot the ball."
The plan worked to perfection as Copeland finished the game with 12 blocks and 12 rebounds to go with her three points. The game was tied for just under five minutes and Johnson had control for 27:03, its largest lead a 15-point spread. GAC never held the lead.
"We have been dreaming about this moment since the beginning of the season," said Sy'Marieona Williams as she sat on the bench following the game, surrounded by her team. "We believed in us when our city didn't. So, it means a lot to us that we did it despite everybody not thinking we can. And when I look at these girls right here," she said while pointing to her team, "I  know they're state champs."
Johnson was paced by J'Mya Cutter's 19 points, six rebounds, two assists and two steals. Jasmine Thompson scored 13 points on 4-of-4 shooting from the floor and 5-of-7 shooting from the free-throw line. Sy'Marieona Williams finished with 12 points with four assists and one steal. Tianna Williams scored nine points with two steals.
Caria Reynolds scored 13 points to lead GAC. Taylor Sutton finished with 12 points, two steals and one assist. Kennedi Williams added 10 points and seven assists for the Lady Spartans.