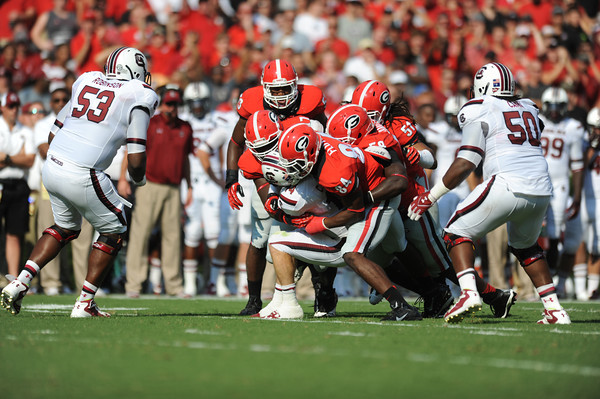 Radi Nabulsi
ATHENS, Ga.- – It is the time of the year, when head coach Mark Richt and players are asked about one man's team. That man is Steve Spurrier and his team is the South Carolina Gamecocks.
This game has become a huge rivalry over the years, with Spurrier's ties to another SEC foe. Plus, Bulldog fans have no love lost for the "Head Ball Coach" from what he was able to do while with the Florida Gators.
The Gamecocks have won four out of the last five meetings with the Bulldogs. They also have a 16 players on their current depth chart that are from the state of Georgia.
This has been a trend for some time and South Carolina has also had the upper hand in the majority of most recent games. Is revenge on their mind? According to Richt it isn't.
"We're not thinking much about the rivalry," Richt said. "We're not thinking much about what happened last year or in the past years as much as really are trying to focus on getting better. There's just so many areas we've got to get better."
There's no doubt that this game has taken on a life of its own, when it comes to it being a rivalry. That said though, they're not the only rival that Georgia has in the SEC and outside the conference.
Senior outside linebacker Jordan Jenkins says it seems like every week they're in a rivalry game.
"I feel like we have the most rivals of any SEC school," Jenkins said. "I feel like every team we play in the SEC is a rival because there's either some guy you know on that team or some coach you got recruited by. "
Jenkins was recruited by South Carolina, but admits they weren't in his top five of schools that he was considering for his college choice. He's not the only one in Athens that kicked the tires with the Gamecocks.
We learned on Tuesday that running back Nick Chubb also had as he termed "a couple" of visits to Columbia. There's one constant with both trips. He never got to meet Spurrier.
Chubb told us on Tuesday that the "HBC" wasn't there because he was receiving an award in Florida. A reporter then dropped the line that "I bet that's an award he regrets getting now."