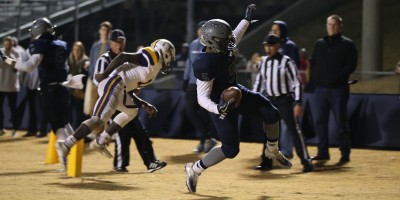 ELCA ran past Athens Academy in the Class A-Private title game.
Eagle's Landing Christian outplayed Athens Academy in all three phases of the game to win its third Class A-Private state title in a row and fourth overall. The Chargers' last loss came on Sept. 25, 2015, to Woodward Academy (20-10), and since Oct. 9, 2015, ELCA has won 36 consecutive games and three state titles.
"I am really proud of this group of seniors," head coach Jonathan Gess said. "We have been here four straight years, but the first year we got here, we got beat 49-7 and then they finished it off with 36 straight wins and three straight championships. So it means everything and I am really proud of them and I can't thank them enough."
The Chargers got the scoring started at 4:41 in the first quarter on a short run by quarterback Brayden Rush. Just 2:30 minutes later, Eagle's Landing Christian took a 13-0 lead on a Nate McCollum rush from 39-yards. A botched snap on the extra point allowed the Athens Academy defense to keep it a 13-0 game.
When ELCA extended the lead to 20-0 on a 9-yard run by Keaton Mitchell with 6:50 left in the second quarter, the championship game began to resemble the first three games of the playoffs. In the first three, ELCA defeated Savannah Christian (54-0), Calvary Day (55-0) and Prince Avenue Christian (55-0).
"Our quarterback has done a great job," Gess said. "We have Brayden and then we have our wildcat quarterback, Nate McCollum, and both of them did a phenomenal job and they are great leaders on this team."
Justin Menard's 70-yard run with 4:17 left in the half took the lead to 27-0. With 8:07 remaining in the third, Rush connected with Sean Queen for a 19-yard touchdown pass. Just over two minutes later, McCollum found Queen on a 48-yard touchdown pass to put the Chargers up 41-0. Athens Academy kicker Drew Byus added a 25-yard field goal with 1:39 left.
"It means everything," Rush said walking off the field after the win. "It's emotional, everyone is crying. I've been playing with these guys since I was four and to win, it just makes it better. I'm sad but it means everything to me."
Rush finished the game 8-of-13 passing for 91 yards and a touchdown. McCollum was 1-of-2 passing for the 48-yard score. Josh Mays led ELCA in rushing with 102 yards on 23 rushes. Menard added 76 yards on three touches. Queen finished with three receptions for 81 yards and two touchdowns.