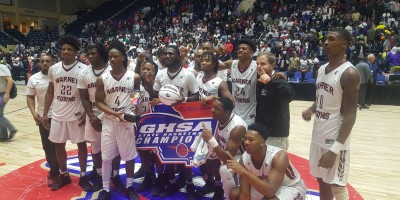 Warner Robins got its first boys title on a last-second three from Jacolbey Owens.
MACON — Miller Grove was in the hunt for its eighth boys state basketball title. Warner Robins just wanted its first. Thanks to a three-point shot from senior guard Jacolbey Owens with 1.3 seconds remaining, the Demons got it.
"It's great. It's a great moment, dog," said a visibly emotional Owens after the 67-64 victory. "It's in my veins. I've been doing it, man. My whole team, it was for my whole team. We really didn't have a game plan and we were just going to call timeout but I got (the defender) up in the air and shot it."
For the record, ice. Ice is in his veins.
The rest was history as Warner Robins captured its first-ever basketball title in emotional fashion. Warner Robins only held the lead for 12:11 compared to Miller Grove's 16:38, but the Demons made the most of the opportunities Miller Grove left on the floor.
"I knew it was good," said Warner Robins head coach Jamaal Garman. "I just knew it. I watched the trajectory and the rotation on it and said, 'Now that's a good shot.' And it went in and the kids rushed the floor but there was still (1.3 seconds) so I had to get them off."
Following the shot, a short conference between the officials determined there was in fact time left. Miller Grove tried its hand at a full-court pass but the shot never materialized, sealing the Demons victory.
After trailing the entire first half, Warner Robins came out firing in the second half on a 6-2 run that put it up 35-33 with 5:27 remaining in the third quarter. It was the only lead change of the game, which was tied on four separate occasions. Miller Grove's sloppy offensive possessions help facilitate the Demons' run.
Warner Robins ended the third quarter up 51-44 before Miller Grove began its trek back into the game. The Wolverines tied the game with 3:02, and entering the final possession, Miller Grove came out with a zone defense to the delight of Garman.
"Thank you," Garman said of Miller Grove's decision to not foul and allow the Demons to run the clock down. "We just wanted to hold it for the last shot. Whatever shot we got, just hold it for that. I just didn't want to give them the ball back and allow for anything. They let us run off 31 seconds and I appreciate it. I guess they thought we were going to miss or they didn't want to foul. We started to really knock down our free throws and so I appreciate them playing zone for us."
Warner Robins was led by Owens, who finished with 24 points on 8-of-14 shooting with four rebounds. Georgia State signee Nelson Phillips scored 16 points on 6-of-15 shooting, and fellow senior Jaydon Norman added 13 points.
Miller Grove was paced by Lorenzo Anderson, who scored 19 points on 5-of-13 shooting. Maurice Harvey added 14 points on 4-of-10 shooting from the field. Terrence Edwards helped with 11 points and six rebounds.
Regarding the talk that he and his team had overheard of a blowout in Miller Grove's favor, Garman was similarly grateful for the naysayers.
"Thank you. Appreciate that," he said. "Thank you for that motivation right there. I heard a lot about that. The guys heard it. We have been hearing about that stuff all year but we just play."