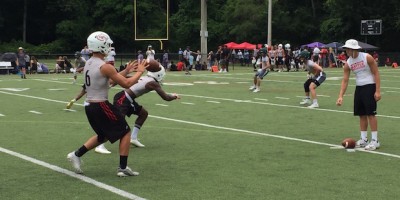 North Gwinnett QB Cade Fortin, now at UNC, at the 2017 Corky Kell 7-on-7
In the past decade, 7-on-7 football has morphed from an offseason activity to its own sport. Today, there are private club teams, national tournaments, extensive coverage and enormous sponsorships legitimizing its popularity and turning the grander sport of football toward a year-round pursuit. But as prominent as 7-on-7 football has become, the concept itself and its potential effects on the game and recruitment process have created a wildly diverse spectrum of opinions and concerns.
But first, I will start with my own.
I benefited greatly from 7-on-7 competition. It was still a simple concept when I was in high school, and at the time, I saw it only as a chance to show my coaches something. I was a wide receiver entering my senior year (2005-06) without any career catches or varsity starts (on a team that prided itself in running the football). But that summer, we'd spend each Tuesday competing with surrounding schools in what my coaches called "passing league." It was invaluable to my development, especially since we wore helmets every single time. As a wide receiver, this was crucial.
Anyone can catch balls without a helmet on. Running with several pounds of plastic that's vibrating with every step, and carefully looking in a pass through the plastic-coated metal bars sweeping my view, prepared me to do the exact same thing in the fall.
When my senior season ended, I had earned my starting spot but had just six catches all year and would never have a chance at being recruited. I spent the next year and a half as a student at Kennesaw State University (before the Owls had a football program). I opted to transfer to the University of Georgia in the spring of 2008 where I was going to try to walk on as a wide receiver. And 7-on-7 football became one of the biggest reasons I was able to successfully make it.
As spring practice approached (cuts were made following spring practice), we began preparing with 7-on-7 drills. Two-and-a-half years had passed since I had been in a contact drill or played in a real game. But how could I not get better? Matt Stafford was in command, doubling as a quarterback and play caller. I'd get to run routes against future NFLers Asher Allen, Brandon Boykin and Reshad Jones, while alternating reps with receivers A.J. Green, Mohammed Massaquoi, Tavarres King and Kris Durham. I understand how beneficial 7-on-7 can be, because it was the only chance I had to simulate the real game and prove myself at both levels.
So what my experience really taught me was that when it comes to 7-on-7 football, it is how you use it that matters.
To understand the multiple layers of this widespread debate, however, the evolution of 7-on-7 football must be considered. I am going to highlight some of the biggest movements that have streamlined the growth of 7-on-7 and turned it into what it is today.
The first was the introduction of the circuit model. Established in 2007, Pylon Elite is one of the oldest national 7-on-7 tournaments and organizations around. Like many other companies do today, Pylon Elite allows anyone in the country hosting a 7-on-7 tournament a chance to become a qualifying event for its own national competition. Using this circuit model has helped turn 7-on-7 football into a nationally connected movement and sport.
With national competitions and titles up for grabs, a 7-on-7 all-star movement was quick to follow. Prospects could form superteams and gain exposure by proving themselves against stiffer competition. A college recruiter, who would normally be interested in a few guys from each high school team, could potentially watch a single all-star 7-on-7 team with 15-20 guys he'd be interested in recruiting. And nothing could stop highlights from reaching coaches through the internet, even if they were prohibited from being there in person.
Where this all was heading was becoming a bigger concern for both high school coaches and college coaches around the country. The debate reached national headlines, especially around 2011, the year before the NCAA banned 7-on-7 competition from campuses, unless it was sanctioned by state high school associations.
In August 2011, ESPN's Joe Schad reported what then-head coach Joe Paterno warned when 7-on-7 football was brought up in Big Ten meetings.
"There are in-between people getting involved and starting 7-on-7 camps. And they are literally putting kids up on auction blocks so people can get a look at them. And there are guys who are soliciting kids to go to a camp and getting paid to bring certain kids to camps. You don't want those people involved in our game."
State Associations govern high school athletics and the NCAA oversees the collegiate level, but the threat of a third party operating between the two without governance has kept both sides on edge. It's not that everyone was exploiting kids, but more so the fact that a golden opportunity to do so had appeared.
7-on-7 teams are generally funded by players' families, fundraisers and corporate or private sponsorships. So because events require entrance fees, naturally the NCAA seeks to find out who else (boosters, financial planners, etc.) could potentially be funding a team or any unofficial campus tours and trips. The NCAA is also concerned about the involvement of apparel companies in the 7-on-7 movement and how they could sway the recruiting process with the massive long-term contracts they have with certain schools.
High school coaches typically sound more like football purists and protectors when it comes to discussing 7-on-7 football and its future. For example, many believe it creates bad habits that could carry over into the season, like poor ball protection. Others point to 7-on-7 increasing the prevalence of transfers at the high school level, and others are concerned that year-round football will lead to the extinction of multi-sport athletes. This is a valid stance, considering 30 of last year's 32 NFL first-round draft picks played multiple sports in high school. I got to see the other side of the coin last month when Chattahoochee's starting quarterback, Jack Corrigan, signed a soccer scholarship to play goalie for Lenoir-Rhyne next year.
In 2016, T.J. Cotterill of The News Tribune, based in Tacoma, Washington wanted answers and surveyed local prep coaches. In total, 40 coaches participated and the results were nearly universal. In the survey, 97.5 percent said it is more beneficial to participate in some sort of other school-sponsored sports team during winter and spring seasons than 7-on-7 football. And 95 percent said they believe the Washington Interscholastic Athletic Association needed to take steps to address the 7-on-7 culture in the offseason. In Kentucky, the issue of year-round football was brought front and center this February. With increasing pressure from baseball and track coaches, as well as concerns over player safety, eight athletic directors drafted a proposal that would eliminate spring practice; this will be voted on in September.
Still, there are always going to be positives.
Matt Sokol, for example, was a 6-foot-5, 225-pound high school quarterback in a run-based veer option system four years ago. He showcased his skills as a tight end in 7-on-7 competition on George Yarberry's Michigan Elite Club. Not only did it earn him a scholarship, but he will be Michigan State's starting tight end this fall.
Exposure and Development in a sport with a small sample size of games is never a bad thing. The summer before senior year can be the best (and last) chance for some players to get noticed before the season. But it is not all about recruiting. 7-on-7 football is still a tool that high school teams use to prepare them for the season, no matter how many all-star leagues and national tournaments are popping up.
Georgia is packed with some of the most sought-after recruits in the country, and 7-on-7 football continues to evolve. When I speak with coaches today, it is clear that for many, 7-on-7 football was something that was bred out of necessity. The 2018 high school football season kicks off on Aug. 16, the earliest start in GHSA history. Additionally, Georgia is one of the best (and highest-paying) states for coaching football, which often creates a carousel of coaching changes each offseason. There is no doubt that 7-on-7 football can help remedy coaching changes, groom first-time starters and create depth for the season.
On June 15, 30 of the top teams in the state of Georgia will experience some of the best competition the country has to offer in the annual Corky Kell 7-on-7 Invitational Tournament. The players will play for their own high school teams, referees will get practice before fall and enough prospects will be there to attract plenty of media attention. And most importantly, they still wear helmets.