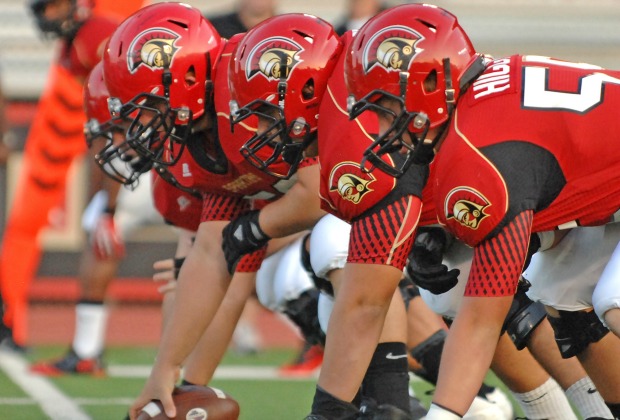 Photo by Lauren Roberts
In Region 1, we could see a three-way tie take place Friday night. Brooks County finished its season last week with a 5-1 region record and Thomasville and Fitzgerald enter this week sitting at 4-1. Brooks County lost to Fitzgerald and beat Thomasville. Thomasville beat Fitzgerald and lost to Brooks County. If the tie occurs, Fitzgerald is No. 1, Brooks County is No. 2, and Thomasville is No. 3 seed. Fitzgerald is playing Seminole County and Thomasville hosts Early County. If Berrien beats Pelham and Early County loses to Thomasville, Berrien will take the No. 4 seed.
Vidalia clinched the Region 2 championship last weekend and sits a win over Bryan County this Friday away from a perfect 10-0 regular season. Benedictine would take the No. 2 seed with a win over Long County this week. Bacon County and Bryan County are 4-2 entering Week 12. Bryan County will have its hand full with Vidalia and Bacon County visits McIntosh County Academy. Bacon County owns the tiebreaker with Bryan County and will likely grab the No. 3 seed.
Region 3 is currently a log jam with Dublin finishing the season last week with a 4-2 region mark and Jefferson County, Screven County and Swainsboro each entering the final week at 4-1. Swainsboro hosts Jefferson County and Screven County hosts Metter. Screven County owns the tiebreaker over Swainsboro and Jefferson County but the Gamecocks lost to Dublin last week. The winner of the Swainsboro and Jefferson County game will take the No. 1 seed, but only if Screven County loses. A win over Metter guarantees Screven County the region title.
Region 4 is cut and dry in terms of what could happen. Bleckley County is guaranteed the No. 3 seed and Lamar County and Macon County will face off for the region championship on Friday. The loser will take the No. 2 seed. The number four seed will come from whichever team wins between Northeast Macon and Monticello.
Bowdon won the Region 5 championship and the big game will be between Heard County and Bremen for the No. 2 seed. The loser will take the No. 3 seed and Chattahoochee County has already clinched the No. 4 seed.
GAC topped Lovett last Friday night for the No. 1 seed out of Region 6. The Lions take home the No. 2 seed and Wesleyan grabbed the No. 3 seed. Pace Academy hosts B.E.S.T. Academy on Friday in a battle for the final playoff slot out of Region 6.
Darlington took home the Region 7 title last Friday with a win over Coosa. Coosa will be the No. 2 seed even with a loss because of its 7-0 win over Model last month. Chattooga sits behind Model as the No. 4 seed.
In Region 8, there is still a possible three-way tie scenario. Rabun County (5-0), Greene County (4-1) and Union County (4-1) are all in the hunt for a share of the region title. Rabun County faces Greene County. If Greene County beats Rabun County and Union County tops Washington-Wilkes, that would put all three teams at 5-1 in region play. Washington-Wilkes will be the No. 4 seed regardless of the results with a 3-2 region mark entering Friday.