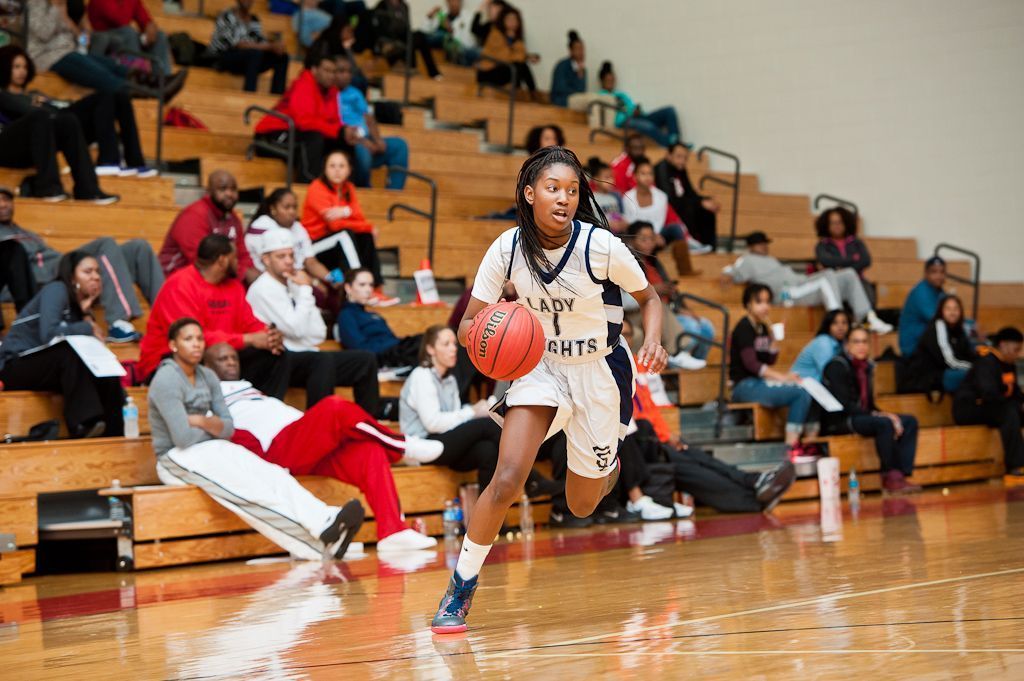 Photo by Ty Freeman
ST. FRANCIS
Region 6, 27-3
St. Francis has simply been a Class A-Private powerhouse over the past three years. The Knights won it all for the first time in school history in 2013 and were the No. 1 seed in last season's state playoffs before getting upset 66-61 by Southwest Atlanta Christian in the semifinals. They are ranked in the top spot yet again and this time around they had no trouble booking a spot in the title game. After kicking off its state tournament run with a 57-30 thrashing of Mt. Pisgah, St. Francis got past Mt. Paran 62-48 and trounced Stratford Acad- emy 61-41 in the semifinals. Twenty-six of the Knights' 27 victories have come by double-digits and they have not lost to any team in Georgia this season. Its three setbacks have come against out-of-state competition; a pair to Alabama-based opponents and one to a team from Arkansas. Stratford head coach Ed Smith heaped praise on the Knights following his squad's elimination. "They're big, they're fast, they've got shooters," he explained. "They have a lot of size. It's not just one girl, either. They run about four of them out there." St. Francis' lineup includes 6-foot-3 sophomore Maya Dodson, 6-foot-2 junior Yasmine Ratliff (daughter of former Atlanta Hawks' big man Theo Ratliff) and 6-foot-2 sophomore Kasiyahna Kushkituah. Young but extremely talented, the Knights also feature 5-foot-5 sophomore guard Nichel Tampa. She scored a game-high 17 points at Stratford's expense and all 17 came in the second half, when Tampa displayed her capability of completely taking over games. Head coach Aisha Kennedy's offense is dynamic both inside and outside, as the slick shooting of senior Abby Grant compliments St. Francis' size. Kennedy often calls for her team to push the pace in hopes of getting Grant open looks beyond the three-point line.
SW ATLANTA CHRISTIAN
Region 5, 28-3
Like the boys Class A-Private championship game, the girls showdown will also pit title winners from the past two years against one another. Southwest Atlanta Christian Academy triumphed in 2014 for its first state crown since 2006. SACA battled through several tough contests along the way, beating St. Francis by five points in the semifinals and Holy Innocents' by the same margin in the final. For the most part SACA has been far more convincing throughout its 2014-15 campaign—but not against St. Francis. In what turned out to be a preview of the championship collision, the Warriors lost to St. Francis 51-42 at home on Jan. 10. It was their third setback of the season following defeats at the hands of Holy Innocents' and Douglas County. Since their third loss, however, SACA has caught fire to the tune of a 14-game winning streak. All 14 of those wins by head coach Jackie Cowan Freeman's squad have come by double-digits. The Warriors opened their state tournament by powering past George Walton Academy 49-25 before hammering ELCA 68-52 and handing a 77-50 semifinal defeat to Calvary Day. SACA is led by 5-foot-10 guard/forward Nicole Martin, a West Virginia signee. Martin is averaging almost 20 points and more than eight rebounds per game this season. She went for 26 points and 12 boards last weekend against Calvary Day. The Warriors can be dominant on the glass thanks to their size, also relying on Shakyna Payne—another senior averaging more than eight rebounds per outing. Payne is headed to Virginia. Dominique Banks, a 6-foot-3 sophomore center, is putting up more than 11 points and six boards per game. The Warriors' depth was especially on display in the quarters against ELCA, when five girls scored in double-figures. Elizabeth Gibbs and Tiamya Butler joined Martin, Payne and Banks in that department.