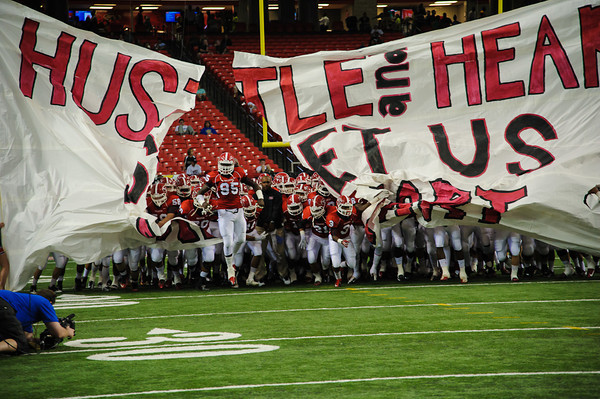 Photo by Ty Freeman
This year's Metro PCS Corky Kell Classic marks 23 years of this great high school football event in Atlanta with seven games on tap this weekend. In the past, the games have been played at the Georgia Dome and this year it is at McEachern.
Full disclosure here, I am from Texas. I believed the myth that high school football in Texas is king. To be honest until I got here to Atlanta, I had never experienced anything on the high school level, like I've seen with the football here in this state. Sure the movie/television show "Friday Night Lights" adds to the belief that Texas does high school football right. They don't have a Corky Kell Classic in Texas.
In seven games this year, you will see seven schools that have won Georgia High School Association state titles in their histories. You will also see numerous kids that will be entering their senior seasons on the field before they head off to play major Division 1 football.
If you haven't been to McEachern's Walter Cantrell Stadium, you're in for a treat there, too. Most high school stadiums don't have the look or feel of some college football stadiums. Well, Cantrell Stadium is not any ordinary high school football stadium. For starters, you'll notice in the back of one of the two end zones a huge state of the art video/score board. It is actually the largest in high school sports. You'll also notice the end zone stands on the opposite end of the field that gives Cantrell Stadium the college student section feel on game days.
This weekend you're going to see schools from down in South Georgia, like Valdosta and Colquitt County on the field. You're also getting to see the Atlanta area powerhouses like Norcross, Tucker, McEachern, North Gwinnett and Sandy Creek.
In the past years this weekend has been inside the Georgia Dome and will return to the venue next season and beyond. We'll also be seeing these games on major cable television, with Fox Sports South calling both days of action. The players get the opportunity to have people like Falcons/college sports play-by-play broadcaster Wes Durham, former Falcons Dave Archer and Chuck Smith, as well as other accomplished sports broadcasters calling games.
For the most part, all of the things I have mentioned are reserved for teams in December, when two teams from each classification of the GHSA make their way to Atlanta for the state championship games of high school football. You don't normally get this in the first week of the season.
I'm going to compare to my days in Texas again… In the past, there were games played early in the season at San Antonio's Alamodome or at the old Texas Stadium in Irving. Nowadays, weekends of football like the one we're about to watch here in Georgia have gone away.
This is an opportunity for not only the fans to see some great football this weekend, but also a chance for these kids to make a name for themselves in front of thousands of people watching from the stadium stands and also the numerous people that will be watching on Fox Sports South and listening on SportsRadio 92.9 The Game.
For some of the players, this will be the highest level of football they'll play for the rest of their lives. What better way for those players to experience a major game day experience than playing in the Classic?
Over the 23-year history of the event, we have seen numerous players move on to play college football in the SEC, ACC, Pac-12 and other major conferences. We have also seen players like offensive lineman Clint Boling, quarterback Quincy Carter and running back Kenny Irons move on to play in the NFL.
How cool would it be to say that you saw an NFL star play when they were in high school at the Corky Kell Classic this year at McEachern High School? You've got that opportunity for seven games this weekend.
Action gets underway on Friday evening at 6 p.m., when Creekview takes on North Paulding. The full schedule for the event can be found at www.CorkyKell.com.