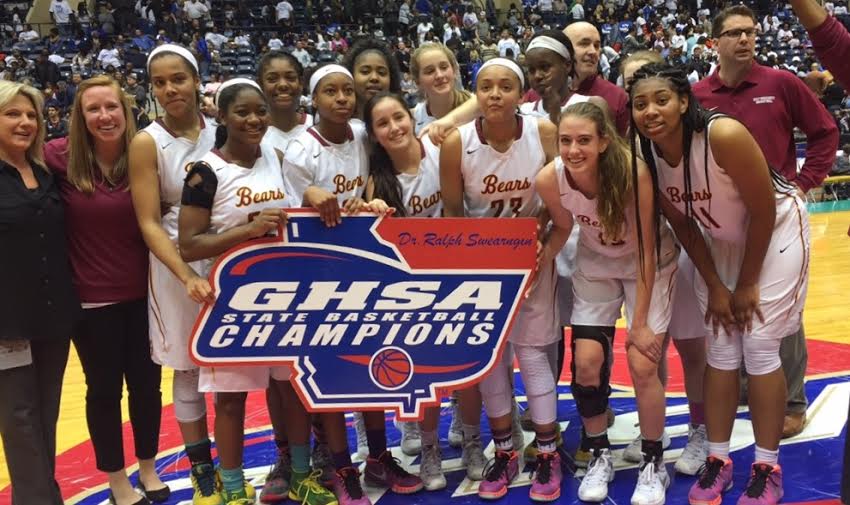 Holy Innocents' (27-5) downed 11-time state champion Wesleyan (27-5) 66-64 in overtime to claim the girls Class AA state title Friday at the Macon Centreplex.
"Two years in a row we went undefeated into the state title game and lost and it was a punch in the gut last year especially," said Holy Innocents' head coach Tony Watkins about last year's 45-31 finals loss to Wesleyan. "I mean it took a lot out of all the fans and a lot out of ourselves but we were able to get it together this year. This team has shown more growth on the court as a team than any team I've ever coached."
Friday marked the eighth meeting between the two Region 6-AA rivals in the past two seasons and the sixth Golden Bears victory over the Wolves. Determined Wesleyan perturbed Holy Innocents' until the final seconds, when the Wolves inbounded the ball with 3.1 seconds left down 66-64. With no lanes open and no timeouts, Amaya Register tossed the ball into a cluster of players and it was batted away as the clock expired.
While Holy Innocents' closed out overtime with a 7-1 run, it was Wesleyan that clawed back and impressively closed out the fourth quarter. Holy Innocents' took a 33-28 lead into the half that grew to 42-31 with four minutes left in the third quarter after an Erika Cassell free throw.  The Wolves answered with a 12-5 run to cut it to 47-43 as the fourth quarter approached, but Pointer hit her third 3-pointer at the buzzer to make it a 50-43 lead. Wesleyan outscored Holy Innocents' 16-9 in the fourth quarter to force overtime. Before the extra period was needed, Kaila Hubbard answered a Register lay-up that gave Holy Innocents' a 56-49 lead with just 3:54 left. A steal by Mikayla Coombs led to a Cairo Booker layup and after a Hubbard turnover, Jameson Kavel found Natalie Armstrong for a midrange jumper that cut it to a one-possession game (56-53) with 2:40 left. Pointer split a pair of foul attempts to push the lead to 57-53 and on the next Wesleyan possession Jameson Kavel drilled a 3-pointer to make it a 57-56 ballgame with 2:05 left. Cassell rebounded a Hubbard missed lay-up and coverted the second chance opportunity to give Holy Innocents' a 59-56 lead, but Sutton West tied it up with a Wesleyan 3-pointer with 1:08 left. Holy Innocents' tried to run out the clock but with five seconds left Pointer turned it over. Natalie Armstrong picked up the loose ball and tried to outlet the pass, but it went right in the hands of Holy Innocents' Shai Blanding, who quickly tried to get up a 3-point shot as time expired. Coombs inexplicably and accidentally fouled Blanding on the bang-bang play and put her on the line where all three attempts to win the game rimmed out.
In overtime, Register and West each made a pair of free throws and gave the Wolves a 63-59 lead with just over two minutes left. Holy Innocents' Kennedy Suttle drew the foul on the other end and cut it to 63-61 with two clutch foul shots. Register turned over the next Wesleyan possession and Aaliyah Milord hit a running floater to tie it 63-63 with 1:45 left. Register added a Wesleyan foul shot with 52 seconds left, but Pointer answered with what proved to be the game-winning layup with 45 seconds left on the clock 65-64. Holy Innocents' final point came on a foul shot by Blanding, who swished the first one after missing the three potential game-winners in regulation.
"This is a very special group of kids," declared Watkins. "This senior group going out, they are the group that came in here and while we had a great program before, they came in and put us at the state level regardless of any classification."
Pointer led Holy Innocents' with a game-high 33 points and teammate Erika Cassell turned in a double-double with 11 points and 13 rebounds. Wesleyan saw four players net double digits. Register led the way with 16 points, while Booker finished with 13 and Coombs and Armstrong finished with 12 apiece.