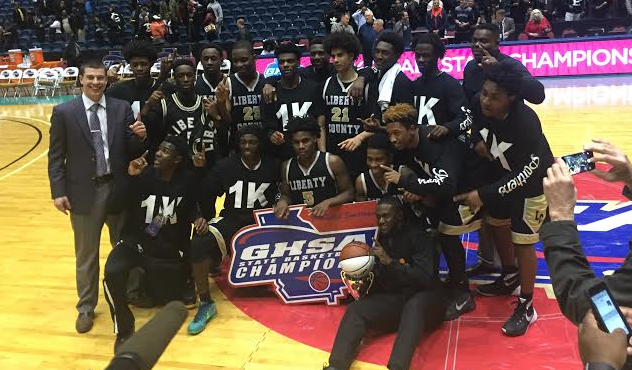 Youth was served on Friday night in the Class AAAA state championship as No. 2 Liberty County held on and knocked off two-time defending state champ No. 1 Jonesboro 58-52 for the program's first title. The Panthers (28-1) held the Cardinals (28-5) to 33.3 percent shooting and limited Jonesboro to just one offensive rebound in the first half. The Panthers, known for their firepower, proved they could grind out a defensive battle with one of the state's most hard-nosed groups.
Juniors and sophomores led the way for Liberty County. Five-star UGA football-commit Richard LeCounte attacked early and often. After three ugly misses to start the day, the uber-athletic guard began to settle in and netted 14 of his team-high 20 points in the first half while grabbing nine boards on the night. The Panthers took a 14-10 lead after the first period and extended their advantage to 22-13 before Jonesboro ripped off five straight. At the half, Liberty County held a 26-22 lead. MJ Walker Jr., Jonesboro's star junior guard, was harassed into a 6-for-17 night after pouring 30 on the Panthers in last year's 71-43 semifinal win. He scored the final four points of the half but never caught fire.
Auburn-commit Davion Mitchell was held scoreless in the first half on 0-of-4 shooting but it was sophomore Will Richardson who stepped up big time for Liberty County, scoring seven of his 19 points in the first 16 minutes. In the third quarter it was time for Mitchell to shine. His first points came in the open court on a fastbreak one-handed jam that made it 30-22. Next with 5:20 to play in the quarter, Mitchell splashed a three-pointer and was fouled to cap a 7-0 run to start the half. He scored the seventh of his 14 points on the night with seconds left on a layup making it a 37-30 lead heading into the final frame.
Jonesboro, battled-tested so many times before, was not about to lie down and die. Walker buried a three with 3:35 remaining to cut the deficit to 43-39. With 2:58 left, the officials missed a charge on Mitchell. It looked like Zerrick Cooper was set early and took it on the chest, but instead Mitchell was sent to the line and drilled both foul shots to make it 47-41.
Walker split a pair of free throws with 1:48 left closing the gap to 50-48, the closest the Cardinals would get. From there the Panthers finished the game on an 8-4 run sparked by a LeCounte jumper and free throws from Richardson and Mitchell.
Youth was a reoccurring theme throughout the game. Mitchell and LeCounte, both juniors who combined for 39 points, will return next season to defend their crown. Sophomore Will Richardson is also a blossoming prospect, but maybe the most impressive of all was first-year head coach Julian Stokes, a 24-year-old.
The game plan for Stokes was simple.
"We had to force him [MJ Walker] to beat us by himself. Just not letting the others get their opportunities and I think our defensive execution was great," explained Stokes. "We pulled everything out that we prepared for and we came out with the trophy."
The stars were expected to get theirs. Walker, Mitchell and LeCounte all scored the ball well for their teams, but it was Richardson who was the X-factor for the Panthers.
"This was a moment I've been waiting for. He stepped up and made a name for himself tonight and I'm proud of him for that. I've been waiting all year for him to wake up and he's finally awake. He's going to be a great kid. Look out for him."
As well as Coach Stokes prepared his team he reflected all the praise to his players.
"All I can say is it's all about the guys. They put in the work day in and day out. They work together, they play together and we came out with the W."