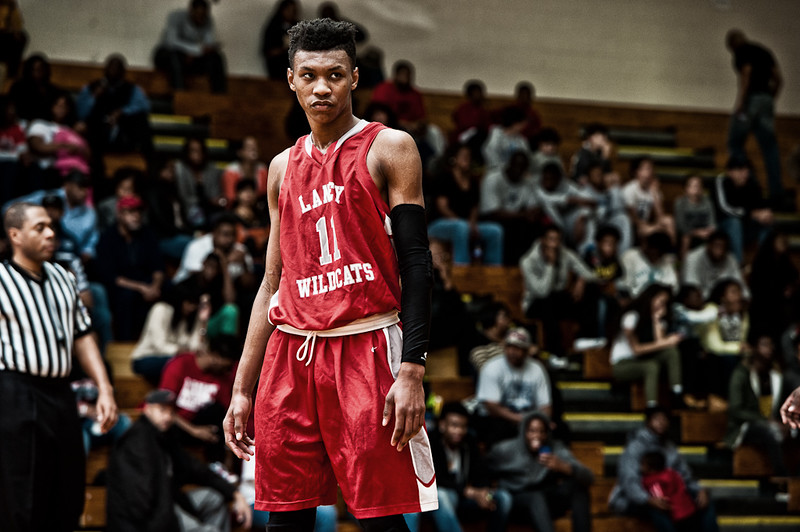 Three days, seven locations, 56 quarterfinal matchups and 28 semifinal matchups set the stage for the final leg of our annual March to Macon. The fields in each classification are wide-open as reigning champions and surging newcomers are equally represented. In Class AAAAAA, defending boys state champion Wheeler was bounced in the first round by No. 4 seed Grayson 59-58. Grayson advanced to the Elite 8 with a 60-58 win over Lee County and faces a Newton team that sits three wins away from breaking a 52-year state title drought. Pebblebrook is a pair of wins away from returning to the state championship, where the Falcons fell to Wheeler in a 59-58 heartbreaker last year.
The McEachern girls lead the AAAAAA field as they search for the program's third straight state title. Class AAAAAA Player of the Year Te'a Cooper is now at Tennessee, but Chanell Wilson and Jada Lewis are playing at all-state levels. Wilson hit five three-pointers for 28 points as McEachern crushed Archer 87-49 in the second round.
IN THE HUNT… 
Class AAAAA's defending boys champion Brunswick was beaten by Statesboro in the region tournament and failed to reach the dance, while the reigning girls champions (Stephenson) were sent home with a 53-43 first round loss to Creekview. Now, the Miller Grove boys lead a field of contenders after seeing their streak of six consecutive state titles was snapped last year. The girls' field is split as Winder-Barrow, Flowery Branch, Brunswick and Columbus hunt for their programs first state titles and Southwest DeKalb (2013), Mays (2003), Loganville (1973) and Sequoyah (1971, 1994, 1996) look to snap title droughts.
Jonesboro, the two-time defending AAAA champions, survived a championship rematch with Carrollton in the second round 51-50, but faces a dangerous St. Pius team disguised by the No. 4 seed. Grady and Lithonia join St. Pius as Region 6 teams in the Elite 8. The Buford girls return to the quarterfinals as defending state champs where they'll face Arabia Mountain. The Wolves won three straight state titles from 2009-2011 and have made the finals six of the past seven seasons.
FEELS LIKE THE FIRST TIME… 
In Class AAA, the Jenkins boys and Laney girls became first-time champions a year ago and have made it back to the quarterfinals where they await their quarterfinal foes. Jenkins squares off with Calhoun's athletic front-court and Laney faces a familiar Morgan County team as they look to beat the Bulldogs for the first time this year after falling twice in the regular season. Morgan County took its  first meeting this season 78-69 and dominated the second tilt on Jan. 9 72-53.
Defending Class AA boys champion Seminole County opened the playoffs with a finals rematch of its 76-71 win over Crawford County a year ago. The results this time, heavily favored the runner-up Eagles, as Crawford County dominated with a 95-64 victory. Crawford County awaits a must-see matchup with battle-tested Holy Innocents' out of Region 6. Like Class AAAA, Region 6 in Class AA has three teams remaining (Holy Innocents', Lovett and Pace Academy). In Class AA, Region 6 rivals Wesleyan and Holy Innocents' appear to be on course for another potential finals showdown, but quarterfinalists Heard County, Rabun County, Greater Atlanta Christian, Pelham, Model and Putnam County can prevent what would be their eighth meeting in two seasons.
SWEEPERS AND SLEEPERS… 
St. Francis swept the boys and girls Class A-Private titles last year and both the boys and girls have made it to the A-Private final since its inception in 2013. The Lady Knights opened their playoff run with an 80-23 win over First Presbyterian Day and hold the top seed. If the No. 2 seeded boys can make it past St. Anne-Pacelli and the winner of Lakeview Academy and Whitefield Academy in the semis, either Stratford Academy, North Cobb Christian, Tattnall Square or top seed Greenforest Christian would still stand in the way of a three-peat.
In Class A-Public, the Calhoun County boys broke an 18- year state title drought to take home its third state title last year, while the Taylor County girls snapped an 11-year title drought to take home the program's 11th state crown. Taylor County wears the No. 3 seed as undefeated Turner County (28-0) leads the girls field. The boys field remains wide-open as No. 13 seed Lincoln County has proven to be a dangerous team as they face seven-time state champion Wilkinson County on Thursday.