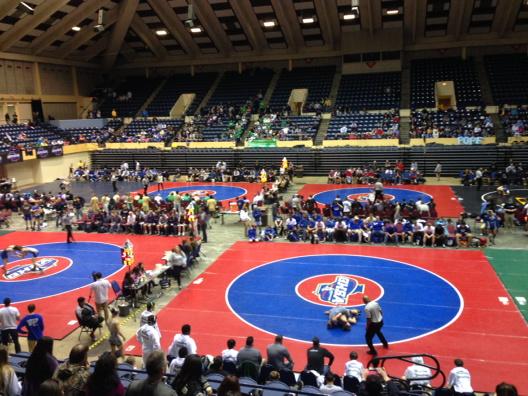 GHSA.net
Archer, one of four programs that successfully defended its state title at the Macon Centreplex on Saturday, outscored North Paulding (51-20), Chattahoochee (66-14) and Collins Hill (55-18) by a combined 110 points in the winners bracket before closing out its dominating run to a third straight Class AAAAAA team dual championship with a 66-3 blowout over Etowah.
Archer's reputation as the state's top wrestling program and as a national power was well-supported Saturday as the Tigers' reign continued in Georgia's highest classification. Etowah's successful run to Saturday's finals on the other hand marked another first for the Cherokee County school. Last month, Etowah became the first football team in county history to reach the state semifinals before Archer ended their season with a 52-7 victory. This time, Etowah made history as the first Cherokee County wrestling program to reach the finals, but once again it was Archer to end the Eagles' title hopes in convincing fashion.
Collins Hill's loss to Archer came in the semifinals (55-18) and it followed the defeat by battling past Mountain View 30-25 and grabbing a third-place finish with a 39-21 victory over Kennesaw Mountain.
Class AAAAA: Camden County returned to the podium for the second time in program history (first since 2012) with a convincing 40-19 victory over Woodland-Cartersville in the finals.  Camden County cruised past fourth-place finisher Cass (48-12) in the quarterfinals and third -lace finisher Allatoona (51-15) in the semis before handling the top-seeded Woodland Wildcats for the title.
Class AAAA: Gilmer ended Northwest Whitfield's thrilling run to the finals with a 52-13 victory to claim a sixth straight dual state title (eighth since 2005). Northwest Whitfield had survived close matches with North Hall (33-32) and Carrollton (37-34) to set up its showdown with Gilmer. Outside of Gilmer's dominance, the rest of Class AAAA saw plenty of drama as Marist edged last year's Class AAA state champions Buford 34-32 in the quarterfinals. The War Eagles' win over Buford set up a matchup with Gilmer, but that resulted in a 46-18 loss that sent Marist to the loser's bracket with Buford. Marist and Buford would meet again on Saturday in the third-place game and Marist prevailed 39-20 and took home a third place finish.
Class AAA: After winning the last 13 dual state titles in Class A (2002-08) and Class AA (2009-14), Jefferson used a 51-22 win over Sonoraville to take home its first-ever Class AAA state title. Jefferson outscored McNair (54-21), Rockmart (54-14) and Spencer (59-18) by a combined 114 points to set up the 29-point decision over Sonoraville in the finals. An incredible finish between Spencer and Lumpkin County for third place in Class AAA upstaged the rematch seen in Class AAAA with Marist and Buford. Spencer edged Lumpkin County 35-34 in their quarterfinal matchup, but unlike Marist, Spencer could not complete the sweep against Lumpkin County. When the two teams met in the third-place game, Lumpkin County returned the favor with a one-point victory of its own (33-32) to secure the third place finish.
Class AA: Social Circle ran through Dublin (69-6) and Lovett (53-15) before using a 34-31 victory over Bremen to capture the program's first-ever state championship. Greater Atlanta Christian, which finished third in Class AA, was sent to the loser's bracket with a heartbreaking 27-26 loss to Bremen. The Spartans bounced back from the difficult loss with an impressive 45-30 victory over Gordon Lee in Saturday's third-place match.
Class A: Defending Class A champion Commerce successfully defended its first and only wrestling state title with a 54-24 win over Mt. Zion-Carroll in the championship. Commerce outscored Treutlen (59-15) and Trion (66-4) by a combined 106 points before the finals. Turner County fell 41-36 to runner-up Mt. Zion before topping Trion 34-27 for a third-place finish in Class A.
2014-15 GHSA Team Dual Wrestling Championship Results
Saturday in Macon
Class AAAAAA
1. Archer
2. Etowah
3. Collins Hill
4. Kennesaw Mountain
Class AAAAA
1. Camden County
2. Woodland-Cartersville
3. Allatoona
4. Cass
Class AAAA
1. Gilmer
2. Northwest Whitfield
3. Marist
4. Buford
Class AAA
1. Jefferson
2. Sonoraville
3. Lumpkin County
4. Spencer
Class AA
1. Social Circle
2. Bremen
3. Greater Atlanta Christian
4. Gordon Lee
Class A
1. Commerce
2. Mt. Zion-Carroll
3. Turner County
4. Trion