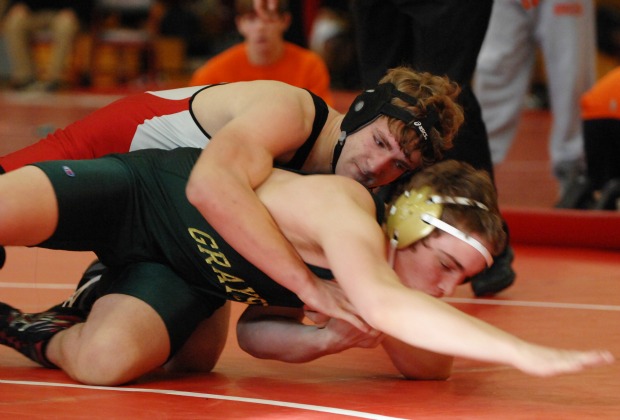 Sonny Kennedy
Archer won the Sham Slam tournament over the weekend with 273.5 points. Jefferson came in as runner-up with 204 points and was followed by Collins Hill (199.5) and Carrollton (186). Overall wrestlers of the weekend were Ryan Millhof of Collins Hill (lightweight), Taylor Lujan of Carrollton (middleweight) and Chance McClure of Commerce (upperweights). Weight class winners were Jordan Pitt of Chattahoochee (106), Sean Russell of Collins Hill (113), Joey Payton of Etowah (120), Millhof (126), Chris Diaz of Archer (132), Tyler Marinelli of Jefferson (138), Thomas Bullard of Archer (145), Lujan (152), Dan Harris of Carrollton (160), Elliot Lee of Archer (170), Chip Ness of Buford (182), Maverick Rechsteiner of Etowah (195), McClure (220) and M.J. Couzan of Archer (285). Twenty-six teams competed in the event, which was hosted by Habersham Central.
Marist came in fifth place while Woodward Academy and Holy Innocents' tied for sixth and Lovett came in 10th at the Prep Slam tournament at Holy Innocents'. Jule Peek of Darlington won the 126-pound weight class, Jason Grimes of Holy Innocents' won the 182-pound class and Kenneth Brinson of Marist won in the 195-pound class, among winners from Georgia. Brinson was named Heavyweight of the Weekend.
Pope won the Cobb County Invitational with 282 points to second-place Hillgrove's 171.5. Kennesaw Mountain came in third with 149, followed by Harrison (148) and Allatoona (134.5). Six Pope wrestlers won their respective weight classes – Tyler Haskin (126), Davis Burson (138), Jake Henson (152), Billy Meek (160), Joey Tabachino (220), and Taylor Howard (285).
Host Brookwood won the North Metro tournament with 170 points and was followed by Locust Grove with 164, Hillcrest (S.C.) with 154.5, Cambridge with 133 and Greater Atlanta Christian with 123. The victorious Broncos were led by wins at 120 pounds by Thanh Nguyen, at 132 by Wyatt Jozowski and at 195 by Caleb Harris. The lightweight Wrestler of the Weekend was J.R. Salemi of Cambridge and the heavyweight honoree was Ellison Sanders of Hillcrest (S.C.)
Meadowcreek won the Last Man Standing tournament at Eagle's Landing Saturday by narrowly beating the hosts 133.5-130.5.