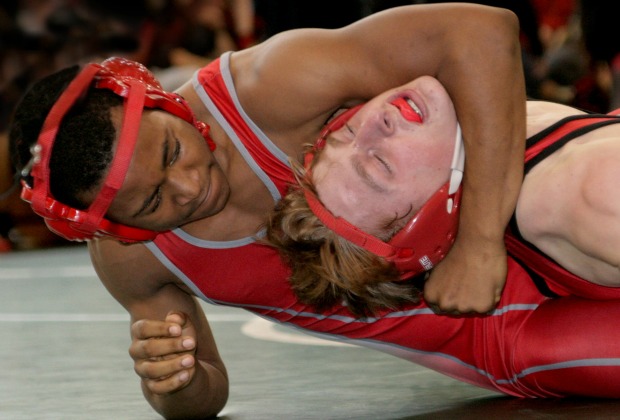 Sonny Kennedy
Class AAAAAA No. 1 Archer may have convinced the state it is the top wrestling team regardless of classification with a 34-29 win over host Pope Saturday. The Tigers forfeited the final two matches to Pope after clinching the win with sophomore Elliot Lee's win in the 170-pound weight class. Lee's victory gave Archer an insurmountable 34-17 lead in the match between the top-ranked teams in Class AAAAA and Class AAAAAA.
Marist won the DeKalb County wrestling meet with 223 points to edge Southwest DeKalb, which had 210. The War Eagles trailed with three finals matches left, but won all three to clinch the victory. Kenneth Brinson (195), Jack Trainor (220) and Steven Wallace (285) won consecutively for Marist. Mel Bethune (138) and Matt Andres (152) also won for the War Eagles.
Defending champion McNair came in third, Lithonia fourth and Stephenson fifth. A total of 21 programs competed at the meet, which was hosted by Tucker High School. Marist and St. Pius were the only private schools there and Decatur was the only public school present that is not a part of the DeKalb County school system.
At the Hall County Duals, Chestatee edged Flowery Branch 31-30 in the finals after defeating Gainesville and North Hall in the 8-team tournament. Outstanding wrestlers of the weekend were North Hall's Taylor Marett (lightweight), North Hall's Tyler Kratzer (middleweight) and Carter Groves of Chestatee (heavyweight).
Greater Atlanta Christian won all three of its matches in a quad meet it hosted Saturday. The Spartans defeated Mountain View 38-24, Wheeler 51-20 and Woodland-Stockbridge 53-27.
Effingham County won the Brunswick Duals Saturday after going 5-0 as a team at the meet. The Rebels defeated Johns Creek, host Brunswick, Richmond Hill, The Bolles School (Fla.) and Charlton County. Johns Creek went 4-1 while Brunswick went 3-2. Richmond Hill and Bolles each went 2-3.
Area traditional meets will take place this coming weekend in preparation for the traditional state tournament, which will be held Feb. 14-16 at the Macon Centreplex. Coaches from each area will meet Thursday night to discuss individual seedings for the area tournaments. Area coaches set their own criteria for the seedings which may include head-to-head matches, last year's finish at the state tournament, strength of schedule and overall record.