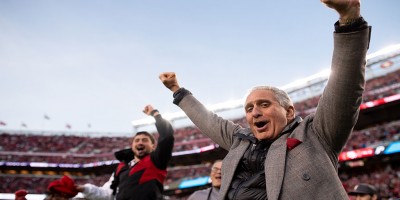 More than four decades after co-founding The Home Depot and growing one of the world's most diverse and thriving business empires, Arthur Blank has teamed up with HarperCollins Publishing's William Morrow to release a new book called "GOOD COMPANY" that will empower readers to pursue values-based successes in business and life. The book will be published on September 15, 2020 and is currently available for pre-order at www.arthurblank.com.
The motivation behind "GOOD COMPANY", according to Blank, is to share his values and business philosophies with readers in order to empower companies, associates and customers to achieve financial success and make a difference in the world. Blank spent 23 years with The Home Depot before retiring from his position in 2001 and he gave back more than $113 million to communities during that time. After the Home Depot, Blank's ventures include leading the Arthur M. Blank Family Foundation and today Blank's Family of Businesses includes the NFL's Atlanta Falcons; MLS's Atlanta United; the nationwide PGA TOUR Superstore; three ranches in Montana, Mountain Sky Guest Ranch, West Creek Ranch and Paradise Valley Ranch; and Mercedes-Benz Stadium, which hosted the 2019 Super Bowl and is home to the Falcons and Atlanta United.

"I deeply believe that we live in an abundant world – one where there is enough for everyone," said Blank. "My sincere hope for this book is that it will be read by current and aspiring leaders and fuel their optimism and dedication to making a positive difference in the world. I hope readers come away with confidence that their desire to succeed in business does not have to be at odds with their desire to live a life of meaning and purpose," Blank continues. "During the unprecedented, difficult challenges we are facing today, current and future leaders have an extraordinary opportunity and challenge to weather the storm and prove that through upholding values we can add value to our companies and to those we serve."
At the heart of "GOOD COMPANY" are the six key principles that Blank has applied to all his business ventures and he credits them with not only financial success, but also personal fulfillment. The six principles are to Put People First; Listen and Respond; Include Everyone; Innovate Continuously; Lead by Example: Give Back to Others.
Former President of the United States Jimmy Carter penned the Foreword for "GOOD COMPANY" and insight from prominent figures, CEO's and other philanthropists are woven throughout the text.
"Arthur has spent a lifetime road-testing his core values, which have been the bedrock of a life and career that has had tremendous success and profound impact," said Executive Editor Mauro DiPreta. "We're fortunate that he's now committing it to paper in GOOD COMPANY so that the next generation of leaders can emulate him."
Blank's eagerness to give back has ran parallel to his visionary leadership and decades of business successes and "GOOD COMPANY" also aims to give back as all of Blanks personal proceeds from "GOOD COMPANY" will be donated to an already selected non-profit to be announced at a later date.
Back in 1999, Blank wrote a book with Home Depot co-founder Bernie Marcus called "Built From Scratch.'' The book, on the building of one of the largest retailers in the world, was very popular and is a must-read for any entrepreneur.
HaperCollins Publishers has operated for over two centuries and is the second largest consumer publisher in the world. Writing across dozens of genres and releasing more than 10,000 books annually, HarperCollins authors include winners of the Nobel Prize, the Pulitzer Prize, the National Book Award, the Newbery and Caldecott Medals and the Man Booker Prize. HarperCollins, headquartered in New York, is a subsidiary of News Corp (Nasdaq: NWS, NWSA; ASX: NWS, NWSLV) and can be visited online at corporate.HC.com.