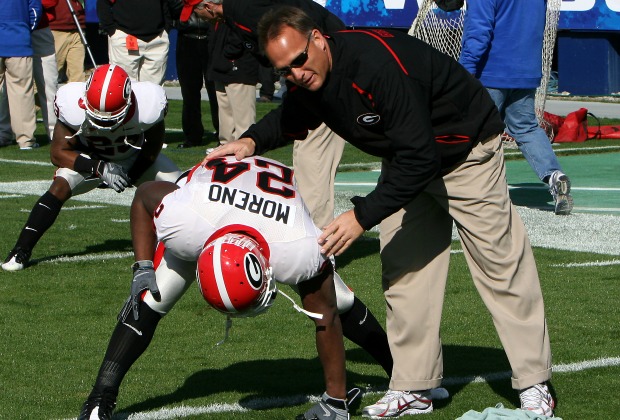 Photo by Rob Saye
Less than a week after former defensive coordinator Todd Grantham left the program to accept the same position at the University of Louisville, head coach Mark Richt and the Dawgs wasted little time to find a replacement. Many thought there was a decent chance the Bulldogs could lure Kirby Smart, Alabama's current defensive coordinator, away from the Crimson Tide. However, Smart—who played defensive back for the Bulldogs from 1995-1998—received a raise and stayed with Nick Saban and the Tide. The Dawgs also reached out to Florida State defensive coordinator Jeremy Pruitt and landed the highly-touted coach for the same position.
The move is a slam dunk, considering Pruitt had been on a national championship team for the last three seasons—two with Alabama as the defensive backs coach and this past season with Florida State as the defensive coordinator. Pruitt guided the FSU defense to a stellar year, finishing first in the nation in scoring defense (12.1 ppg) as well as third in total defense (281.4 ypg). Pruitt will not only be the defensive co-ordinator, but he will also coach the defensive backs, which is a blessing given the Dawgs gave up more than a few back-breaking plays in 2013. In the past four seasons Pruitt's secondaries have finished in the nation's top 10 in passing efficiency and have also produced several first- round draft picks. This clearly bodes well for the Georgia, considering the Bulldogs did not play up to standards in 2013 and finished 84th na- tionally in passing efficiency (134.74).
Richt summed up how he felt in two words at Pruitt's introductory press confer- ence: "I'm ecstatic."
Pruitt also expressed his sentiment, saying, "This is an outstanding professional and personal opportunity. I'm looking forward to meeting the current players and getting on the road to visit with recruits."
RECRUITING …
There is certainly a buzz roaming around Athens about the newly-appointed defensive coordinator, not to mention the impact Pruitt has already made on the recruiting trail. He already helped the Dawgs get a commitment from four-star defensive back Rico McGraw for the 2015 class. The Bulldogs currently have 17 players committed for the 2014 class and rank 10th nationally according to multiple recruiting websites.
DAWGS IN THE SUPER BOWL …
The Bulldogs have three former players making their first appearance in a Super Bowl. Champ Bailey and Knowshon Moreno play for the Broncos and Chris Clemons is on the Seahawks.