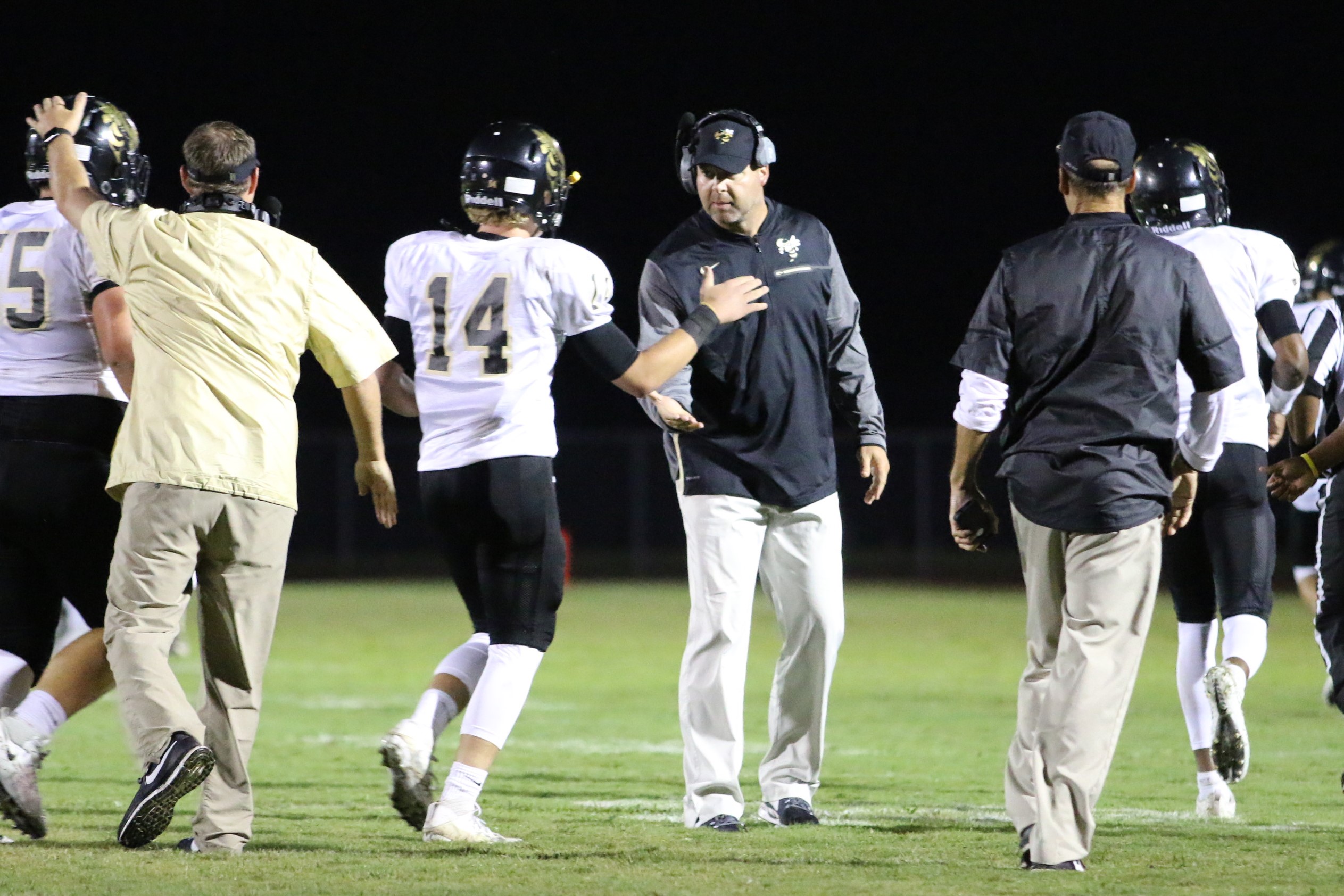 Photo by Shelly Culver
The Atlanta Falcons Coach of the Week program recognizes high school football coaches across the state of Georgia for their hard work and dedication to making a difference in student-athletes' lives on and off the field. Rockmart head coach Biff Parson is the second winner of the 2018 season and his Yellow Jackets are on a roll as they gear up for Friday night's Region 7-AA opener against Armuchee.
The level of success being experienced with Parson at the helm had eluded the nearly century-old Rockmart program (established 1923) for decades prior to his 2016 arrival.
Parson has spent his whole life around the game of football and this depth of experience has strongly influenced the standard he implements with his ascending program.
His father Ronnie was a long-time assistant and head football coach in Georgia and growing up around the game revealed to Parson at a young age that he too wanted to get into coaching. He grew up playing quarterback at Franklin County High School and his talents led him to continue his career at Liberty College (1997-2001) and with the Canadian Football League's Hamilton Tiger-Cats (2002). Biff also got to experience all three levels as a coach before landing in Rockmart. His many stops include Liberty, NFL Europe's Frankfurt Galaxy, Hart County, Villa Rica, Dublin, Lamar County, Mary Persons and Banks County.
Since taking over, Rockmart has posted back-to-back 9-3 finishes and this past season included a school-record 41 points per game and the school's first region title since 1988. This generated a lot of excitement heading into this year, and the team's impressive 3-0 start is amplifying it.  Two of the three victories came against ranked opponents (Cedartown and Heard County) and the Yellow Jackets have won by an average of 27.7 points per game.
"Coach Parson has made an impact on our sports programs that Rockmart High School has not experienced in many years," said Athletic Director Barry Williams. "I have worked with many coaches over the years and Biff has a unique combination of communicating and coaching that breeds success."
Defensively, Rockmart is holding opponents to just seven points per game, something Parson couldn't be happier to see out of a group comprised of several first-time contributors.
"It's been a really big surprise for us," said Parson of his defense. "We had to replace so many defenders from last year and we've got some guys that are first-year guys that have never played the game as far as a varsity level is concerned. So for them to buy in and make it a priority to be one of the top defenses in Class AA is great to see. I would truly be blessed to be able to say that defense is going to be our identity this year. They are bringing a lot of energy and it gets our kids really fired up."
Parson's offense features a deep backfield with tremendous speed. Leading the group is Zabrion Whatley, who rushed for 20 touchdowns a year ago and finished third in state in the 100 meters with a blazing 10.8. Whatley's younger brother Javin showcased his speed on an 80-yard punt return a couple weeks ago and placed second in the state in the 100 meter hurdles as a freshman last year. Senior Markus Smith adds even more playmaking ability to the offensive side of the ball and is back in the mix after a meniscus repair sidelined him for the first two games of this season.
"The biggest thing that I've learned through my years of coaching is that if all I do is teach the players how to block and tackle, then I failed them," explained Parson. "I have failed them as a leader, I have failed them as a coach and I have failed them as a mentor. At the end of the day, it's about when they are 30-35 years old, the life lessons that they have learned through this program and through the game of football that is going to make them a better man in society and that is what we need in our male figures these days."
Each week, one coach will be selected to be the Atlanta Falcons Coach of the Week based on his commitment to his team, community and player safety. The winning coach will receive a $1,000 equipment grant, a commemorative football and tickets to an Atlanta Falcons home game.
To nominate a varsity football coach: Click Here
Rolling nominations will be accepted until Nov. 1.