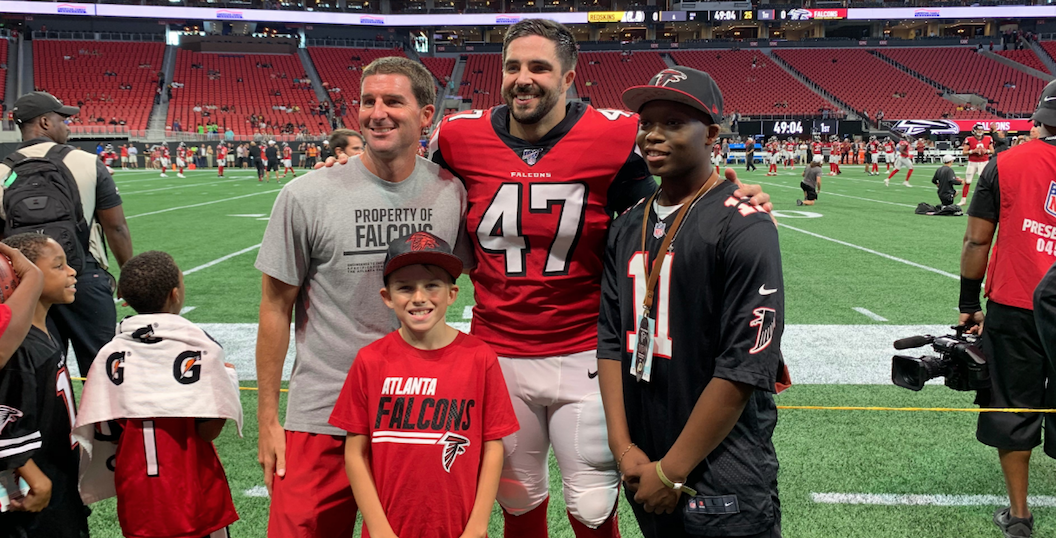 AtlantaFalcons.com
The Atlanta Falcons Coach of the Week program recognizes high school football coaches across the state of Georgia for their hard work and dedication to making a difference in the lives of student-athletes both on and off the field.
Sean Calhoun, the first winner of the 2019 season, resides an hour west of downtown Atlanta at Carrollton High School where he leads the Trojans' storied program. Since taking over in 2016, Calhoun's teams have reached three straight quarterfinals out of Class AAAAA. This year's squad is already off to a blazing start after scoring a 33-3 win over Class AAAAAAA's East Coweta this past Friday night. In the victory, Carrollton trailed 3-0 after the first quarter, but went to work in the final three periods, outscoring the Indians 33-0 and outgaining them 463-221 in total yardage. Junior quarterback Myles Morris finished 15-for-22 passing for 276 yards and two touchdowns to receiver Austin Waldrop.
The expectations surrounding this year's team are huge as they look to bring home the program's first state title since 1998. Carrollton's star-powered senior class includes linebacker Chase McDaniel, who was unfortunately diagnosed with stage 3 lymphoma this past April. Calhoun and Trojan National have rallied around McDaniel as he continues his fight. McDaniel was voted a team captain for this season.
"During every game until Chase is finished with chemo and able to play, there will be one of his teammates wearing his No. 42 jersey and playing that game in his honor," his mother Kiki McDaniel told Channel 2 Action News.
"He still has some chemo treatments to go and his next scan will be at the end of September. We are praying that he gets a clear scan at that time," Kiki McDaniel said.
Calhoun and McDaniel were on site for the Falcons' preseason game against the Washington Redskins and met up with Carrollton alum Josh Harris for a pregame photo.
Each year Calhoun chooses a word or phrase that the team will use as a rallying cry for the season ahead. This year, that word is "seize."
"The definition is something we have to overwhelm or take by force something you want," Calhoun told the AJC. "What they want is a state championship, so that's what they're doing every day. That's our mindset. Nobody is going to give it to us – other people want the same thing we want – and they know they have to continue to do the work."
If you know a varsity head football coach dedicated to making a different on and off the field, CLICK HERE to nominate them for the Atlanta Falcons Coach of the Week Award.