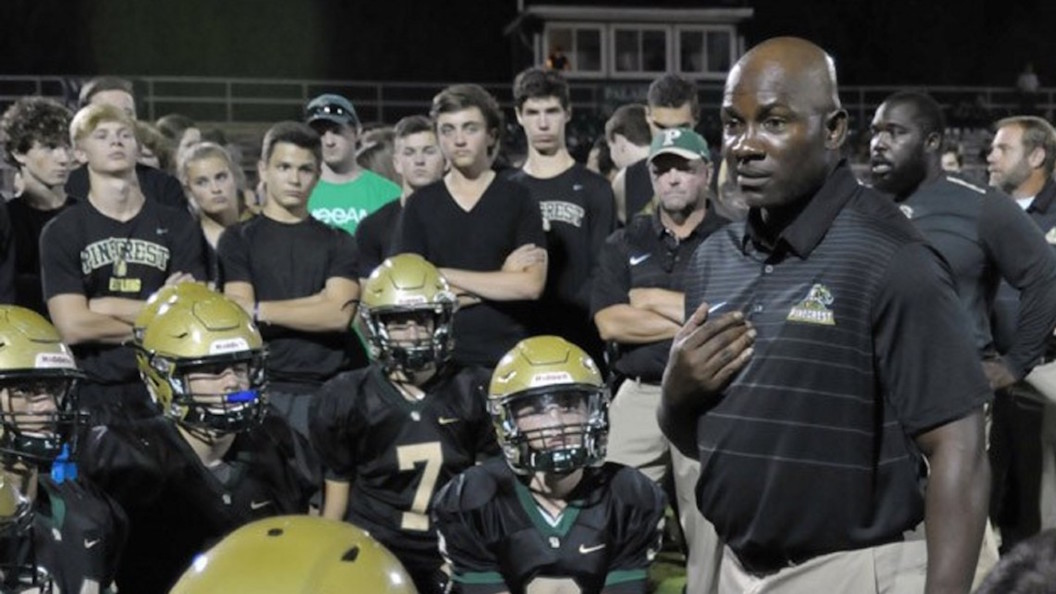 The Atlanta Falcons Coach of the Week program recognizes high school football coaches across the state of Georgia for their hard work and dedication to making a difference in the lives of student-athletes both on and off the field. This season's ninth winner is Pinecrest Academy head coach Terence Mathis, who is currently serving in his third season as the Paladins head coach.
Mathis is a former NFL receiver that spent eight (1994-01) of his 13 total professional seasons (1990-02) playing for the Atlanta Falcons. He made the Pro Bowl his first season in Atlanta after catching a then single-season record 111 passes, becoming just the eighth player in NFL history at the time to catch more than 100 passes in a season. Mathis was named Atlanta Falcons 'Man of the Year' in 1998, just two years after he established the "Terance Loves Children" foundation, which is now known as the Terance Mathis Foundation today.
While at Pinecrest Academy, coach Mathis has been tasked with establishing a winning foundation in a very difficult region. The Paladins are one of the eight teams in Region 6-A Div. B and there are seven teams on the other side in Div. A. Last season, Pinecrest Academy nearly played for a spot in the playoffs, but fell to 4-6. This season, Pinecrest Academy opened up its region schedule 0-5, but just scored a massive 55-0 win over King's Ridge this past Friday night.
"Coach Mathis took over the Pinecrest program after it lost multiple talented players to transferring and led it close to playoff contention in one of the most competitive regions in Class A," said Booster Club President Craig Wesemeyer. "He has worked hard to rebuild the football program this year and is setting a standard of achievement to groom each player for a life of success beyond the football field."
Mathis' experience playing at the highest level has given him an opportunity to pass on that knowledge to a new generation and he teaches the players the technical skills and fundamentals to promote player safety, while also teaching them how to be successful off the field.
"He is working in a challenging environment and continues to promote positive values like hard work, acceptance and faith," said Wesemeyer. "That is why I am recommending him to be the Coach of the Week."
If you know a varsity head football coach dedicated to making a different on and off the field, CLICK HERE to nominate them for the Atlanta Falcons Coach of the Week Award.