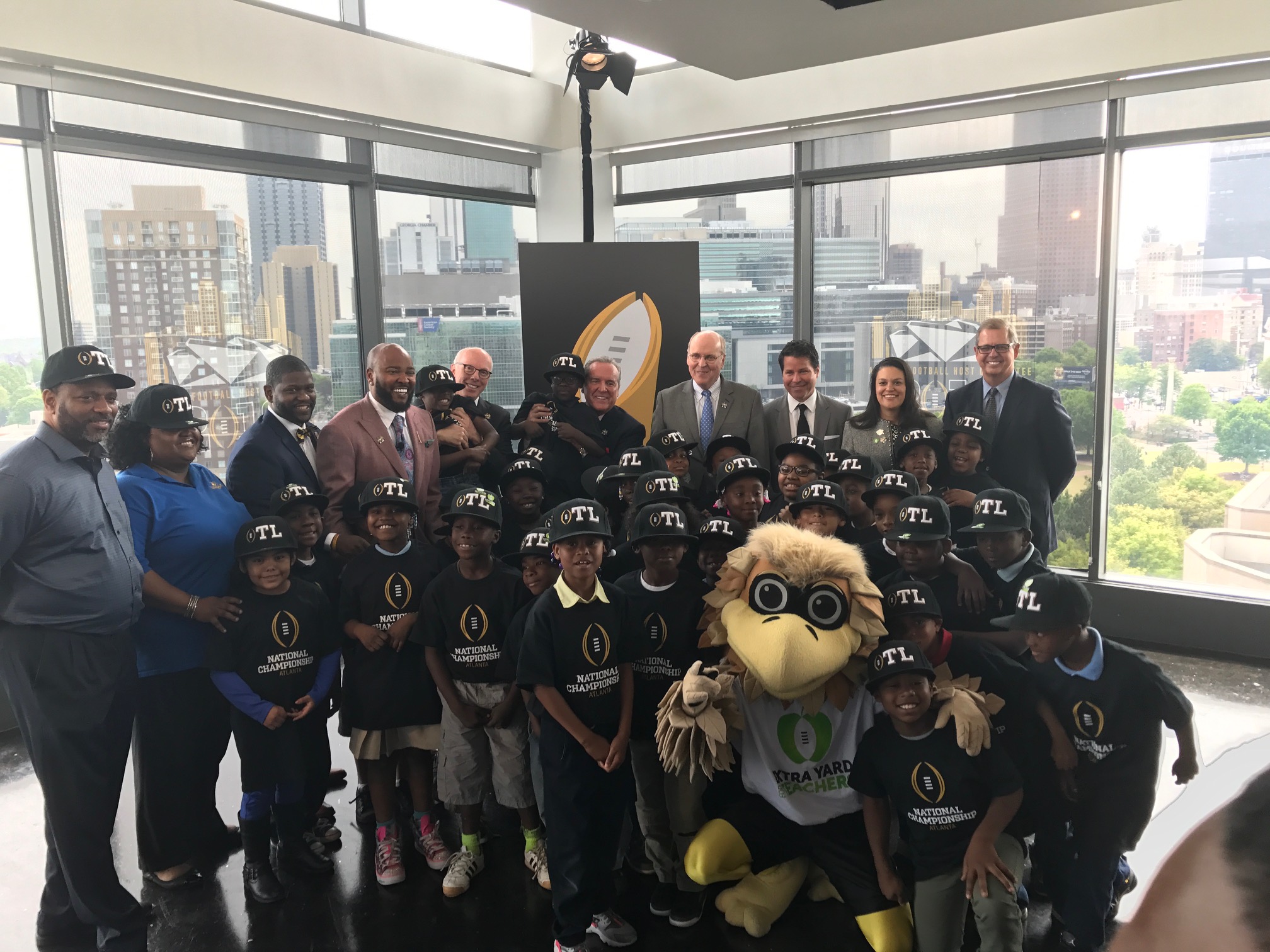 The College Football Playoff has introduced an exciting new era during its short three-year history. Now, it is Atlanta's turn to raise the bar as the city gets set to host this season's College Football National Championship Game on January 8, 2018 in Mercedes-Benz Stadium. Front office, Atlanta host committee members, media and a bus of smiling second-grade students from the Atlanta Public School System were in attendance at Ventanas restaurant in the heart of downtown Wednesday morning as plans for the fourth College Football National Championship game were unveiled.
The primary goal will be to transform Mercedes-Benz Stadium and the surrounding area into a championship campus.
"As we prepare to host the college football national championship game, the host committee staff and the college football playoff staff are working very hard together to take this very walkable and compact downtown and transform it into a championship campus," said Atlanta Football Host Committee Board President, Dan Corso.
Atlanta has hosted Super Bowls, Final Fours and marquee events before, but this is an opportunity for the city to use its walkability to its full advantage. The Georgia World Congress Center will provide 300,000 square feet for Playoff Fan Central, a three-day long interactive event.
Across the street, Centennial Olympic Park will be jamming with AT&T Playoff Playlist Live. This will give fans three days of free concerts and nightly firework shows. The acts are yet to be announced for these concerts. The International Plaza right outside of Mercedes-Benz Stadium will provide thrills to fans by means of extreme sports. Zip-lining, stunt jump and free-fall rides will be available Saturday-Monday.
There are more fan options available on Saturday with media day as Phillips Area is expected to host more than 1,000 members of the media. This event will be open to the public and all fans in attendance will receive free headsets to listen to coaches and players react live.
The Extra Yard for Teachers is set up by the College Football Playoff Foundation and significant efforts will be made to benefit local teachers and educators all over. The Georgia World Congress Center is setting up a teachers lounge for Saturday and Sunday where special guests, giveaways and school makeovers are part of an inspiring celebration of teachers. On Sunday, there will be the Extra Yard 5K. This is the official race of the College Football National Championship game and it will benefit The Extra Yard for Teachers program.
The Georgia Aquarium is going to host Taste of the Championship the day before kickoff. This one-day event will showcase the city's top chefs and restaurants.