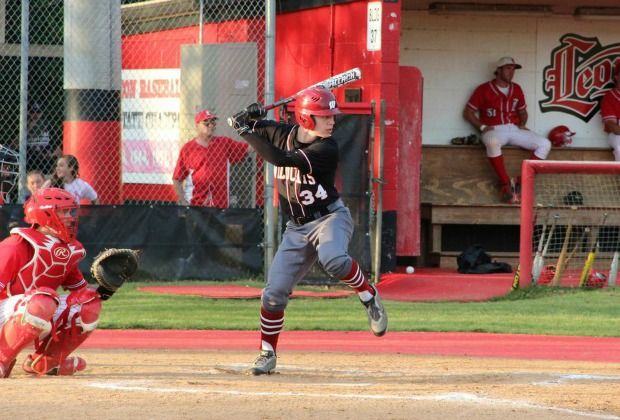 Photo By Georgia Bennett Photography
Seth Beer helped No. 2 Lambert (8-2) get back on the winning track on Friday in Class 6A after blasting two homeruns in a 13-4 road victory over South Forsyth (4-6). Beer finished 2-4 with three RBIs while J.D. Dutka and Ian Kimbrell both finished with two hits and a homer apiece. Jeremy Johnson finished 4-5 with two runs scored and three RBIs and Will Dunavant went a perfect 4-4 at the plate. No. 7 Archer (10-3) defeated Brookwood (9-3) behind the bats of Curtis Taylor and E.J. Ranel. Taylor blasted a three-run homerun and Ranel scored two runs and drove in two while finishing 3-4 on the night.
In a battle of top three-ranked schools from Class 4A and 5A, No. 1 Buford (11-1) shutout No. 3 Gainesville 2-0. Buford's Jake Higginbotham and Connor Bennett combined for 15 strikeouts as the Wolves won at Coolray Field. Higginbotham allowed the only two Red Elephant (8-2) hits all night in his five innings of work in which he struck out 10 batters. Joey Bart singled in Austin Wilhite and the Wolves added an insurance run in the sixth after a Gainesville throwing error. No. 5 North Hall (8-2) continued its hot start to the season and pounded White County (3-9) into submission with a 15-0 victory in three innings. The shortened game helped Aaron Miles pick up his second consecutive no-hitter. He also finished with three runs batted in.
Coming off of back-to-back no-hitters, Class 3A's top ranked Blessed Trinity Titans (9-2) recorded their third consecutive shutout after posting a 13-0 win over McNair (4-4). Hayden Lehman struck out eight in four innings of work. Jack Dunn and Kentucky-commit Conor Davis both drove home two runs while five other players picked up an RBI. Senior Graham Guthrie scored three runs.
No. 2 Greater Atlanta Christian (12-2) edged No. 3 Lovett (8-3) in a top five meeting, 3-1. Wes Bucher tossed a complete game and recorded 10 strike outs while Peyton McGuire drove in two to lead the way for the Spartans. On Friday, No. 5 Benedictine rallied for three runs in the final inning to knock off No. 7 Bacon County (10-1), 4-3. Warren Wright slashed a walk-off double to complete the comeback. The following day, the Cadets (9-4) shutout Calvary Day (5-4), 2-0 behind an Al Pesto complete-game shutout in which he punched out eight batters.
Class A's defending state champion No. 1 King's Ridge (8-1) fell to No. 3 Mount Paran 7-4 in a rematch of last year's state final, but quickly rebounded with a pair of wins including 11-0 over North Cobb Christian (3-7) and 14-1 at Christian Heritage (8-4). Mount Paran on the other hand has dropped back-to-back games since the win over the Tigers and now finds itself at 4-2 on the season.
AAAAAA
1. Parkview
2. Lambert
3. Kennesaw Mountain
4. Milton
5. Walton
6. Lassiter
7. Archer
8. Valdosta
9. Woodstock
10. East Coweta
AAAAA
1. Greenbrier
2. Hardaway
3. Gainesville
4. Starr's Mill
5. Allatoona
6. Creekview
7. East Paulding
8 Union Grove
9. Northside-Columbus
10. Loganville
AAAA
1. Buford
2. Whitewater
3. Locust Grove
4. St. Pius
5. North Hall
6. Troup
7. Mary Persons
8. Pike County
9. Liberty County
10. Eastside
AAA
1. Blessed Trinity
2. Pierce County
3. Washington County
4. Jefferson
5. Jackson
6. Hart County
7. Westside-Augusta
8. Callaway
9. Rutland
10. Westminster
AA
1. Wesleyan
2. Greater Atlanta Christian
3. Lovett
4. Jeff Davis
5. Benedictine
6. Thomasville
7. Bacon County
8. Bremen
9. Vidalia
10. Rabun County
A
1. King's Ridge
2. Tattnall Square
3. Mt. Paran
4. Charlton County
5. First Presbyterian Day
6. Emanuel County Institute
7. Eagle's Landing Christian
8. Treutlen
9. Mt. Pisgah
10. Claxton