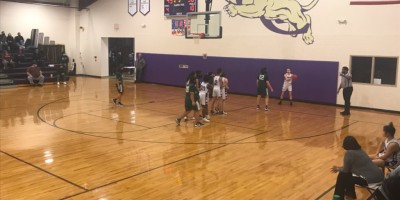 Pace Academy's boys, ranked No. 1 in Class 2A, had little trouble beating Washington 94-52 Friday and Florida State signee Matthew Cleveland led the way.
The 6-foot-6 five-star shooting forward scored 35 points with 11 rebounds through three quarters. Cole Middleton, a 6-6 senior power forward scored 12 points with 12 rebounds. Madison Durr, a 6-5 senior point guard, scored 10 points with 12 assists and seven steals. LJ Moore scored 11 points, Josh Reed scored 10 points with eight rebounds and Logan Bake added six points.
Pace moves to 16-1 on the season and 5-0 through Region 6-2A. The Knights will host Langston Hughes Saturday.
See the rest of the scores below.
See the rest of the scores below.
Boys
Alcovy 78, Rockdale County 68
Alexander 81, Carrollton 78
Bainbridge 49, Westover 47
Baldwin 69, Rutland 21
Berrien 62, Early County 57
Brunswick 75, Bradwell Institute 58
Butler 67, Josey 52
Callaway 65, Temple 49
Cartersville 54, Cass 53
Centennial 89, Johns Creek 63
Central-Carroll 46, Heritage-Catoosa 38
Chapel Hill 81, Cross Keys 31
Commerce 64, Lincoln County 61
Creekside 74, Forest Park 73
Dacula 60, Central Gwinnett 48
Dade County 80, Gordon Central 48
Drew Charter 94, Bowdon 52
East Laurens 52, Toombs County 48
Effingham County 50, Glynn Academy 42
Etowah 66, Cherokee 52
First Presbyterian 71, Mt. de Sales 54
Fitzgerald 40, Cook 36
George Walton Academy 57, Athens Christian 45
Glenn Hills 77, Oglethorpe County 44
Greene County 80, Lake Oconee Academy 33
Greene County 80, Lake Oconee Academy 33
Grovetown 88, Heritage-Conyers 63
Hancock Central 76, Twiggs County 57
Harris County 74, Northside-Columbus 43
Hephzibah 56, Richmond Academy 47
Hiram 62, Calhoun 48
Jordan 61, Carver-Columbus 42
Lanier County 77, Brooks County 64
Lithonia 59, Stone Mountain 42
Loganville Christian 56, Prince Avenue 39
Lovett 67, KIPP Atlanta Charter 45
McDonough 57, Luella 51
McEachern 87, Newnan 46
Milton 74, Woodstock 49
Mt. Paran Christian 50, Walker 47
Murray County 68, Adairsville 63
New Manchester 54, North Springs 43
Norcross 62, Discovery 58
North Gwinnett 62, Mountain View 47
Northeast 63, Dodge County 60
Northview 58, M. L. King 48
Oconee County 63, East Jackson 56
Pace Academy 94, Washington 52
Paulding County 60, East Paulding 59
Perry 62, West Laurens 58
Portal 58, Emanuel County Institute 33
River Ridge 46, Cambridge 26
Riverdale 64, North Clayton 36
Riverwood 80, Creekview 64
Roswell 80, Alpharetta 66
Salem 45, Greater Atlanta Christian 38
Shiloh 63, Habersham Central 22
South Atlanta 59, McNair 36
St. Francis 69, Mt. Pisgah Christian 55
Statesboro 54, Richmond Hill 49
Tallulah Falls 50, Athens Academy 39
Tri-Cities 81, Jonesboro 67
Tucker 60, Langston Hughes 54
Veterans 85, Ware County 43
Washington County 77, Jasper County/Monticello 36
Westlake 76, Morrow 60
Westside-Macon 81, Spalding 72
Wheeler County 68, Treutlen 60
White County 60, West Hall 44
Whitefield Academy 64, Landmark Christian 56
Winder-Barrow 64, Lanier 59
Windsor Forest 100, Liberty County 42
Woodward Academy 70, Mundy's Mill 45
Girls
Allatoona 57, South Cobb 37
Americus-Sumter 61, Crisp County 40
Arabia Mountain 70, Miller Grove 28
Baldwin 66, Rutland 35
Bradwell Institute 49, Brunswick 46
Cairo 53, Dougherty 46
Callaway 43, Temple 23
Carrollton 63, Alexander 29
Coahulla Creek 60, Lakeview-Fort Oglethorpe 27
Columbia 63, Towers 23
Dade County 59, Gordon Central 31
Deerfield-Windsor 42, Tattnall Square 30
Dougherty 77, Shaw 37
Douglas County 61, Dalton 39
Dublin 37, Telfair County 31
Eagle's Landing 48, Dutchtown 24
East Paulding 74, Paulding County 37
Emanuel County Institute 66, Portal 22
Fannin County 49, Chattooga 29
Fitzgerald 66, Cook 41
Glynn Academy 64, Effingham County 16
Greenbrier 63, Clarke Central 22
Grovetown 64, Heritage-Conyers 46
Habersham Central 40, Shiloh 26
Hephzibah 58, Richmond Academy 8
Hiram 40, Calhoun 24
Jackson-Atlanta 73, Villa Rica 39
Johns Creek 58, Centennial 31
Josey 57, Butler 33
Kell 72, Lassiter 25
Kennesaw Mountain 52, Osborne 44
Lanier 40, Winder-Barrow 37
Lanier County 56, Brooks County 44
Liberty County 50, Windsor Forest 47
Loganville 63, Jackson County 29
Mt. Paran Christian 62, Walker 12
Murray County 69, Adairsville 48
Norcross 56, Discovery 50
North Forsyth 54, Forsyth Central 36
North Paulding 46, Hillgrove 24
Peach County 54, Jackson 52
River Ridge 56, Cambridge 50
Riverwood 58, Creekview 41
Rockdale County 96, Alcovy 15
Rome 57, South Paulding 17
Savannah Country Day 32, Islands 27
Sonoraville 68, North Murray 35
Sprayberry 71, Wheeler 25
St. Francis 81, Mt. Pisgah Christian 46
Statesboro 43, Richmond Hill 26
Stratford Academy 63, Strong Rock Christian 24
Tri-Cities 51, Jonesboro 46
Union Grove 66, Ola 25
Veterans 56, Ware County 45
Wayne County 43, Coffee 42
Wesleyan 80, Atlanta International 11
Westlake 85, Morrow 18
Westminster 66, Carver-Atlanta 19
White County 77, West Hall 9
Woodstock 64, Milton 17
Woodward Academy 81, Mundy's Mill 25