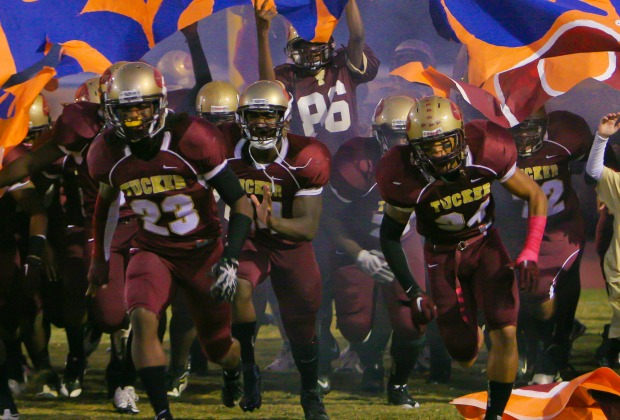 Photo by David Sibley
Marist 17, Godby (Fla.) 14: Joey Goegel's 19-yard field goal with eight seconds left lifted Marist past Godby in the opening game of the Battle of the Borders at Hallford Stadium. Quarterback Sam Phelps ran in a 1-yard touchdown to give Marist a 7-0 lead before Godby quarterback Darius Bradwell answered with a 6-yard touchdown run in the second quarter to tie it at 7-7. The Jaguars jumped offsides on a 30-yard Marist field goal attempt before the half and Spencer Taylor capitalized with a 6-yard Marist touchdown run. Bradwell ran in his second score in the third quarter to make it 14-14. Marist survived a three-turnover third quarter and coverted a 3rd and 11 with 1:52 left in the fourth quarter on a 31-yard reverse by sophomore Chris Martel that set up the Goegel game-winning kick.
Norland (Fla.) 30, M.L. King 0: Kion Holder intercepted Jordan Douglas and returned it for a 28-yard touchdown to give Norland a 7-0 first quarter lead in Game 2 of the Battle of the Borders. Three of four Douglas interceptions came in the first half and the Lions' offense managed 34 total yards in the opening half before a 10-yard second half. In the second quarter, Carlton Davis intercepted Douglas and set up a Rodrick Robinson 26-yard touchdown run. Minutes later, Robinson hauled in an interception and drove the Vikings into the redzone, before fumbling inside the 1-yard line. M.L. King recovered and escaped with just a 14-0 halftime deficit. On the final play of the third quarter, Robinson extended Norland's lead to 21-0 with a 22-yard touchdown pass to Steven McIntosh before an hour-long lightning delay halted the action. The Vikings' defense extended the lead to 23-0 with a fourth quarter safety.
Miami Central (Fla.) 21, Stephenson 20: After a scoreless opening quarter, Stephenson's Dewann Ford scored on an 18-yard quarterback keeper to give the Jaguars a 6-0 lead in the third game of the Battle of the Borders.  Stephenson failed the 2-point conversion and the Rockets used a 7-yard Malik Allen rushing score to take a 7-6 lead with 53 seconds left in the first half. Stephenson (seven) and Central (five) combined for just 12 passing yards in the first half. Central opened the second half with a 79-yard touchdown drive capped off by Jerrod Thomas' quarterback sneak. Stephenson answered with a Dexter Neal touchdown reception with 17 second left in the third quarter but the Jaguars failed another 2-point conversion and trailed 14-12. The Rockets made it a 21-12 lead with five minutes to play on a 1-yard Allen touchdown run. Stephenson cut it to 20-21 with 42 seconds left with an Ivonte Patterson touchdown run and Dexter Neal 2-point conversion, but the Rockets recovered the ensuing kickoff and ran out the clock.
Booker T. Washington (Fla.) 19, Tucker 7: In a game that ended well after midnight, Tucker lost for the second time this season in two games, falling to last season's high school national champion. The Tornadoes, from Miami, scored in the first quarter on a Maurice Alexander 10-yard pass to Vaquan Small. The conversion was no good but in the final minute of the second quarter, Antonio Calloway ran back a punt for a 60-yard score. The Tornadoes then went up by 19 on an Alexander 15-yard pass to Calloway. Tucker, who lost to Norcross last week in overtime at the Corky Kell Classic, then picked up its only score of the game on a 90-yard kickoff return by Yaquis Shelley.