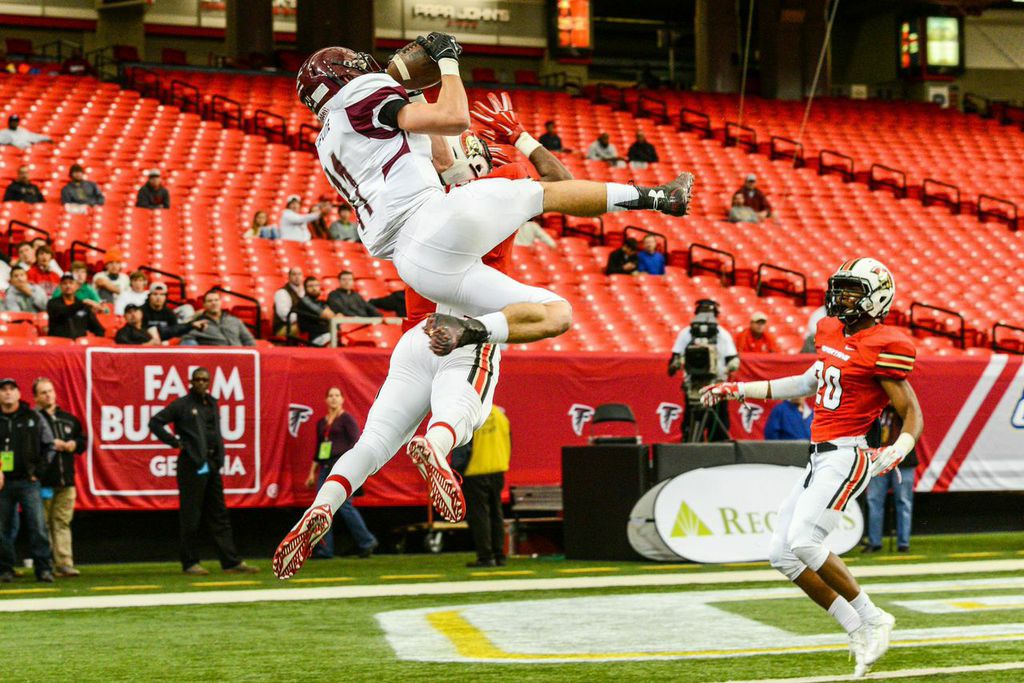 Photo by Jon Barash
What a difference four months make. In the opening week of the season, Benedictine and Greater Atlanta Christian squared off and the host Spartans won a 24-21 thriller. But Benedictine avenged that defeat by winning a much bigger game on Saturday afternoon at the Georgia Dome.
Class AA's state championship game saw the Cadets overpower GAC 45-21. They never trailed, dominating almost the entire way behind the classification's highest-scoring offense and a defense that forced six turnovers and returned one fumble for a touchdown.
"We were very young at that point," Benedictine head coach Danny Britt said of the first game. "We had a completely new offensive line. We're a much different team now. We got better. We got tougher."
The Cadets wasted no time seizing momentum and sending a message to their opponent that things would be much different this time around. They received the opening kickoff and marched on a nine-play, 74-yard drive that culminated in a 29-yard touchdown pass from Stevie Powers to Brad Stewart. GAC fumbled three times on its first possession and finally the third one was recovered by Benedictine and returned by Joseph Holguin 74 yards for a score. Just like that, the Cadets had a 13-0 lead midway through the first quarter.
After a Brandon Deloach 31-yard field goal extended the advantage to 16-0 with 9:24 left in the second quarter, GAC's Micah Abernathy got going—and not a moment too soon. The Tennessee commit broke free for a 58-yard touchdown scamper to put his team on the scoreboard. Abernathy later got the Spartans back within striking distance thanks to a nine-yard scoring run 26 seconds prior to halftime, making the score 30-14.
Despite being hobbled by an apparent foot injury, Abernathy rushed for 193 yards and two touchdowns on 23 carries.
His second score, however, came after Benedictine had once again taken control. With 5:32 remaining in the second quarter, the Cadets had already scored more points than they had mustered in the entire game against GAC earlier this season. That's how much time remained when Powers dove into the endzone from one yard away to push the Cadets' lead to 23-7. Less than five minutes later, Powers heaved a 59-yard touchdown pass to John Kennedy.
GAC briefly built on its late first-half touchdown when it scored on a nine-yard halfback pass from Paul Carothers to Darius Slayton to cut the deficit to 30-21. But it was one-way traffic in Benedictine's favor the rest of the way.
The Cadets got a one-yard quarterback sneak from Powers with 5:26 in the third quarter to go up 38-21 and a one-yard plunge by Chance Jackson early in the fourth all but ended the game.
Powers completed 10 of 14 attempts for 256 yards and had four total touchdowns (two passing, two rushing). Jackson ran for 80 yards and Holguin—in addition to his defensive heroics—had five receptions for 47 yards. Stewart finished with four catches for 150 yards and a touchdown while also picking off two passes.
"Brad is just amazing," Britt concluded. "He's really special. Every college in the country needs to be offering him right now."