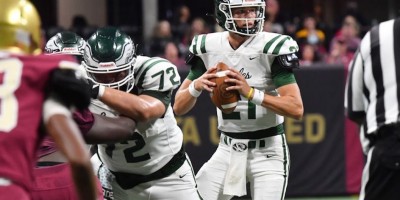 The first half of the 2021 GHSA football regular season is in the books and the second half will kickoff on Thursday with the Week 7 slate. There are 64 total regions across the classifications and 42 of those have already played at least one region game. That leaves 22 regions that are about to join the party in the coming weeks. Here is a broad overview of some of the biggest developments to come out of the first half of the regular season and what to look for as the second half kicks off in earnest.
CLASS 7A: Region play in the state's largest classification is just beginning; only Region 6 and Region 7 have played a region contest prior to this week. Region 4, 5 and 8 will open their region play this week, while Region 1, 2 and 3 are still a week or more away. Through the first six weeks of the regular season, Region 1 has the best combined record in Class 7A with a 17-6 mark and 73.9 winning percentage against outside opponents. The opposite end of the spectrum is Region 7, which has a 5-14 record and 20.8 winning percentage—Norcross is the only team in the seven-team region with a winning record (4-2, 2-0). Region 4 and Region 8 join Region 1 as the only regions without a team with a losing record at this point of the season. Pebblebrook (5-0-1), Collins Hill (6-0) and Mill Creek (5-0) are the only three remaining teams in Class 7A without a loss on their record. This trend indicates the overall competitiveness throughout Class 7A and also puts a huge spotlight on Region 8 where No. 1 Collins Hill and No. 2 Mill Creek both reside. The two teams will not meet until Oct. 29 and that game will be Collins Hill's season finale, while Mill Creek will close out its season the following week at Peachtree Ridge. Mill Creek opens its region schedule this weekend against North Gwinnett and Collins Hill will host Peachtree Ridge to kickoff region play. Collins Hill has a 30.2 average margin of victory with wins over two ranked opponents and Mill Creek has a 26.2 average margin of victory with wins over four ranked opponents. Mill Creek's 28-14 win over Grayson last Friday was the first win over the Rams in school history. The Hawks achieved this victory, despite three missed field goals in the first half and three turnovers in the third quarter. Defensively, Mill Creek did not allow Grayson to pass the 39-yard line in the first half. Like Mill Creek, Collins Hill has an outstanding defense to complement its dynamic offense. Behind the undefeated teams are a total of 13 teams that have just one loss and only 15 of the 45 teams in the classification have losing records heading into the second half of the season. As for the individual top performers so far, Roswell quarterback Robbie Roper is leading Class 7A with 1,483 passing yards and 19 touchdowns. North Cobb quarterback Malachi Singleton is averaging 124.3 rushing yards per game with eight rushing scores and has also thrown for 192.8 yards per game with nine touchdowns to lead the No. 3 ranked Warriors. Collins Hill senior defensive end Asani Redwood is pacing the classification with 10 sacks and 16 tackles for loss.
CLASS 6A: The first half of the season has showcased the incredible overall competitiveness of Class 6A and the field seems to be wide open this year. There are five teams still undefeated (Brunswick, Douglas County, Kennesaw Mountain, River Ridge and Cambridge) and with the exception of Douglas County's 1964 state title, this list is comprised entirely of programs in search for their first-ever state titles. Brunswick's 5-0 start is the Pirates' first 5-0 start since 1999, Douglas County's 5-0 start includes a 2-0 start in Region 5 and the Tigers will look to keep their momentum going in order to win their first region championship since 2002 this season. Kennesaw Mountain is 6-0 and has already racked up a 4-0 start in Region 6. The Mustangs defeated last year's region champion Allatoona 22-21 earlier this season and have already matched their school record for most wins in a season. River Ridge is in a similar spotlight as Kennesaw Mountain and is 4-0 with a 1-0 start in the region. The Knights are coming off last year's school-record 11-1 season that resulted in the first region title in program history. Finally, Cambridge is off to a 3-0 start. While the Bears have only played three games, their last victory was a massive 7-0 win over Creekview. This resulted in Cambridge's first-ever win over Creekview and they will be closing the regular season at home against River Ridge. As for the rest of Class 6A, No. 3 Westlake made a massive statement back on Aug. 27 with its 31-24 win at Colquitt County. The Lions will open up Region 4 play at home on Friday against No. 7 ranked Hughes. As for Region 5, things are stacking up to create a massive log jam for the four playoff seeds. Douglas County and South Paulding are both 2-0 in region play. South Paulding's 2-0 start includes a huge win over Rome, who was able to bounce back from that loss by defeating Carrollton 45-27 last Friday. As a result, Carrollton, Rome and Alexander are all 1-1. Carrollton will host South Paulding on Friday in a must-win game for the Trojans and an opportunity for South Paulding to keep its region title aspirations alive.
CLASS 5A: The top storyline in Class 5A is how well defending state champion Warner Robins has played to fuel its 5-0 start to the season. The Demons have wins over three ranked opponents, including a 56-30 win over Class 6A No. 1 ranked Lee County last Friday night. Warner Robins' 48 points in their 48-20 victory over Valdosta is the fewest points the Demons have scored this year and they head into this week's matchup with Camden County averaging 50.4 points per game. Coffee joins Warner Robins as an undefeated team at 6-0 and will face the Demons in Region 1 action on Oct. 29. Woodward Academy (5-0), Decatur (5-0) and Cartersville (4-0) are also undefeated heading into Week 7. Cartersville resides in Region 7—which joins Region 1 as the only other region with three ranked teams. Cartersville's upcoming opponents includes No. 7 Calhoun and No. 9 Blessed Trinity. In Region 1, that trio includes No. 1 Warner Robins, No. 4 Coffee and No. 6 Ware County. As for Woodward Academy, The War Eagles will have to cross paths with No. 3 ranked Creekside in their season finale on Nov. 5. Creekside has victories over Grayson and Westlake and their lone loss was a last minute 17-14 road loss to Cartersville. There are tons of contenders in Class 5A, but until someone finds a way to slow down Warner Robins historically-successful offense, the Demons will be the team to beat.
CLASS 4A: The Jefferson Dragons opened the season ranked No. 1 and have preserved their status with a noteworthy 5-0 start. Jefferson's formula to success has been a defense that gives up just 9.6 ppg and an offense that dominates the game on the ground. In Their 41-14 win over Mountain View, Jefferson completed all four of its pass attempts, while racking up 421 rushing yards and five touchdowns. Last week, Jefferson opened up region play with a 27-7 win over No. 7 ranked Flowery Branch. Benedictine opened up the season with two out-of-state losses, but has since picked up three-straight impressive victories. The Cadets' latest win was a 49-42 victory over Class 5A No. 2 Ware County and they look like a serious contender moving forward. Class 4A also features undefeated Perry (4-0), who will face 4-1 Spalding this Friday in a massive Region 4 showdown. Stephenson is 5-0 in head coach Marcus Jelks' debut season and will have to contend with defending state champion Marist in Region 6. Dougherty has opened the year 4-0 and earned a spot in the polls at No. 10 and will open up Region 1 play this Friday against a 2-2 Westover team. The other undefeated team in Class 4A is LaGrange (4-0) and they will be taking on No. 5 ranked Carver-Columbus (4-1, 3-0) in the most anticipated game in the classification this week. Carver-Columbus' only loss was a 25-22 defeat to Class 6A Lee County in the season opener and the Tigers have outscored their first three region opponents 115-15. LaGrange is averaging 42.9 ppg this season and has only allowed 9.75 ppg.
CLASS 3A: Class 3A has been described as the mini-SEC of Georgia High School Football because of the depth of top tier teams and this year is certainly appropriate to make that comparison. In Region 8 alone, there are currently four different teams with 5-0 records. That includes Stephens County, No. 2 Oconee County, No. 8 Monroe Area and No. 9 Hart County. This week marks the first region games played in Region 8 and the biggest matchup will be Monroe Area at Stephens County in a battle of unbeatens. Cherokee Bluff finished 10-2 last year in its third-year of existence and is off to a 5-0 start to this season. The Bears captured the program's first-ever region title last year and have racked up a 272-34 margin of victory so far this season. In Region 6, Ringgold (5-0, 3-0) and Adairsville (4-0, 2-0) will faceoff this Week in a Region 6 battle of unbeatens. Neither team is ranked, which illustrates just how deep Class 3A has been this season. In Region 5, undefeated Sandy Creek (5-0, 2-0) will host Salem (4-1, 2-0) this week. This is a big game for the No. 4 ranked Patriots, who will eventually have to cross paths with No. 1 ranked Cedar Grove on Nov. 5. In Region 4, No. 10 ranked Thomson (4-0, 1-0) and No. 7 ranked Burke County (3-0, 1-0) are still undefeated. Burke County opened up region play last week with a 41-8 win over Cross Creek and will have a big showdown with Class 4A Benedictine this Thursday. Finally, defending state champion Pierce County is 4-1 and is coming off a 17-0 win over Fitzgerald. That was the first time in school history that Pierce County has defeated Fitzgerald and they will host Class 2A No. 1 ranked Rabun County this Friday. Pierce County will open up region play the following week and is closing out its season at home against Appling County, which is currently 6-0 and ranked No. 6.
CLASS 2A: There are four undefeated teams left in Class 2A (Jeff Davis, Bleckley County, Washington County, Putnam County) which has spent the first half of the season as a classification challenging the higher classes with plenty of success. Thomasville (4-1) has wins over Class 4A's Thomas County Central, Cairo and Bainbridge and Callaway has wins over Class 4A's Troup and Hardaway for example. As for region play, just four of the regions have begun their region slates so the coming weeks will really begin to sort out how the top tier of Class 2A stacks up. Region 1 is home to No. 2 ranked Fitzgerald and No. 3 ranked Thomasville. This past week, Fitzgerald head coach Tucker Pruitt was sounding the alarm after his team's 17-0 loss to Pierce County, but the Purple Hurricanes are still 4-1 and have a chance to keep progressing. Region 3 will be another race to watch for as four ranked teams currently inhabit it. That includes No. 4 Bleckley County, No. 7 Dodge County, No. 8 Washington County and No. 9 Northeast. No. 8 Washington County will host No. 9 Northeast this Friday in a major top 10 region battle.
CLASS A PUBLIC: Two-time defending state champion and No. 1 ranked Irwin County scored a 21-13 victory over No. 2 Brooks County on Friday to open Region 2 play. In addition to these two ranked teams, Region 2 also features No. 6 Charlton County (5-0, 1-0) and No. 9 Clinch County. Region 5 is also stacked with three undefeated teams. This includes Schley County (5-0, 3-0), Chattahoochee County (4-0, 2-0) and Macon County (4-0, 2-0).
CLASS A PRIVATE: There have only been two region games played in Class A Private so far this season: (Tattnall Square 42, Deerfield-Windsor 7; Fellowship Christian 40, St. Francis 7). Fellowship Christian is led by former Blessed Trinity head coach Tim McFarlin and their only loss of the season came to No. 1 ranked Trinity Christian 56-20. As of this point of the season, it appears that Trinity Christian is the team to beat and they will be visiting No. 2 ranked ELCA this Friday in a televised matchup on PeachtreeTV. Trinity Christian was a runner-up last season and is off to a 5-0 start that includes 55.20 ppg offensively and just 8.8 ppg allowed. Fellowship Christian was ranked No. 3 when they scored the 36-point victory and they also have a 59-7 win over No. 4 ranked Athens Academy on their resume. There are plenty of other teams that are in the conversation and this includes 6-0 Calvary Day—who is currently ranked No. 3 in the Class A Private poll. The Cavaliers opened up the season with a 21-13 win over defending state champion Prince Avenue Christian and also have a 28-0 win over No. 10 ranked North Cobb Christian. This Friday, Calvary Day will host No. 10 ranked Stratford Academy.