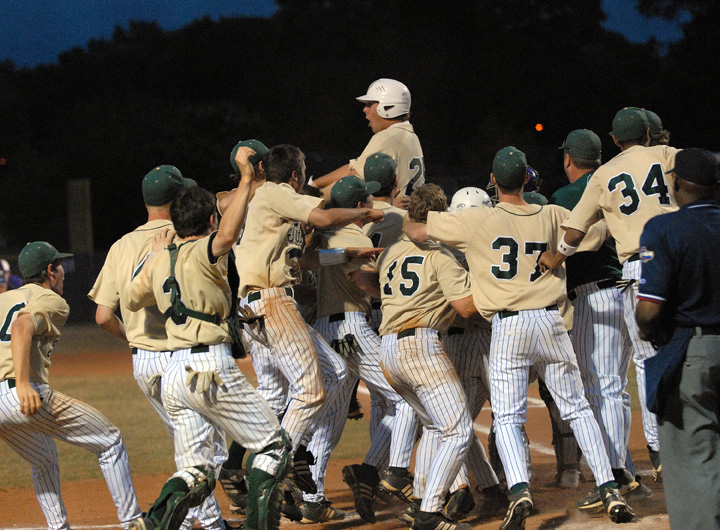 High school baseball season is nearly two months in. Teams jockey for position as they try to find a groove, but a couple programs have already hit their stride and look like the odds on favorites to win state. Of those teams, none look better than Class AAA's No. 1 Blessed Trinity. The Titans are a sparkling 18-0 and have outscored their opponents 196-to-15. The pitching staff has already fired 11 shutouts with seven consecutive all coming in region play.
Make no mistake, Blessed Trinity hasn't played cupcakes. They have already beaten some of the state's best and have now moved into the national part of their schedule. The Titans have beaten 5A No. 2 Allatoona, 6A No. 8 Lambert, 6A No. 2 Pope, 4A No. 5 St. Pius and 3A No. 3 Westminster before beating a pair of Louisiana schools. If they can beat 21-3 Teurlings Catholic to complete a 3-game sweep of the Bayou, the MaxPreps Xcellent 25's No. 8 ranked Titans will continue to build upon one of the most impressive resumes in the country.
The two-time defending state champs finished 33-2 last year and ended the season on a 31-game winning streak. If they can clear the hurdle of Teurlings Catholic, it might be a safe bet that the Titans go unscathed.
Seniors at the plate and juniors on the mound has been a recipe for success for Coach Andy Harlin. Seniors Jake Bogosian (.353 w/ 25 RBI), Garrett Dupuis (.409 w/ 20 RBI), Colin Dore (.366 w/ 16 RBI) and Conor Davis (.469 w/ 16 RBI) lead a quartet of mashers with freshman CJ Abrams raking a team-leading .545 with 14 RBI.
On the mound, Blessed Trinity boasts a combined 0.57 ERA. Seniors John Michael Bertrand (5-0, 0.60 ERA) and Hayden Lehman (3-0, 0.59 ERA) anchor the staff with juniors Peyton Glavine (4-0, 0.84 ERA), Patrick McNamara (2-0, 0.95 ERA), Cole McNamee (1-0, 0.00 ERA) and Connor Durham (1-0, 0.00 ERA) rounding out the staff. Glavine, of course the son of 2014 MLB Hall of Fame Inductee Tom Glavine who is most remembered for his collapse on September 30, 2007 with the New York Mets when he was knocked out of the playoff-deciding 162nd game of the season after collecting just one out and allowing seven runs against the last place Florida Marlins and famously said he was only "disappointed, not devastated" in his performance preventing the Mets to make the postseason which dominoed into New York missing the playoffs for eight straight years before last season's magical run.
The balance and depth the Titans have makes them as good as any team in the country. It will take a momentous upset to see Blessed Trinity drop a game in-state with their roster loaded with next level talent headlined by quarterback of the football team and first baseman, Auburn-commit Conor Davis.