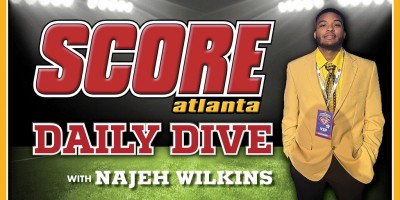 QB Brooks Goodman is a great prospect and top player to watch in the matchup against the Marist War Eagles Friday night on Peachtree TV. Goodman has thrown for 502 yards and three touchdowns this season. He is very efficient inside the pocket throwing for 63% completion so far in 2023. He got his first start in 2022 against the Calhoun Yellow Jackets and talked about his favorite moment and how it has shaped his career so far.
"Going into Calhoun I had never played a down on varsity. After the scrimmage, I found out that I had beaten a junior who was part of my competition. Came into Calhoun with no experience. I trusted God and all of the training that I put in," said Goodman. "It was a close game. I threw a touchdown earlier in the game. At the end of the game, we had been working on this play because we knew their safety was going to come down and we threw it over the top to our receiver and scored. That was probably my favorite moment."
The Titans offense has already put up 46 points on the board this season in a 46-0 blowout victory against Eagles Landing Christian Academy. In that game, Goodman threw for two touchdowns and only had six incompletions. A part of the offensive success is Goodman's great connection with his receiving corps especially with Bryce Lewis (Arizona commit). He talked about what he wanted to accomplish this season and his relationship with his teammates.
"I want to throw for at least 2,500 yards. With guys like Bryce, our receiving corps, and our line continuing to do a good job, I feel like I will be able to," said Goodman. "I feel like I can perform really well in this offense. I want to get my rushing yards up a little bit. I didn't have any last year because we were in a more pro style but I feel like this year I will be able to get that number up a little higher."
Blessed Trinity is 4-3 all-time against the War Eagles. Marist has won the last two games including a 21-17 victory last year. Goodman emphasized team goals for the season and how much the Marist game means to the Titans.
"Our team goal is to win state, but I really want to win the region and win these first few games," said Goodman. "Last year when we lost to Marist, that really hurt because our seniors will never be able to play those guys again. It was a close game and we really wanted to win that one. We want to beat them this year."
Goodman not only gets it done on the field but also off the field. He challenges himself academically with difficult AP (Advanced Placement) classes and academic rigor at Blessed Trinity. Goodman talked about welcoming the challenge and how he remains on top of his studies, while balancing being an athlete.
"My parents have always wanted me to pursue academics. They have always wanted me to study and everything. I feel like I have been able to balance it pretty well," said Goodman. "I am taking a couple of APs that are pretty difficult but I like the challenge and being able to study after school or early in the morning. It has really helped me."
Brooks is key to Blessed Trinity's success this season and a large part of why the Titans have started 2023 on the right foot with a 3-0 record. Friday night he will be featured on Peachtree TV, and will get a chance to show the state his talent on a big stage.