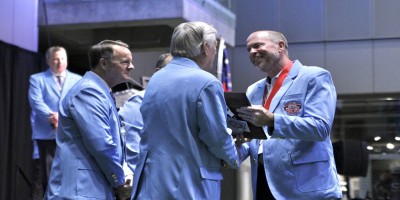 -By Todd Holcomb, Georgia High School Football Daily
Pepper Rodgers, Dan Reeves, Billy Henderson and Mike Bobo are best known as prominent football coaches in the state, but their playing exploits have earned them places on this year's 100-player ballot released this week for the Georgia High School Football Hall of Fame.
The four are among 36 players added to the pre-existing list of 64 who fell short of election last year, when a 45-player inaugural class was inducted.
That first class included Herschel Walker of Johnson County, Champ Bailey of Charlton County, Charlie Ward of Thomas County Central, George Rogers of Duluth, Calvin Johnson of Sandy Creek and Fran Tarkenton of Athens.
Ballot returnees include Deon Grant of Josey, D.J. Shockley of North Clayton, Hutson Mason of Lassiter, Jeff Saturday of Shamrock, Jamal Lewis of Douglass and Quincy Carter of Southwest DeKalb.
Some of the better known new ballot members are Jon Stinchcomb of Parkview, Terry Harvey of Dacula, Rodney Hudson of LaGrange, Keith Henderson of Cartersville and Joey Browner of Southwest Atlanta.
The four coaches – Henderson, Rodgers, Reeves and Bobo – were high school stars long before they began blowing whistles on practice fields.
Henderson was a three-time all-Southern halfback who in 1945 set a state record with 150 points scored in nine games for Macon's Lanier High. He's a Georgia Athletic Coaches Association Hall of Fame member mostly for his time at Athens' Clarke Central, which he led to state titles in 1977, 1979 and 1985. He died in 2018.
Rodgers, who grew up in Atlanta's West End neighborhood, threw three touchdown passes in Brown's state-championship victory over Glynn Academy in 1949 and was MVP of the 1954 Sugar Bowl at Georgia Tech. He was Tech's head coach from 1974-79. He also coached at UCLA and Kansas. Rodgers died in 2020.
Reeves was a three-year starter at running back and quarterback at Americus, playing his final season there in 1960. He eventually completed an eight-year NFL playing career with the Cowboys. As a head coach, he won 201 games overall with three teams and led the Falcons to their first Super Bowl in January 1999. Reeves died in 2022.
Bobo, Georgia's current offensive coordinator, was the AJC's high school co-player of the year for all classifications as a Thomasville quarterback in 1992. He passed for 5,167 yards and 42 touchdowns in his high school career.
"If you could pick the perfect high school quarterback, it would be Mike Bobo," former Colquitt County coach Jim Hughes said in 1992. "It's like having a coach on the field. He maximizes his talent."
The Hall of Fame's board of 30 past and present coaches, players, administrators and media members plans to complete voting by the end of the month to select a 40-member 2023 class that will be inducted Oct. 21 at the College Football Hall of Fame in downtown Atlanta.
The Hall of Fame is administered by Score Atlanta, a sports marketing company.
"The first year went well with more than 800 people attending at the College Hall of Fame, and we did a one-hour special on Peachtree TV, and we expect to do the same again," Score Atlanta president I.J. Rosenberg said. "We expect a lot of last year's inductees to come back and attend this year."
Below are the 100 players on the 2023 ballot. Newcomers are noted in bold.
Pre-1948 (6)
B – Everett Strupper, Riverside Military (1913)
E – Tom Nash, Washington-Wilkes (1922)
FB – Johnny "Stumpy" Thomason, Tech (1924)
E – Vernon "Catfish" Smith, Lanier-Macon (1927)
B – Bill Hartman, Georgia Military Prep (1933)
B – Billy Henderson, Lanier-Macon (1945)
1948-59 (10)
H – Lauren Hargrove, Fitzgerald (1948)
QB – Pepper Rodgers, Brown (1949)
B – Max Mason, Rockmart (1950)
HB – Johnny Menger, Richmond Academy (1952)
L – Phil Ashe, Stone Mountain (1956)
L – Ken Rice, Bainbridge (1956)
L – Pete Case, Decatur (1957)
RB – Jimmy Burson, LaGrange (1958)
B – Len Hauss, Wayne County (1959)
QB – Billy Lothridge, Gainesville (1959)
1960s (8)
QB – Dan Reeves, Americus (1960)
QB – Bruce Bennett, Valdosta (1961)
RB – Marvin Hurst, Waycross (1961)
L – Edgar Chandler, Cedartown (1963)
QB/RB – Dennis Chadwick, Decatur (1967)
QB/DB – Buzy Rosenberg, Northside-Atlanta (1968)
RB – Isaac Jackson, Lanier-Macon (1969)
RB – Doyle Orange, Waycross (1969)
GIA (9)
B – Milton Byard, Risley (1950)
B – Ernie Green, Spencer (1957)
QB – John Henry Jackson, Spencer (1957)
QB – Silas Jamison, Booker T. Washington (1959)
DE/LB – Tommy Hart, Ballard-Hudson (1963)
DL – Julius Adams, Ballard-Hudson (1965)
DB – Ken Ellis, Bunche (1965)
QB – Jack Pitts, Trinity (1965)
L – Henry Childs, Douglass-Thomasville (1969)
1970s (19)
QB – Jeff Bower, Roswell (1970)
QB – Stan Bounds, Valdosta (1971)
QB – Ray Goff, Moultrie (1972)
LB – Andy Spiva, Chamblee (1972)
QB – Anthony Flanagan, Southwest Atlanta (1973)
DE – Reggie Wilkes, Southwest Atlanta (1973)
LB – Lucius Sanford, West Fulton (1973)
RB – Runt Moon, Commerce (1973)
LB – Ben Zambiasi, Mount de Sales (1973)
OL – Kent Hill, Americus (1974)
RB – Eddie Lee Ivery, Thomson (1974)
OL/LB – Ray Donaldson, East Rome (1975)
LB – Mackel Harris, Americus (1975)
QB/DB – Scott Woerner, Jonesboro (1976)
LB – Chip Banks, Laney (1977)
QB – Jim Bob Harris, Clarke Central (1977)
L – Lee North, Shamrock (1977)
DB – Joey Browner, Southwest Atlanta (1978)
TE/L – Guy McIntyre, Thomasville (1978)
1980s (10)
RB – Robert Lavette, Cartersville (1980)
OL – Bill Mayo, Dalton (1980)
LB/DB – Pat Swilling, Stephens County (1981)
OL – John Davis, Gilmer (1982)
QB – Vince Sutton, LaGrange (1983)
RB – Keith Henderson, Cartersville (1984)
RB – Jerry Mays, Thomson (1984)
DL – John Johnson, LaGrange (1986)
LB/DB – Ken Swilling, Stephens County (1987)
LB/DL – Coleman Rudolph, Valdosta (1988)
1990s (23)
QB – Terry Harvey, Dacula (1990)
OL – Clay Shiver, Tift County (1990)
QB – Al Pinkins, Mitchell-Baker (1990)
LB – Randall Godfrey, Lowndes (1991)
TE/OL – Adam Meadows, McEachern (1991)
RB – Robert Toomer, Worth County (1991)
QB – Mike Bobo, Thomasville (1992)
QB – Rodney Hudson, LaGrange (1992)
OL – Jeff Saturday, Shamrock (1992)
DL – Marcus Stroud, Brooks County (1994)
OL – Jeff Backus, Norcross (1995)
OL – Cosey Coleman, Southwest DeKalb (1995)
QB – Quincy Carter, Southwest Atlanta (1995)
DB – Deon Grant, Josey (1995)
RB – Patrick Pass, Tucker (1995)
RB – Jamal Lewis, Douglass (1996)
RB – Jasper Sanks, Carver-Columbus (1996)
RB/DL – Charles Grant, Miller County (1997)
RB – Joe Burns, Thomas County Central (1997)
OL – Jon Stinchcomb, Parkview (1997)
WR – Reggie Brown, Carrollton (1998)
QB – Fabian Walker, Americus (1998)
RB – Ronnie Brown, Cartersville (1999)
2000s (15)
QB – D.J. Shockley, North Clayton (2000)
RB – Daccus Turman, Washington-Wilkes (2000)
DL – Kedric Golston, Sandy Creek (2001)
TE – Leonard Pope, Americus (2001)
DL – Charles Johnson, Hawkinsville (2003)
OL – Duke Robinson, Washington (2004)
OL – Chris Scott, Lovejoy (2004)
LB – Tray Blackmon, LaGrange (2004)
DL – Jermaine Cunningham, Stephenson (2005)
RB – Jonathan Dwyer, Kell (2006)
QB – Hutson Mason, Lassiter (2009)
LB – Rennie Curran, Brookwood (2006)
WR – Tavarres King, Habersham Central (2007)
RB/LB – Jonathan Davis, Tucker (2008)
LB – Jarvis Jones, Carver-Columbus (2008)