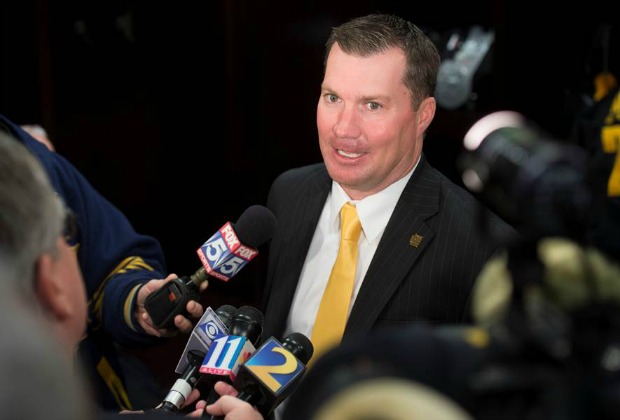 Kennesaw State Communications Office
The inaugural football season is still 27 months away, but there's still a lot of work to be done between now and the first game of the season.
One of the things head coach Brian Bohannon has to do is put together his coaching staff. He started that process this week as he hired Grant Chesnut as the offensive coordinator and offensive line coach.
Chesnut has spent the last two years as the athletic director and head football coach at Central High School in Carrollton and brings a wealth of coaching experience as he has been in the business for 14 years.
"Grant is an outstanding coach and communicator. He believes in developing young men and helping them be successful in life," Bohannon told ksuowls.com. "Grant and I have a lot of similar philosophies and thoughts in the way we want to do things and he and I have established a relationship over the last couple of years."
COACH CHESNUT …
Before taking over as the head coach of Central, Chesnut was the offensive coordinator, offensive line and strength and conditioning coach for Mary Persons High School from 2007-10. Before that, Chesnut spent two years as the defensive line coach for Camden County High School, three seasons as the co-defensive coordinator and defensive line coach at Thomasville and one season as the offensive line coach for Pickens County.
Chesnut also spent two seasons coaching at the college level, as he was the defensive line coach at Presbyterian College in 2000 and 2001.
"My family and I are extremely humbled to be asked to be a part of the Kennesaw State community," Chesnut told ksuowls.com.
Bohannon also hired Liam Klein and Shane Bowen, who worked with Bohannon at Georgia Tech.
BASEBALL NEWS …
With all this football talk, we can't forget about the spring sports at KSU and the baseball team has been up-and-down as of late.
Over the weekend, the Owls dropped two of three games to conference rival Jacksonville which dropped them to fourth place in the Atlantic Sun Conference. Yesterday, the Owls lost a non-conference game to Georgia State 3-2 in extra innings. Alex Liquori led the Owls with a two-run homer in the bottom of the seventh.