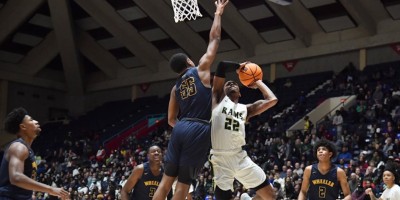 A primetime matchup in the highest classification 7A will take place on Monday Night in Marietta. Newton (15-7) and Wheeler (16-6) are some of the best teams in the state of Georgia and both teams have already played national schedules matching up against some of the best teams in the country like Duncanville, Columbus (Miami), Sierra Canyon, and Lake Highlands. This game will be featured by the ESPN networks and will air at 7 PM on ESPNU.
This matchup also features two of the best players in the country in five-star point guard Isaiah Collier (USC signee) and five-star combo guard Stephon Castle (Uconn signee). Both players have been named to the McDonald's All-American game that will take place March 28th in Houston, Texas. Collier is the No.1 recruit according to 247sports.com and was recently named the No.1 recruit in the 2023 class by rivals.
Collier has great size and strength and uses it to his advantage when he drives to the rim. Don't be confused by Collier's great ability to facilitate and convert with ease on the interior when he gets a chance, Collier also makes his impact felt on the defensive end and makes it difficult for opposing guards to get going. Castle is the No.10 overall recruit according to 247sports.com. Castle is phenomenal in the open floor and can get downhill easily in transition. A thing that is special about Castle is that he plays at his own pace. You can never speed him up; rather he dictates the flow and pace of the game. Castle is also a great playmaker and helps make his teammates around him better. Castle is a versatile defender that can read passing lanes and uses his 6'7 frame to make life difficult for opposing guards. Both Collier and Castle are the creme de la creme when it comes to great basketball play from guards and the ability to play both ends of the floor well.
The backcourt battle should be electric in this game. You have the aforementioned Castle and Collier going against each other, but also another intriguing matchup in the backcourt. Newton's four-star combo guard Jakai Newton (Indiana signee) and Wheeler's three-star shooting guard Jelani Hamilton (Iowa State signee) will be a matchup against each other. This is Newton's second game after being out for seven months with a knee injury. In his last game, Newton had 12 points against Archer. That is four players going on to play Division I basketball just in the backcourt.
Besides, the backcourt here are some other players you should watch for in this game. Four-star center Arrienten Page will join Collier next year at USC. Page is a strong, physical presence in the paint and has great finishing ability. Newton has more of a guard-oriented offense, so it will be interesting to see if Page can pose problems in the interior.
Wheeler is known as a basketball powerhouse and has already had notable players that have made the NBA and excelled at the highest level in Shareef Abdur-Rahim (Vancouver) and Jaylen Brown (Boston Celtics). For Newton, it was Ashton Haggans (Minnesota) recently in 2021.
Wheeler is currently on a seven-game winning streak and it will be put to the test against Newton who is on a four-game winning streak. Wheeler sits atop its region with an 8-0 record this season with two regular-season games left. Wheeler is also seeking to win their ninth title in program history for the first time since 2021. Newton sits atop its region with a 7-1 record and is seeking their first title in program history this year. Expect for the playoffs to be electric this season in 7A, and potentially these two teams meeting again perhaps with a state title on the line.