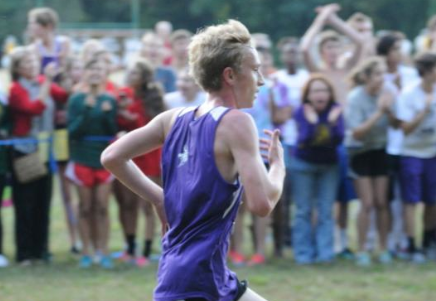 Photo by Walter Pinion
Milton claims the top spot in this week's Class AAAAAA after posting the fastest time of the weekend. They finished with a five-runner average time of 19:37 at the Knights Crossing XC Invitational in Salem, Virginia. Etowah makes their debut at No. 8 following a 20:58 time at the Carrollton Orthopedic Invitational, which was good enough for second in the Girls Championship race (behind only No. 3 West Forsyth). Parkview debuts at No. 10 after a fourth place finish in Carrollton with a time of 21:20.
Rome replaces Winder-Barrow at No. 10 in the Class AAAAA. The Wolves ran a 22:17 at the 25th Annual Rome-Floyd City/County Championships in Rome.
Class AAAA sees three new teams in this week's rankings. No. 8 Pickens County makes its debuts following an average time of 22:34 at the Mizuno Covered Bridge Run in Roswell. Chamblee (23:10) and Eagle's Landing (23:08) debut at No. 9 and No. 10 after finishing 15th and 16th respectively at The Coach Benson Double Dip Invitational in Atlanta.
Jackson County is the only new team in the Class AAA rankings coming in at No. 9. They ran a 23:58 at the 9th Annual Eagle Invitational in Jefferson.
No new teams enter the Class AA rankings. Wesleyan makes the biggest jump of the week three spots to No. 2.
Atlanta International School debuts at No. 7 in the Class A-Private rankings following their time of 23:28 at the Mizuno Covered Bridge Run. Junior Helen Williams won the individual title for the school with a time of 18:19. No. 8 Providence Christian is back in the rankings after posting a 24:22 at the Carrollton Orthopedic Invitational.
Class A-Public sees no new faces in this week's rankings. No. 3 Jenkins County and No. 6 Baconton Charter make big moves up three spots each.
Class AAAAAA
1. Milton
2. Marietta
3. Grayson
4. Mill Creek
5. Lambert
6. Peachtree Ridge
7. South Forsyth
8. Brookwood
9. Woodstock
10. Roswell
Class AAAAA
1. Forsyth Central
2. Alexander
3. Clarkston
4. Flowery Branch
5. McIntosh
6. Cambridge
7. Allatoona
8. Creekview
9. North Atlanta
10. Lakeside-Evans
Class AAAA
1. Marist
2. St. Pius
3. North Hall
4. North Oconee
5. Johnson-Gainesville
6. White County
7. Heritage-Catoosa
8. Pickens
9. Whitewater
10. Buford
Class AAA
1. Blessed Trinity
2. Jefferson
3. East Jackson
4. Westminster
5. Oconee County
6. West Hall
7. Calhoun
8. Dawson County
9. Morgan County
10. Jackson County
Class AA
1. Bleckley County
2. Wesleyan
3. Pace Academy
4. Lovett
5. Greater Atlanta Christian
6. Holy Innocents'
7. Bremen
8. Union County
9. Model
10. Benedictine
Class A-Private
1. Landmark Christian
2. Paideia
3. Hebron Christian
4. Providence Christian
5. Athens Academy
6. Galloway
7. Whitefield Academy
8. Athens Christian
9. Our Lady of Mercy
10. Fellowship Christian
Class A-Public
1. Towns County
2. Montgomery County
3. Atkinson County
4. Jenkins County
5. Telfair County
6. Baconton Charter
7. Hawkinsville
8. Lincoln County
9. Commerce
10. Marion County