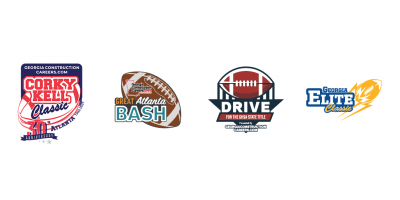 Georgia high school football will be showcased like never before this season as a result of Score Atlanta and CBS46/PeachtreeTV's exciting new partnership.
This historic broadcasting deal, titled sponsored by Georgia Construction Careers.com, is the largest high school football package in the nation and includes an unprecedented 31 games over the course of the 2021 season.
"We couldn't be more excited to bring all the action of 31 high school football games to fans across Metro Atlanta," said WGCL (CBS46) & PeachtreeTV Vice President/General Manager, Deborah Collura. "Some of the best athletes in the country will take the field to compete in the biggest match ups in Georgia and PeachtreeTV will be your home for high school football with the best seat in the house."
Added Score Atlanta president I.J. Rosenberg, "It has been years, but Score Atlanta went over to Georgia Public Broadcasting and started a sports department, televising the Corky Kell Classic, a Game of the Week and revamped the way they were doing the football state championships. This season I am proud to say that both Score Atlanta and GPB will be doing games of the week and because of Deborah and the folks over at CBS46, who stuck with us right in the middle of Covid last year, we are putting together a linear (TV) and digital package that I feel will cover not only high school football in metro Atlanta but also the entire state.''
GeorgiaConstructionCareers.com will be involved with all the events, and Business Manager Randy Beall said, "The truth is, we have a need in this country for skilled craftsmen and women and there is no better place to get them then high school. And there is no place better for them than GeorgiaConsutrctionCareers.com where they can enter our program, incur no debt, no tuition and earn while they learn."
The sheer volume of matchups being featured will be made especially impressive by the caliber of games and star power that will take center stage each weekend. Right off the bat, the season-long coverage will start off with a bang Week 1 as PeachtreeTV, the original Superstation, will bring viewers all 11 matchups of the 30th annual Corky Kell Classic. This four-day event has kicked off the Georgia high school football season every year since 1992, and the level of talent has never been higher than it is with its 2021 schedule. Not only will nine of the 11 games be first-ever matchups between opposing programs, but five of the state's 10 top-ranked quarterbacks will be participating in it, along with the No. 1 Class of 2022 prospect in the nation—Collins Hill five-star cornerback and receiver Travis Hunter.
"It's pretty impressive to be here celebrating this incredible 30-year milestone," said Corky Kell Founder and Executive Director Dave Hunter. "Our motto is we want everything we do to be first class and we always want to involve our teams and value their input on how to make things better. You learn how to improve it through the years and try to make it the best event it can be."
This approach has been fundamental to the event's growth throughout the years and the results of these efforts have bestowed the state of Georgia with undoubtedly the largest and most well-established kickoff event in the nation.
"We have had several inquiries from other states on how we have been able to do this and are definitely on the map in not only the southeast, but also beyond," said Hunter. "If you are a high school football fan, there really is nothing like it. I have coaches tell me all the time that they thirst for this weekend every year and can't wait to get a taste of all the great high school football. We couldn't be more excited with this year's matchups and when you look at them on paper, my goodness, I don't think we could've matched them up any better and Saturday's five-game lineup at Mercedes-Benz Stadium to close out the classic is going to be truly incredible."
The Corky Kell Classic kicks off on Wednesday, Aug. 18 and will bring three-straight nights of double-headers featuring Cherokee vs. Mays and Carver-Atlanta vs. West Forsyth Day 1, Westlake vs. Archer and Dacula vs. Tucker Day 2 and then Gainesville vs. Johns Creek and North Cobb vs. Buford Day 3. Saturday's five-game lineup will close out the event with one must-see matchup after another, beginning with McEachern vs. Kell, and continuing with Parkview vs. Mill Creek, Lowndes vs. Walton, North Gwinnett vs. Hoover (AL) and Brookwood vs. Collins Hill. The highly-anticipated contests between Buford and North Cobb and Brookwood vs. Collins Hill will be the only two games between opponents that have met previously in their respective histories.
Each broadcast will be directed by a top-tier production crew led by longtime Atlanta sports veteran Roddy White who will produce the games, and Mercedes-Benz Stadium has granted the Corky Kell use of its state-of-the-art studios for the Saturday games—marking the first time in the venue's history that a high school football game will have all of its cutting edge features available for a broadcast.
Fans have another great event to look forward to the following weekend as the third-annual Great Atlanta Bash presents a trio of tremendous matchups live from Eddie S. Henderson Stadium in Midtown. On Friday, Aug. 27, North Atlanta will make a short nine-mile trek south to take on the Midtown Grey Knights—marking the 20th all-time meeting between the schools.
"North Atlanta and Midtown is always a big perennial matchup," said Atlanta Public Schools Director of Athletics Jasper Jewell. "They are spirited rivals that always bring out the best and we are excited to be able to feature these teams."
A double-header returns to Eddie S. Henderson Stadium on Saturday with Mays vs. Riverdale and Lovejoy vs. Carver-Atlanta. Both games will be rematches of last year's Bash when the programs faced off for the first time. Mays left that contest with a 35-28 victory over Riverdale and Lovejoy scored a 27-26 thriller over Carver.
"I couldn't be more excited about the Great Atlanta Bash weekend and it is all culminating with Saturday evening when the Falcons are going to be doing a walkthrough before one of their preseason games," said Jewell. "I can't tell you what a godsend it has been to connect with individuals like I.J. Rosenberg and Score Atlanta. When I took over as APS Athletics Director 12 years ago, we had to establish good relationships and bring prestige back to the city of Atlanta. We have two teams in the Bash that will also be playing in the Corky Kell Classic the week before with Mays and Carver-Atlanta. We used to have an event called 'Domecoming' in the Georgia Dome and that was pretty much our way to showoff Atlanta Public Schools and our players and bands. Now, that has become the Great Atlanta Bash and I just love that name, because it speaks volumes. It lets people know that we do great things here in the city of Atlanta and it gives us an opportunity to showcase the best brand of high school football that we can offer. I wish the games were tomorrow, I'm that excited."
Following the Corky Kell Classic and the third annual Great Atlanta Bash, the broadcast embarks on the Drive for the GHSA State Title. This aptly named production will feature one major matchup for the next 14 consecutive Friday nights—including the remaining 10 weeks of the regular season and one game for each of the first four rounds of the state playoffs. All games will kick off at 8 p.m.
The first game that will be shown on the Drive for the GHSA State Title is appropriately set to feature two of the biggest state title contenders in the state this season with Rabun County visiting Eagle's Landing Christian. Rabun County is led by the top-ranked quarterback in the state—Gunner Stockton, a UGA-commit who is entering his senior season having already thrown for 9,518 yards, 122 touchdowns to go with his 3,416 rushing yards and 62 touchdown runs. Stockton is one of the highest-rated passers to ever come through Georgia and has the Wildcats as a favorite in Class 2A heading into his final varsity season. As for Eagle's Landing Christian, the Chargers have put Class A Private on the map with their own incredible run that includes seven finals appearances and six state titles since 2012. Eagle's Landing Christian's roster features Boston College-commit Amari Jackson at cornerback and sophomore sensation Brandon Hood at running back; Hood finished his freshman campaign with 677 rushing yards and nine touchdowns this past season.
The next stop on the Drive for the GHSA State Title will be Rome's Barron Stadium as the Wolves host last year's Class 7A state runner-up Collins Hill. This will be the second time in the first four weeks that the nation's highest-rated prospect will take center stage as Hunter and the Eagles take on Rome. Collins Hill's four-star quarterback Sam Horn will also be back in the limelight and his Eagles will be going up against a Rome team that has arguably the most talented up-and-coming Class of 2024 stable in the state. This group of sophomores includes quarterback Reece Fountain—a 4.5 GPA athlete that is rated as the No. 4 Class of 2024 quarterback by QB Hitlist. Fountain scored his first varsity victory this past season against Dalton and closed out that performance with 16-of-19 passing for 168 yards and a touchdown. He ultimately finished the year with eight touchdown passes and did not throw a single interception. Additionally, Martavious Collins is back at tight end after scoring two touchdowns as a freshman last season and so is DeKaylon Daniel, who recorded a pair of touchdown catches as a freshman last season. Rome has another underclassmen star to watch for with Class of 2023 receiver Martel Hight, who has offers from Florida and Vanderbilt heading into the year.
Marietta's home contest against Parkview on Sept. 17 will be next up and it is going to be another fantastic sample of Georgia's incredible talent as Marietta returns more starters than any other Class 7A program this season.
"We have 20 starters back from last year and that doesn't even include our kicker and punter," said Marietta head coach Richard Morgan. "I don't think we've ever put out a team with that many starters returning so I am excited about that. This game will be a great opportunity and we love the exposure it will bring to our program. It's a tough game against Parkview and we have faced them each of the last two years and split those games. Our kids are excited about the competition and we like to play in these types of games."
Southern University-commit Tyler Hughes is an athletic quarterback that gives Marietta's high-powered offense a wide-array of ways to move the football. Additionally, the Blue Devils' roster of returning starters will feature four-star linebacker Daniel Martin and four-star junior cornerback Jace Arnold. On the opposing sideline, Parkview returns junior quarterback Colin Houck, who led the Panthers to a quarterfinals appearance this past season. Houck was the starting third baseman on Parkview's state championship team this past spring and his gridiron talent has already received offers from the likes of Arkansas, Georgia Tech and Pittsburgh.
PeachtreeTV will be live from Warner Robins the following week on Sept. 24 as the defending Class 5A state champion Demons host last year's Class 6A state runner-up Lee County. Warner Robins has been to four-straight finals and Lee County has appeared in three finals over the past four seasons with two state titles. Lee County is absolutely loaded with star power this season and has four seniors ranked in the top 70 prospects in the state.  Qae'shon Sapp is a four-star offensive tackle and Florida State-commit and tight end Tyrus Washington is a three-star committed to Arkansas. Lee County's secondary has three star safeties Quavian Carter (Michigan State) and Malcolm Jones (Virginia Tech) returning. As for Warner Robins, running back Malcom Brown is poised to have a major impact heading into his junior season. Brown accounted for 1,102 yards off of 115 carries (9.6 ypc) last season to go with his 10 touchdowns and he has recently been offered by Minnesota.
The eight programs that will be featured in the first four weeks of the Drive for the GHSA State Title share a combined 22 state titles and this trend will continue in each of the ensuing weeks which includes North Cobb traveling to Walton on Oct. 15 and the annual neighborhood showdown between Milton and (at) Roswell on Oct. 22.
Following the semifinal playoffs broadcast, PeachtreeTV's 31-game lineup will conclude with the ninth Annual Georgia Elite Classic. A Senior vs. Junior game, a Freshman vs. Sophomore game and an 8th Grade game will bring the final tally to 31. Over the first nine years of the Georgia Elite Classic, more than 1,200 former participants have gone on to play college football and six former alums are on NFL rosters this upcoming season.
Score Atlanta and CBS46/PeachtreeTV will also be joining forces with Nashville-based Live Media Group to ensure that the production is second to none. A mobile production truck with a satellite dish on the top of it, will be stationed at 26 of the games and LMG's equipment and technology is used by a long list of clients that includes ESPN, Fox Sports, NBS, ABC, Universal, PGA Tour Live, Amazon, Disney, Turner and CMA Music Festival in addition to CBS and more. The five Corky games at Mercedes-Benz Stadium will be done without a truck. In conjunction with the production team from MBS, the stadium's large control room will be used to produce more than 15 hours of high school football on PeachtreeTV.
"This, I can tell you has never been done before for a broadcast this long,'' said Rosenberg. "No TV truck but a combination of the best at MBS and our crew at one of the best stadiums in the world. I think eventually this is the way live TV is going to be done from large venues.''
Additionally, each of the games will have outstanding teams on the call. This group of on-air talent includes 247Sports Recruiting Analyst Rusty Mansell, GPB and ESPN play-by-play veteran Matt Stewart, Fletcher Proctor, Bob Houghton and Score Atlanta Chief Editor Craig Sager II. DawgNation's Brandon Adams is also slated to call the action and a tailgate show and halftime show with special guest interviews and statewide coverage will be hosted by Kaylee Mansell and Ashley Carey Rosenberg with Sager joining them to discuss the upcoming matchups. During the regular season and playoffs, Sager will break into the broadcast from the studios at Score Atlanta. The post-game show will be 30 minutes and filled with final scores from around the state. Mansell, who has been crucial in the building of the Georgia Elite Classic which will be nine years old, and Jeff Sentell from DawgNation, will talk recruiting.
Fred Kalil and Emily Gagnon of CBS46 will provide support for the games on their shows during the week and expect both to be involved in the games during the season. The games will also be supported by what is now a 15-month video podcast every Monday and Thursday at noon from the offices of Score Atlanta, hosted by Rosenberg and Sager. Presented by The Georgia Farm Bureau and with support from the GHSA, the show will include interviews with coaches and players from the upcoming games.
On the digital side, Score will be using its statewide live scoreboard and scoring app, as well as streaming the games on the CBS46 app and the National High School Federation High School Network. Also on Friday nights, the PeachtreeTV broadcast will feature live video look-ins from around the state and Corky Kell founder Dave Hunter will join the 'Drive' broadcast to break down the games both at halftime and after the game.
The Corky Kell Classic is also announcing the extension of its partnership with the Down Syndrome Association of Atlanta. On Saturday, Aug. 21, Score Atlanta will provide free tickets to the first 100 fans in the Down Syndrome community free of charge and they will get to go on the field for the coin toss before Parkview and Mill Creek kick off at 11:45 a.m. to celebrate the first week of the high school football season. There, they will be joined by members of the National Guard and GeorgiaConstructionCareers.com while members of both team's lock arms and circle around them.
"There are a lot more announcements that will be made over the next week about all the partners who will be involved this season as well as a few more features for the games,'' said Rosenberg. "For instance, we are working on a deal with FM station 92.9 The Game. Sam Crenshaw will be doing a five-hour high school show on Friday nights from 7-midnight and we are going to be involved. A lot of effort from a lot of smart people are going into this but I really have to thank CBS46 for putting aside the time on PeachtreeTV to make this happen. It's going to be a lot of fun."