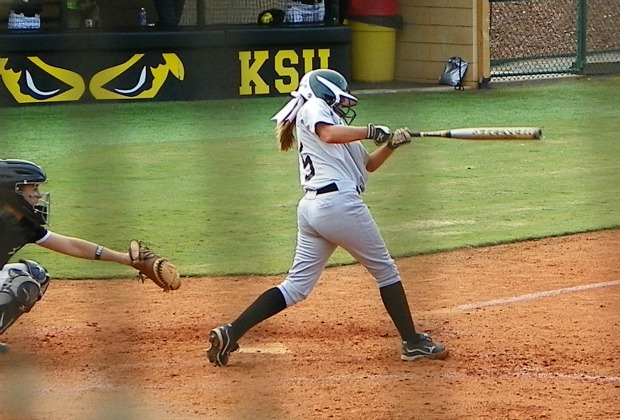 Photo by KMHS
In the state softball championship in Columbus, No. 3 Lassiter was eliminated from the double-elimination tournament by No. 1 Kennesaw Mountain 1-0. The Trojans lost to Archer earlier in the day. Mill Creek, Harrison and Hillgrove were also eliminated. No. 5 Collins Hill and No. 4 Archer played in the semifinals along with No. 2 East Coweta and Kennesaw Mountain. Results were not available at press time. The final two teams not to be eliminated will play today in the state finals.
In Class AAAAA, No. 6 Pope upset top-ranked Union Grove 1-0 to advance to the final. Greenbrier and South Paulding were eliminated, while Whitewater and Loganville played for the right to face Union Grove in the semifinals.
Buford advanced to the state finals with a 7-0 win over Central-Carroll in Class AAA, the Wolves' first finals appearance in their new classification after moving up from AA this season. Sophomore Bria Bush tossed her 19th complete game and earned her 21st win of the season. Jordan Deep had three RBIs for Buford. Coach Tony Wolfe's No. 1-ranked squad is searching for its sixth straight state title. The Wolves will face the winner of the Ringgold-Central,Carroll game today.
Class AA No. 1 Wesleyan fell to No. 7 Dade County 3-2 and will play No. 2 Heard County today in an elimination game. The winner will take on Dade County for the state championship, also today.
No. 6 Mt Pisgah advanced to the finals in Class A after defeating fifth-ranked Prince Avenue Christian 3-2. The Patriots will await the winner of Prince Avenue Christian and Savannah Christian. Pace Academy and Eagle's Landing Christian were each eliminated today.