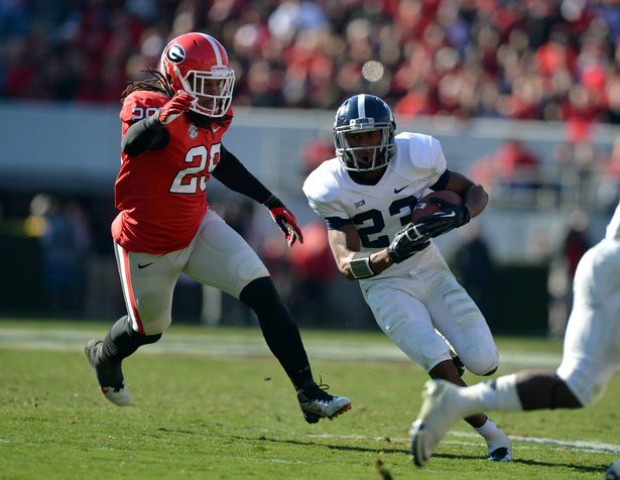 Brant Sanderlin/AJC
The Georgia Bulldogs won their 10th game of the year by taking down Georgia Southern 45-14 at Sanford Stadium on Saturday.
It was a game that started off somewhat rocky for the Bulldogs as they were tied with the Eagles at the start of the second quarter thanks to a Jerick McKinnon 1-yard touchdown run. That score was possible because Rhett McGowan fumble a 20-yard catch and was recovered by Dion Dubose.
The Bulldogs would answer the Southern touchdown with a Marshall Morgan 37-yard field goal. They would then increase the lead to 10 after Aaron Murray threw a 24-yard touchdown pass to Malcolm Mitchell with four seconds left in the first half.
That would prove to be the turning point of the contest because the Bulldogs would tack on 21 more points in the third quarter. After forcing the Eagles to go three-and-out at the beginning of the third, the Bulldogs put together a 12-play, 69-yard drive, which ended with a Murray 13-yard pass to Chris Conley.
Murray would throw his second touchdown pass of the quarter a couple minutes later, as he threw a 43-yard strike to Tavarres King. Murray would throw his third touchdown pass of the quarter a few minutes later when he found Conley again on a 33-yard screen play.
The Eagles would come up with one more score early in the fourth quarter when McKinnon rushed for a 23-yard touchdown. But the Bulldogs would answer as backup QB Park Welch threw a 13-yard touchdown pass to Justin Scott-Wesley.
The Bulldogs offense was on point the entire game as they tallied 474 yards on 67 plays. Murray finished the day 18-of-28 for 330 yards and four touchdowns. Todd Gulrey led the Bulldogs rush attack with 68 yards on 15 carries and one touchdown he score on the opening drive of the game. The Bulldogs have now scores 56 touchdowns, which is a school record.
On defense, the Bulldogs allowed 302 rushing yards on 58 plays. But the Bulldogs only allowed 16 passing yards.
Alec Ogletree led all defenders with 12 tackles, one tackle for loss and one fumble recovery. Christian Robinson had nine tackles and two tackles for loss and Garrison Smith had seven tackles and one tackle for loss. For Ogletree, it's the sixth time this season he has record over 10 tackles in a game, and he's only played in seven games this year.
Next up for the Bulldogs is the Georgia Tech Yellow Jackets and they are a team that has an outside shot of winning the ACC Coastal. That game will be played at Sanford Stadium on Saturday at 12 p.m.