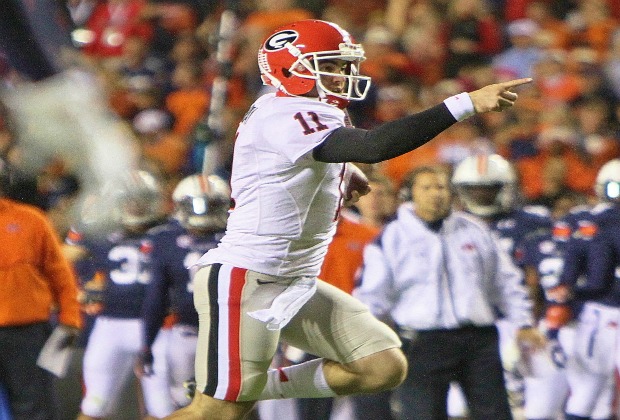 Rob Saye
The ninth ranked (1-1) Georgia Bulldogs return from a bye week to play the North Texas Mean Green Eagles Saturday at 12:21pm between the hedges at Sanford Stadium. This is the Dawgs' first action on the gridiron since the team's 41-30 victory over South Carolina on Sept. 22. Under Mark Richt, Georgia is 14-4 coming off a bye week and 49-9 against non-conference opponents. However, North Texas is certainly no slouch. The 2-1 Green Eagles average 460.0 yards per game and are a veteran team that Richt acknowledged in a press conference on Tuesday.
"With North Texas, I'm very impressed with what I see on film," said Richt. "Coach Dan McCarney has done a great job with his team. One of the things that sticks out to me is the number of junior and seniors that they have playing and starting for them. There are nine juniors and seniors on offense and 10 out of 11 defenders are either juniors or seniors – mostly seniors. So they are a very veteran team. I see a team that is very well-coached. I know Coach McCarney has had the opportunity to coach on a national championship team with Coach (Urban) Meyer at Florida. He's been a head coach for many years and has had a lot of success. I think they are believing and playing hard, and they'll be ready for a big game on Saturday."
Young and the Restless…
Georgia has certainly had its growing pains – particularly on defense. The Dawgs have played 13 true freshmen so far this season, 10 of those 13 being on defense, which ties Tennessee for fourth in the nation according to Georgiadogs.com. FS Tray Matthews, OLB Leonard Floyd and CB Brendan Langley became the first true freshmen starters in a season opener on defense under Mark Richt since Kedric Golston in 2002.
The play of the inside linebackers has been solid with Juniors Amarlo Herrera and Ramik Wilson ranking in the top 12 in the nation in tackles per game at 12.0 and 11.0, respectively. Nevertheless, coach Richt has mentioned his preference for more depth at that position due to player fatigue later in the game.
Man on a mission…
Sophomore tailback Todd Gurley is seeking his third consecutive 100-yard rushing game . The North Carolina native set a career high with 30 carries against the Gamecocks. Gurley has been nothing short of phenomenal and looks to be relied upon down the stretch.