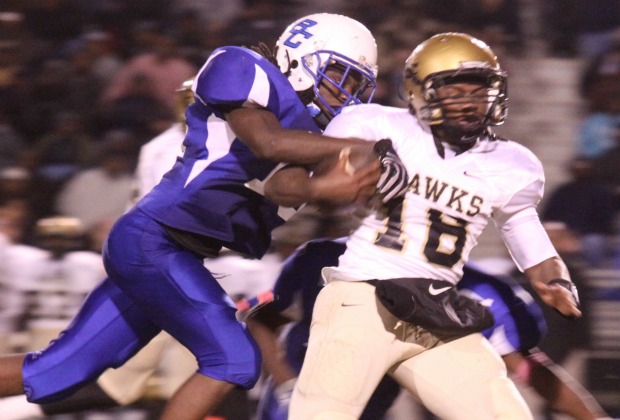 The True Citizen
The Class AAAAAA poll remains unchanged with Camden County and Colquitt County having byes. This Friday will certainly see a shakeup, though, as No. 1 Camden County faces Valdosta and No. 4 Lowndes travels to No. 7 Colquitt County. Lassiter and Grayson each won to stay at Nos. 2 and 3, respectively. Walton and North Gwinnett bounced back from losses one week ago with nice victories.
In Class AAAAA the top five teams in the poll went a combined 212-0 against their foes this past weekend, though No. 2 Northside-Warner Robins did have the bye week. No. 6 Gainesville posted a 62-20 victory over Apalachee while No. 9 Heritage-Conyers blanked Cedar Shoals 21-0. Ware County fell from the polls after a bye week, allowing Lee County to move in at No. 10 with a 4-0 record. The Trojans blasted Morrow 42-6 and are averaging 46 points per game this year.
Washington is the newest team in the Class AAAA poll, checking in at No. 9 after a nice victory over Stone Mountain pushed the Bulldogs to a 4-0 start. Statesboro fell to No. 8 after losing to No. 6 Burke County. Stephens County, Griffin, Marist and Monroe Area all moved up as well with victories. Carrollton remained at No. 10 after an off week.
The top four did not change in Class AAA with No. 1 Peach County and No. 2 Washington County each picking up wins. Buford was idle to stay at No. 3 and No. 4 Thomson defeated LaGrange. Region 5-AAA Gordon Central moved into the poll at No. 10, two spots behind region foe Cartersville as both teams are 4-0. Dodge County dropped to No. 9 and White County fell out of the poll after each lost.
The Calhoun Yellow Jackets continue to look strong at No. 1 in Class AA after winning 50-14 Friday night. No. 9 Washington-Wilkes and No. 10 Bowdon each moved into the polls after Lovett and Westside-Augusta fell out of the rankings.
Finally, Aquinas maintained its No. 1 spot in Class A with a 42-0 win over Josey. No. 2 ELCA, No. 3 Wilcox County and No. 4 Lincoln County were all off Friday night. Charlton County fell to No. 9 after losing to Class AA No. 5 Fitzgerald and George Walton Academy enters the polls at No. 10 with a 3-1 record over 4-0 Johnson County. George Walton's resume is slightly better, having taken down Holy Innocents' and Warren County and falling in overtime to Aquinas.
Class AAAAAA
1. Camden County
2. Lassiter
3. Grayson
4. Lowndes
5. Norcross
6. Walton
7. Colquitt County
8. Lovejoy
9. West Forsyth
10.North Gwinnett
Class AAAAA
1. Tucker
2 Northside-WR
3. Stephenson
4. East Paulding
5. ML King
6. Gainesville
7. Thomas County Central
8. Kell
9. Heritage-Conyers
10.Lee County
Class AAAA
1. Sandy Creek
2. Stephens County
3. Griffin
4. Marist
5. Monroe Area
6. Burke County
7. Grady
8. Statesboro
9. Washington
10.Carrollton
Class AAA
1. Peach County
2. Washington County
3. Buford
4. Thomson
5. St. Pius X
6. Carver-Columbus
7. Appling County
8. Cartersville
9. Dodge County
10.Gordon Central
Class AA
1. Calhoun
2. Cook
3. Brooks County
4. Vidalia
5. Fitzgerald
6. Lamar County
7. Heard County
8. GAC
9. Washington-Wilkes
10.Bowdon
Class A
1. Aquinas
2. ELCA
3. Wilcox County
4. Lincoln County
5. ECI
6. Commerce
7. Calvary Day
8. Prince Avenue Chr.
9. Charlton County
10.George Walton Academy