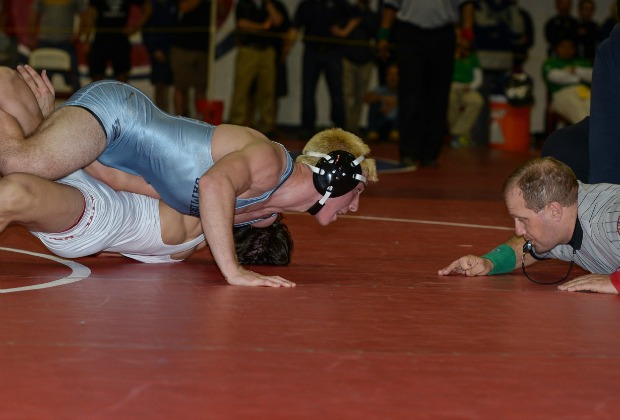 Jon Barash
The state traditional wrestling championships were held today at six locations throughout the state. Each classification held its meet at a different location due to inclement weather last week, when it was originally schedule to take place at The Arena at Gwinnett.
Cambridge won its first state championship of any kind in school history by winning the Class AAAAA meet at Loganville.
"It's the result of the hard work of so many," said Cambridge athletics director Matt Lawless on his athletic program's first championship. "As a new school, it's hard getting the right coach to come here and build a program quickly. We knew we had the talent. That said, Coach (Don) St. James was the guy. And all the hard work and credit really goes to him."
The Bears won a tight affair in which the top four teams scored within 22 points of each other. Cambridge had three wrestlers win state titles: J.R. Salemi (120 pounds), Brandon Filosi (126 pounds) and Devin Kane (145 pounds). Kane won an important match in the finals by outpointing Pope's T.J. Collins 6-2. Kane's win gave the Bears 27 points. Two Bears came in second: Will Britain (138 pounds) and Malik McNeil (285 pounds, the heavyweight class).
Allatoona, meanwhile, saw five wrestlers come in the top five of their respective weight classes: Cody Anderson (120 pounds), Ethan Benedict (132 pounds), Jack Woods (138 pounds), Jacob Robinson (152 pounds), Will Kemp (160 pounds) and Cody Webb (182 pounds). However, the Bucs had no wrestlers win state championships.
Pope, the defending Class AAAAA traditional state champion, had two individual state champions in Jake Adcock (138 pounds) and Jake Henson (160 pounds). In addition to Collins finishing second, Josh Tazzetta came in third in the 113-pound weight class. The Greyhounds' only other top-five finisher was Seth Gorman in the heavyweight class.
The Bears' win interrupted a streak of six consecutive state meets won by Pope in dual and traditional styles. Ironically, Cambridge defeated Pope at the Area 7-AAAAA meet three weeks ago for the Bears' first area or region title of any type.
Class AAAAAA
Archer won its second traditional state championship in a row as five Tigers wrestlers won state championships Saturday at the Class AAAAAA traditional state championship meet at Chattahoochee. Archer also won dual wrestling championships the past two seasons.
Grant Aycox (132 pounds), Thomas Bullard (152 pounds), Daniel Bullard (160 pounds), Elliott Lee (195 pounds) and M.J. Couzan (285 pounds) each won state championships for Archer. In addition, Chris Diaz (126 pounds), Sam Bullard (138 pounds) and Quin Miller (182 pounds) each came in second for the Tigers. Archer easily beat second-place Camden County, which netted 183.5 points and third-place Collins Hill, which totaled 102.5
Class AAAA
At West Laurens, Gilmer won its second straight AAAA traditional title and its fourth wrestling state title in the past two years (when coupled with two dual championships). The Bobcats had four individual state champions and won the meet with 191 points to second-place Cass' 160. Alexander came in third with 144 points.
Class AAA
Buford added to its recent wrestling trophy case with the state traditional championship, which joins its first-ever dual championship won in January. Six Wolves wrestled their way to individual state crowns in their home gym.
Buford scored 151 points as a team to second-place Banks County's 101. Elbert County took third with 195 and Woodward Academy scored 78 to come in fourth.
Class AA
Jefferson won its 14th straight traditional state wrestling championship at the AA meet at Toombs County. The Dragons totaled 193 points, beating second-place Bremen, which had 156. Six Jefferson wrestlers won individual state championships.
Class A
Commerce won its second wrestling state championships of the school year and third in program history in its home gym. The Tigers had 222.5 points to runner-up Gordon Lee's 131.5. Athens Christian took third with 129 points. Five Commerce grapplers won individual state championships.