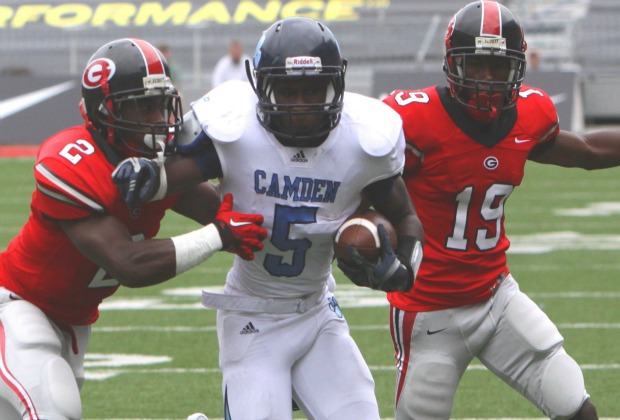 Camden County High School
Look at Camden County. After moving from a region that was scoffed at across the state at being a tad weak behind the Wildcats, Camden County is now 2-0 in vaunted Region 1-AAAAAA after a 39-12 shellacking of Coffee. The convincing win over the Trojans came just a week after an equally impressive 43-6 victory at Valdosta. Next up for the top-ranked Wildcats are home games against Tift County and Brunswick before trips to Lowndes and Colquitt County to end the season.
Carver-Atlanta defeated Banneker 30-8 to improve to 5-0 on the season a year after finishing a dreadful 2-8. Behind talented offensive lineman Delando Crooks, coach Darren Myles' Panthers are impressing in Region 6-AAAA. A showdown with Grady on Nov. 2 should decide the Division B title.
What is wrong with Dublin? The Fighting Irish are now 0-6 after a 46-17 drubbing by local rival East Laurens. Roger Holmes' program has not had a losing record since 2003 and has won double-digit games seven times since 2002, but are just trying to win a game in 2012.
Class AAA No. 4 Thomson keeps rolling along. The Bulldogs whipped another Atlanta-area private school Friday with a 36-27 win at host Greater Atlanta Christian as RB Chris Jordan rushed for 200 yards. Thomson also defeated St. Pius X and Westminster this year. An Oct. 26 meeting with No. 2 Washington County should decide the Region 3-AAA title and have major ramifications in the Class AAA top five.