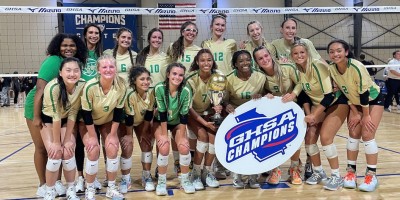 The GHSA Volleyball State Championships return to the Lakepoint Sports Complex Champions Center for two days (Nov. 4-5) of captivating championship showdowns. Class 1A, 2A & 3A will crown its champions on Friday before the top four classifications take center court on Saturday. This year's finalists share a combined total of 21 all-time state titles and four of the teams will look to defend their titles in new classifications. In Class 7A, Buford has swept its way to the finals after achieving back-to-back Class 6A titles last season. The Wolves have four all-time championships and will be matched up with a Lambert team that is one match away from its first-ever crown. Lambert is coming off a 3-1 semifinal win over defending Class 7A and 15-time state champion Walton. Buford won 2-0 (25-21, 27-25) when the teams met on Aug. 20 and enters the rematch with a 17-game win-streak. Lambert bounced back from that defeat and carries a 19-match win-streak into Saturday.
In Class 6A, top seeds Pope and Sequoyah will clash after conquering the playoff field. When the teams met back on Aug. 25, Pope was able to win in four sets and the Greyhounds have swept the past four rounds of opponents. As for the Chiefs, they battled past Alexander, Alpharetta, St. Pius X and North Forsyth to reach the finals and are seeking their first state title since 2014. Pope previously won its fourth all-time championship in 2018.
Reigning Class 3A state champion Greater Atlanta Christian is back in the finals after jumping up to Class 5A this season and will take on Region 6 counterpart Chattahoochee—which is one win away from finally achieving its elusive first-ever crown. GAC battled past McIntosh in a five-set thriller in the semifinals, while Chattahoochee bounced Jefferson out with a 3-1 victory. Saturday's battle will mark the fourth time that the Spartans and Cougars have squared off this season. Greater Atlanta Christian won the first and third meeting, while Chattahoochee came away with a 2-0 win in between to split the series. As a result, Greater Atlanta Christian has a 5-4 edge in sets won in the three previous meetings.
Class 4A finalist Pace Academy will attempt to win its sixth-straight state title on Saturday. The Knights started this incredible streak in Class 3A with crowns in 2017-19 and then took the Class 2A/A Public title the past two seasons. The Knights are 41-1 this season with their lone loss coming to Class 6A Pope. This record includes a 2-0 win over Lovett back on Sept. 13 and a 2-1 win over the Lions on Sept. 24. Lovett won the first set in the most recent meeting before Pace Academy closed out the victory. Lovett is searching for its first state title since the 2012 season and has swept its way through the playoff bracket as the No. 3 seed out of Area 5.
The Class 3A championship will guarantee a first-time state champion with title-hopefuls Oconee County and Morgan County squaring off. While state championships may be unfamiliar to both programs, the Bulldogs and Warriors are well-versed with one another after facing off on Oct. 11. In that match, the teams split the first four sets until Oconee County's decisive 15-10 victory in the fifth. Their epic five-set marathon saw Oconee County sophomore Olivia Miller (18) and Morgan County sophomores Quinn Butler (16) and Haedyn Crumbley (13) lead the way in the kills department. Nearly every statistical category was comparable, but Oconee County did gain a 12-5 advantage in blocks that tilted the match in its favor.
In Class 2A, defending state champion Mt. Paran will aim for its third state title since 2018, while Landmark Christian will attempt to win its fourth all-time state crown and first since the 2012 season. Mt. Paran carries a 27-match win-streak into Friday's finals and is coming off a 3-1 semifinal victory over Area 3 top seeded Savannah Arts. Landmark Christian dispatched Area 8 champion Athens Academy 3-1 in the quarterfinals and then topped North Cobb Christian 3-1 in the semifinals to extend its win-streak to nine matches.
The Class A championship matchup joins Class 3A as the only other finals that will feature two opponents in search of first-ever state titles. Area 8 champion Tallulah Falls has battled past Darlington (3-0), Galloway (3-1), Lamar County (3-0) and Mt. Pisgah (3-1) to reach the finals. On the other side of the bracket, No. 1 ranked Mt. Bethel has battled past Social Circle (3-0), Dade County (3-1), Temple (3-0) and Mt. Vernon (3-0) to reach the finals. Talulah Falls carries a nine-match win-streak into Friday, while Mt. Bethel brings a 10-match win-streak. The two teams have not faced each other this season, but Mt. Pisgah was a common opponent and Tallulah Falls' 3-1 win over the Patriots exemplifies the talent of the Indians as they get set to face another powerhouse to close out the season.