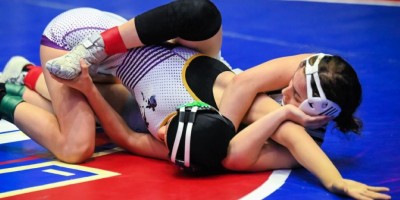 Carrollton's victory over Jordan in the inaugural GHSA girls team duals state championship at Buford marked the first-ever wrestling championship for the Trojans but most importantly, ushered in a new era of wrestling in the state.
"These girls, it's something special for them," said Carrollton head coach Allen Newton "I cant put into words the bond that they have for each other. This is something that no one can take away from those kids. They have worked their tails off."
The Trojans beat Jordan 48-36 in a closely contested finals. Carrollton got victories from Lilianna McKinley over Jordan's Elina Morales in the 105-pound match. In the 115-pound match, Katlyn Thomas beat Alliyah Rone. Bailey Moore beat Paola Vazquez in the 130-pound match and Maggie Dudley beat Jo'Haylee Davis in the 135-pound match.
"The atmosphere was insane at Buford," he said. "Every team had an amazing fanbase and Ill say it, out atmosphere allowed us to win that event. Our student section was wild and helped us win close duals today."
Madison Cooley (145 pounds) beat Taziyah Collins, Amazing Ackey (155) beat Taniya Thomas, Johana Mejia (170) defeated Malakia Sheffield and Hailey Lussier (190) beat Jame'la Moore to secure the championship for Carrollton.
Through the bracket, Carrollton beat Woodward Academy, Chestatee and Jordan to win the title. Jordan beat Greenbrier and Gilmer to secure the berth in the championship bout. In the third/fourth match, Greenbrier beat Gilmer to secure third place.
See the full results by following the link to TrackWrestling.