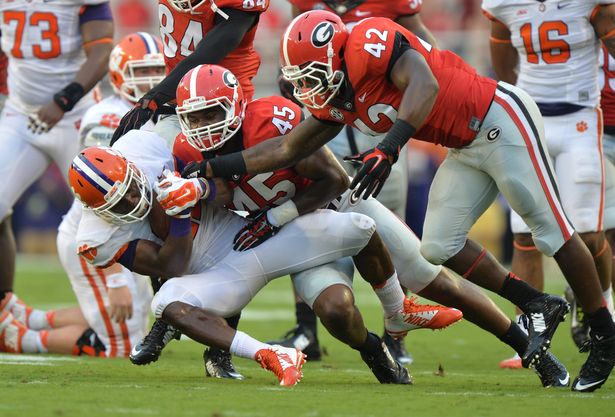 Brant Sanderlin/ Atlanta Journal-Constitution
Over the last few seasons, Georgia has not worried about the depth in the inside linebacker group. Really since at least 2012, this group has had two constant starters and capable backups.
In that SEC runner-up season, we saw Alec Ogletree (after suspension) and Michael Gilliard started out the season as the starters. Eventually we saw Amarlo Herrera emerge as the starter and even saw Christian Robinson make plays in a back-up role.
The next season it became Ramik Wilson and Amarlo Herrera on the inside for the defense. This became a heck of a duo for the Bulldogs over the next couple of seasons in Athens.
The good news is, that even with Wilson and Herrera on the inside in 2014, the new crop of Reggie Carter and Tim Kimbrough were not only able to learn, but also get some meaningful playing time behind them last season.
The two rising junior linebackers seem poised to take over the inside coming off a combined 60 solo tackles between the two. They're taking over for 230 combined solo tackles in the past two seasons by their predecessors.
Right now, Georgia has about eight players vying for playing time at those two inside spots on the defense. Head coach Mark Richt says he likes what he's seeing out of Carter/Kimbrough, but that job search is far from over.
"They have had a lot of practice reps coming into this year," Richt said. "They're not rookies by any means. I think that they have tried to take on the leadership in there (linebackers meeting room). They've tried to be vocal as far as making calls and playing aggressive. They've certainly got a ways to go and I wouldn't say anybody has nailed any position down for next season. But, I do see them practicing hard and trying to lead as well."
You will think with these players pretty much playing in every single game last season that the job would be there's for the taking. You just saw that Richt isn't saying that's the case and Kimbrough says that he's not taking anything for granted.
"I feel like it's just a competing thing and that me and Reggie are just getting better every day because we're competing," Kimbrough said. "We've got somebody behind us real good and you've just got to compete for your spot every day. So I feel like it's making us great."
Carter likes the chemistry that he's developed with Kimbrough, dating back to last season. But, he also realizes that they've been helped by what they learned from Herrera/Wilson.
"We learned a lot from those guys," Carter said. "They left big shoes to fill, with All-SEC mentions. They did a good job of preparing us."
We pointed out the numbers in that position group, which already includes UAB transfer Jake Ganus. Plus, the team will bring in highly-touted inside linebacker Roquan Smith this fall.
The numbers are there for the position group to find their starter. While the signs point to Carter being one of those starters with Kimbrough, he still knows that it could be anyone's job.
"That's just good," Carter said. "I feel like everyone at our position is good and we can rotate in. We feed off each other. One person messes up, don't make the same mistake twice. (If) someone sees me mess up and they quickly learn from that. As long as we feed off each other, it should be good."
Even with numbers being a motivator for these two returners to compete every day at practice, they also know there's another factor to the equation. That factor is defensive coordinator Jeremy Pruitt.
During his first full season in Athens, Pruitt has proven to be a man who loves competition on the field. Along with that being the case, he's also shown that he'll give playing time to those who earn those reps.
Pruitt's mantra throughout his tenure at Georgia has been that he, "won't always give you what you want, but I'll give you what you earn."
Kimbrough knows that you can't rest on your previous work on the field and feels like knowing this with Pruitt, gives you a sense of what the expectations are.
"You know what job security is and it's not frightening," Kimbrough said. "It just makes you a better player and better for the future."
We will get an in-depth look at Carter and Kimbrough this Saturday, when the team holds their annual 'G-Day' scrimmage at Sanford Stadium. In terms of what this group with Roquan Smith in the fold and competing for time on the field? That has to wait until early August.