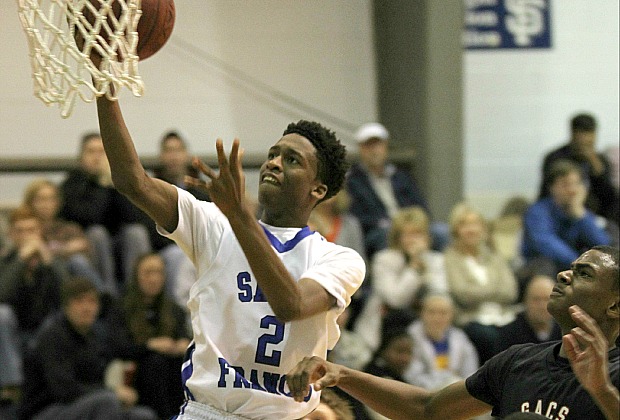 Courtesy of St. Francis Athletics
WHITEFIELD ACADEMY
23-6, Region 6
The Wolfpack is back in the state finals for the second time in three seasons with the opportunity to win its fourth state title. Whitefield cruised in the semifinals, posting an 82-61 win over Calvary Day. Now, the Wolfpack will face the challenge of trying to beat region-rival St. Francis for the third time this season. When the two teams met the first time this season (Dec. 10), junior Courtney Alexander led the way with 21 points and 6-foot-6 senior Eric Lockett finished with 14 points.
Whitefield held St. Francis to just 1-of-7 shooting from the foul line and won by 14 points (65-51). In the second matchup (Jan. 21), Whitefield won 71-63 and was paced by sophomore Brendon Myles and Lockett's 15 points apiece, along with a brilliant shooting performance from Berto Dryden. Dryden finished 3-of-3 shooting (all 3-point attempts) and went 9-of-10 from the foul line for a team-high 18 points.
The array of playmakers that are capable of producing a big game for Whitefield is its strength. Lockett is the leader statistically and vocally on the court and the senior averages right and 17 points per game. Alexander is the only other scorer in double-figures at 11 points per game. There are five other players averaging north of five points per game and each one has scored in double-figures multiple games this season.
Whitefield houses a lot of size in the paint and the toughness of the Wolfpacks' big men helped the team survive a 73-69 double-overtime thriller in the quarterfinals against North Cobb Christian. Lockett suffered a facial laceration during the first overtime and returned by the second overtime to net three crucial buckets and lead his team with 22 points off of 8-of-10 shooting. Lockett is signed to George Mason.
ST. FRANCIS
23-7, Region 6
Last year, head coach Cabral Huff had just one senior on a roster that made it all the way to the state championship. Huff and his young lineup were unable to win the program its first state title despite holding a lead for much of the second-half. Greenforest Christian tied the game at 41-41 in the fourth quarter and scored the final 14 points to win 55-41. This year's team returned championship experience and one of the most dangerous and versatile groups of scorers in the state with junior Malik Beasley, sophomore Kobi Simmons and 6-foot-8 junior Kaiser Gates.
Beasley is averaging 21 points and 10.3 rebounds per game this postseason. The 6-foot-4 guard is joined in the backcourt by 6-foot-5 Simmons, who is a nationally-recognized sophomore prospect. Simmons exploded for 19 of his 20 points in the first half of last year's finals and has averaged 17.1 points per game this season off of an efficient 55 percent shooting. Simmons also adds five assists per game and shoots 47 percent from the three-point line and 74 percent from the foul line.
Kaiser is averaging 14.6 points per game and enters the championship coming off consecutive double-double performances. Gates pulls down 10.2 rebounds per game and finished with 12 points and 10 boards in his championship debut last season. Gates not only grabs double-digit rebounds, but he can step out behind the arc and knock down three-pointers where he has hit 44-of-99 (48 percent) of his  attempts this year.
Beasley, Simmons and Kaiser can all hit jump shots and finish with contact at the rim. Each of the three scorers has reached the foul line more than 100 times this season. Senior McKinley Brown is player that likes to attack the basket as well and the 6-foot-1 guard is averaging 7.6 points per game this postseason while dishing out seven assists per game. Brown has also knocked down 9-of-11 attempts from the foul line.