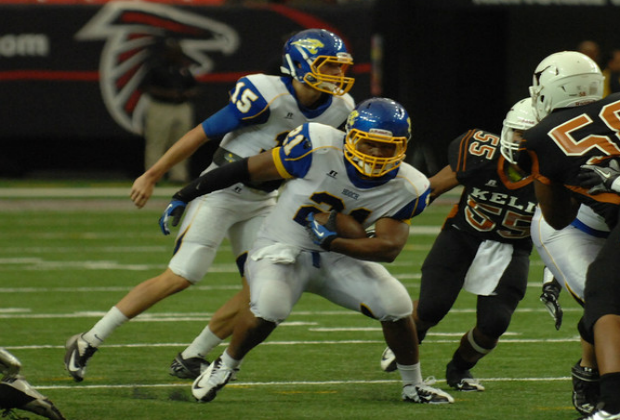 Sonny Kennedy
Chattahoochee (7-3) won the final playoff spot out of Region 6-AAAAAA with a 33-20 win over Centennial (3-7) that came down to the final two minutes. Down by seven, Centennial quarterback Chase Rosenberg drove the Knights inside the Cougars' 20 but two penalties pushed the Knights back and they turned it over on downs. The Cougars then put it away on a 65-yard pass from Travis Marshall to Collin Lisa. Rosenberg went 32-for-47 for 347 yards and two passing touchdowns and one rushing score while Marshall was 13-for-22 for 194 and one score.
Centennial opened the scoring in the first quarter when Rosenberg dove in from two yards. The Cougars came back on scoring runs of six yards by C.J. Leggett and three yards by Chase Nelson. In the third, Rosenberg hit Alex Prescott on a nine-yard touchdown pass, but the Knights got a celebration penalty and missed the extra point after a bad snap.
Chattahoochee took a four-point lead on a 32-yard field goal by Adam Abdeilaoui before the Knights recaptured the lead on an eight-yard pass from Rosenberg to Caden Herring. The Cougars seized the lead back in the fourth on a four-yard run by Leggett. Abdeilaoui put Chattahoochee up by seven with a 27-yard field goal with five minutes left.
Chattahoochee earned the No. 4 seed with the victory.