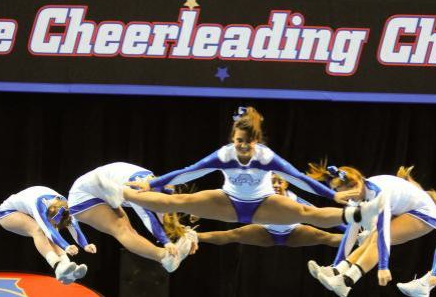 GHSA.net
The GHSA Cheerleading State Championships are back in Columbus to crown this year's eight state champs. Reclassification shook the cheerleading landscape two years ago as Lambert, Houston County, Veterans, Pierce County, Mt. Paran and Ola all claimed first-ever state titles in the same season. Last year, however, saw less new faces in year two of the region shufling as four of the classifications repeated and no new champs took the podium.
The GHSA went through reclassification this offseason and the result could lead to another historic championship weekend. Defending Class AA champion Calhoun is now in Class AAA and will headline a field that features two-time defending Class AAA champion Pierce County. Calhoun is seeking its sixth state crown in nine years.The move to AAA ends an epic battle between Coosa (three) and the Yellow Jackets (five), which own the last eight state titles inClass AA.
In Class AAA, Pierce County, Cartersville, Central-Carroll and North Oconee rounded out the Class AAA top 4 last year. Cartersville and North Oconee were classed up to AAAA and Calhoun will make its debut in Class AAA as a favorite to challenge Pierce County and Central-Carroll. Cartersville and North Oconee join Class AAAA and make their debut with two-time defending champion Veteran spacing the field. Columbus finished 4thin Class AAAA last year and will compete in Class AAAAA this year with headliners Houston County and McIntosh.
Throughout the competition this weekend, we are sure to see the impact of the newly-aligned classes unfold. In Class AAAAAA, Lambert ended Gwinnett County's domination of Georgia's highest classification in 2012 and followed it up with another run to the title last season. Gwinnett County had won six-of-seven state titles in Georgia's highest class prior to Lambert's emergence to power. Mill Creek won three state titles from 2008-11 and is led by Jennifer Henderson, a two-time individual All American Cheerleader national champion.
TROPHY SPACE…
Competitive cheerleading has been a GHSA sport that dates back to the 1993-94 school year and the co-ed division began crowning state champs in the 2004-05 season. Peachtree Ridge captured the co-ed title for the third time last year, giving the Lions more co-ed titles than any school in the state. Winder-Barrow and Duluth each boast two co-ed state titles.
Not many programs have dominated the podium like Class A-Public Trion has in recent years but Commerce has been able to topple the Bulldogs every couple years. Trion was edged by Commerce for the state title last year after claiming five of the previous six and these two programs have combined to capture a state title the past seven years.
Sectionals will be streamed live on NFHS Network today and GPB.org will broadcast the Class A Finals and the Saturday Finals. After the champions are crowned, GPB will televise a taped "Cheerleading Special" on Sat., November 22 at 5:00 p.m., Sun., November 23 at 6:00 p.m., and Tues., November 25 a t7:00 p.m. for those wanting to revisit the thrill of competing for a title.