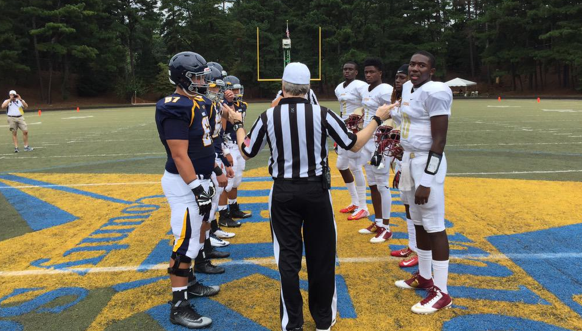 Photo by DCSD Athletics
Coconut Creek (FL) 41, Marist 21: Coconut Creek, which never trailed, capped off its opening drive with a 1-yard touchdown run from Malek Young. The UGA-commit made his first varsity game in Georgia memorable as he added a 69-yard touchdown to give the visiting Cougars a 14-7 lead with 3:23 left in the first half. Marist was able to tie it 14-14 at the break after Spencer Taylor and Michael Addicks touchdown runs, but Young found the endzone a third time with an 8-yard run that made it 20-14. Coconut Creek pushed the lead to 34-21 with a 50-yard reception from Trayvon Mullen before scoring its final touchdown on a T.J. Louis interception return for a touchdown.
Hallandale (FL) 34, Cedar Grove 26: Cedar Grove opened with a 2-yard touchdown run from Tre' Shaw to take a 6-0 lead, but Hallandale's senior wideout Joshua Hammond answered with three first half touchdowns to give the Chargers an 18-12 lead. Cedar Grove tied it at 18-18 with LaBron Morris' second rushing touchdown of the game, but the Saints failed the sixth two-point conversion of the game and could not take the lead. Hallandale quarterback Tyler Huntley tossed a 48-yard touchdown pass to Zach Moss and a successful two-point conversion increased the lead to 26-18. Moss added a 21-yard touchdown run in the final minute of the third quarter and the Chargers took a 34-18 lead before Cedar Grove's Morris found the endzone on a 4-yard run and pounded in the final points of the game on a two-point conversion.
Tucker 51, Godby (FL) 38: Tucker trailed 38-37 entering the final quarter but used two touchdown runs by Chris Broadwater an a game-sealing interception by Jeremiah Shelley to outscore the Cougars 14-0 in the final frame. Broadwater finished with three touchdowns, including a 7-yard run in the second quarter that gave Tucker a 24-18 halftime lead. Sam Bryant got Tucker started with the first two of the Tigers' seven rushing scores in the game and kicker Adam Lippy connected on a 26-yard field goal to put Tucker up 17-6. Godby answered with a Darius Bradwell quarterback keeper and Mike Carrigan touchdown run to take a brief 18-17 lead before Broadwater helped Tucker close the half with a lead. Bradwell scampered in for a 32-yard score to open the second half and tied the game 24-24. Tucker countered with a 3-yard Gerry Vaughn touchdown to make it 31-24 but Michael Hudson got Godby back in front 32-31 with a 5-yard rushing score and a successful Cougars two-point conversion. The Tigers were able to reclaim the lead after Kymani Campbell ran in a 56-yard touchdown but a bad snap on the point after kept Tucker's lead at 37-32. With 33 seconds left in the third quarter, Samondre Jordan gave Godby its final lead of the game (38-37) with a 4-yard touchdown run before Tucker dominated the fourth quarter.
American-Heritage, Plantation (FL) 36, Stephenson 8: In the fourth and final game of the Chick-fil-A Battle of the Borders, American-Heritage stifled Stephenson's offense and took a 19-2 lead into the half. The Patriots struck first with a Jason Brown quarterback sneak but the PAT was blocked by Stephenson and the lead remained 6-0 until midway through the second quarter when Laress Nelson hauled in a 19-yard touchdown pass. A bad snap on an American-Heritage punt gave Stephenson a safety with 1:12 left in the half, but the Jaguars were picked off by Tyson Campbell, who returned it 60-yards for a touchdown with just 14 seconds left in the half to make it 19-2. Stephenson muffed a punt on its first possession of the second half and the Patriots took over on the Jaguars' 2-yard line before Khailil Herbert punched it in to make it 26-2. The Patriots added a field goal before Stephenson finally got back on the board with a 45-yard touchdown run by Antonio Brown with 10:24 left in the game. Herbert added a 12-yard touchdown run later in the fourth that pushed it to a 36-8 lead.