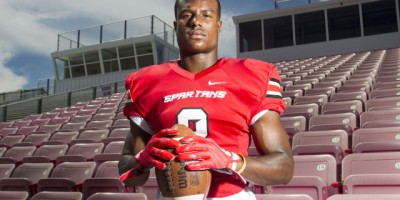 Greater Atlanta Christian's Kyler McMichael. Credit: Chad Rhym/AJC
No. 2 Peach County (12-1, 6-0) at No. 3 Greater Atlanta Christian (12-1, 6-0)
A rematch of the 2016 Class AAA semifinals pits the host GAC Spartans against the second-ranked Peach County Trojans. The Spartans bested Peach on Anderson Field in Fort Valley last year, 13-7, and will host this year's meeting in Norcross.
GAC, ranked third in Class AAA, features a run-heavy offense led by AJC Super 11 selection and Clemson commitment Kyler McMichael. The team averages nearly 270 rushing yards per game to 144 passing yards. McMichael has rushed for 1,382 yards and 23 touchdowns on 115 carries with seven games of 100+ yards of rushing. Junior quarterback Josh Rose is a dynamic quarterback, however. Rose is 82-of-146 passing for 1,192 yards and 15 touchdowns and has rushed for 258 yards and three touchdowns on 39 carries.
Peach County's star receiver, UGA commit Kearis Jackson, will miss the game due to a hand injury. The Trojan offense, which averages 222.7 passing yards, is led by senior quarterback Antonio Gilbert. He is 181-of-264 passing for 2,705 yards and 21 touchdowns this year. Trevon Woolfolk leads the Trojan rushing attack, which averages 183 yards per game. Woolfolk has rushed for 1,085 yards and 19 touchdowns on 118 carries. The Trojans have been to the playoffs every year since 1991 and in that span, making the championship game seven times — 1992, 1998, 2003, 2005-6, 2009 and 2011. The Trojans took the title in 2005, 2006 and 2009.
No. 4 Calhoun (12-1, 4-0) at No. 1 Cedar Grove (13-0, 7-0)
This game provides fourth-ranked Calhoun an opportunity to dethrone the defending Class AAA champion Cedar Grove Saints while proving that the top three can be beaten by a fellow Class AAA opponent – both Peach and GAC have losses on the year, but both came to non-AAA opponents. Peach fell to Class AAAAA Warner Robins on a last-second field goal, GAC fell to Valor Christian, Colo. for the second season in a row.
The Yellow Jackets, under Hal Lamb's watch, have won region titles every year since 2001 and last won a state championship in 2014 after defeating Washington County 27-20. Before that, Lamb led the Jackets to a title in 2011. Calhoun moved through Pace Academy, Monroe area and Liberty County to earn the semifinal berth. Against Liberty, Calhoun's Gavin Gray completed three touchdown passes. Gray connected with Zeke Nance (15 yards), Drew Rutledge (20 yards) and Luke Moseley (40 yards) for touchdowns.
On the other bench, Cedar Grove's outstanding defense awaits. The Saints have only given up 83 points this season, the most coming in the 41-14 victory over Region 5 rival Lovett on Sept. 15. Cedar Grove's last loss came at the hands of Westminster, 42-21, on Sept. 23, 2016, that is not a typo.
Since then the Saints have reeled off 23 wins, the longest streak without a loss in school history. This year's team has outscored opponents by 447. The team has averaged 43.5 points per game and has scored 550 points on the season.