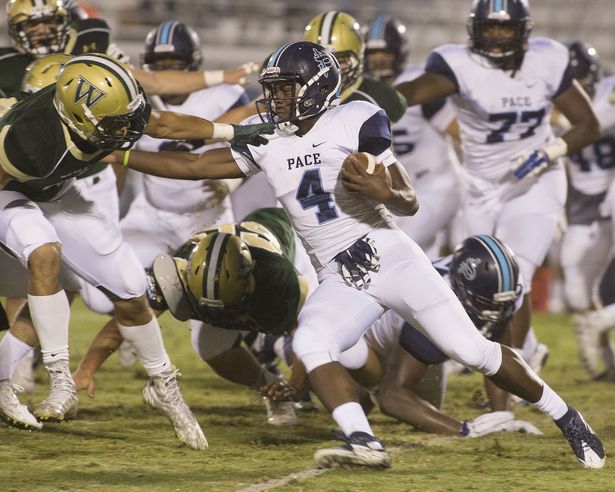 Class AA
Georgia Dome
Saturday, Dec. 12 | 1 PM
Pace Academy
Pace Academy (12-2) makes its first appearance in the state championship game in school history, while riding a school-record seven game winning streak. The program started back in 2008, and this is only the Knights; third winning season and third playoff appearance. After starting the season 5-0, they were dealt back-to-back region losses to Wesleyan (18-9) and Greater Atlanta Christian (33-13). They won their final three regular season games to pick up the fourth-seed in region 6-AA. Their path to the Class AA finals has all been on the road. They knocked off Darlington 31-0, and followed that up with a 27-7 win over Screven County. Then, the Knights took care of Macon County 33-26, and avenged their earlier loss to Greater Atlanta Christian by beating them 45-20 in the semifinals. The Knights have used a successful balanced attack on offense throughout the season. Sophomore quarterback Gunnor Faulk leads the team with 1,516 yards passing, while completing 119-of-191 attempts (62.3 percent) with 16 touchdowns and six interceptions. His main target is junior Trey Blount who has caught 30 passes for 582 yards (19.4 yards per reception) and nine touchdowns. Blount caught four passes and accounted for 101 of the team's 201 receiving yards while scoring two touchdowns in the semifinals. Their biggest contribution has come from their ground game, which has been a running back by committee. Five Knights' players, led by junior Deon Jackson have helped the team average north of 200 rushing yards per game. Jackson has accounted for 1,448 yards on the ground on 137 carries (10.5 yards per rush), seven touchdowns and four 100-yard or more games. Prior to this historic season, the team's highest season win total was nine when they finished 9-2 in 2010, losing in the first round of the Class A state playoffs. Their best finish came in 2014 when they made it to the Class AA state quarterfinals, although they finished the regular season with a 5-5 record.
Fitzgerald
Fitzgerald (13-1) will play for a state title for the fourth time in school history just one season removed from a 12-2 record and a trip to the Class AA semifinals. The Purple Hurricanes finished second in Region 1-AA, dropping their only game to region-foe Brooks County in the eighth week of the season. The Purple Hurricanes have breezed through the Class AA state playoffs with relative ease. After taking down Putnam County 51-15 in their lone home playoff game, they beat region 5-AA champion Heard County 24-7 to set up a quarterfinal matchup with reigning Class AA state champion Benedictine. In one of Class AA's most impressive victories other than Pace's win over GAC, Fitzgerald stomped Benedictine 54-28 and ended their 20-game winning streak. They followed that huge win up with a 40-20 victory over another region champion, Jefferson County last Friday. The Fitzgerald offense continues to put up huge numbers each week. The team's superstar junior running back JD King has rushed for an astounding 2,380 yards on 319 carries (7.5 yards per carry) and 30 touchdowns. He has rushed for 100 yards in every game except for one, including three 200-plus yard performances and a 332-yard, three-touchdown performance against top-ranked Benedictine. Colleges have flocked to scout King's toughness and talent and Georgia Southern has already offered him a scholarship. Sophomore quarterback James Graham has also found most of his success on the ground. He has rushed for 1,292 yards on 171 carries (7.55 yards per carry) and 15 touchdowns even after missing the team's eighth regular season game against Pelham. Starting their football program back in 1908, the team has a long history of success and has become one of South Georgia's most successful programs. Fitzgerald has made the playoffs in each of the last 15 seasons (31 total times) and has 18 region titles. They also have been state runner-ups three times (1964, 1969, 2000) and won the state title back in 1948.
The Matchup…
The matchup to watch will be the Fitzgerald offense against the front seven from Pace. The Knights defense plays at a championship level allowing only 14.6 points per game but Fitzgerald has lit up the scoreboard for 39.6 points per game this postseason. No team may be able to stop Fitzgerald's JD King, so Pace must find the formula to contain him and force Graham test an athletic secondary through the air. Pace Academy linebacker Philip Markwalter leads the team with 19 tackles for loss, which will be important in trying to make the Purple Hurricanes one-dimensional. The teams meet for only the second time ever with Fitzgerald beating Pace in the 2014 Class AA quarterfinals 49-21 at Jaycee Stadium.